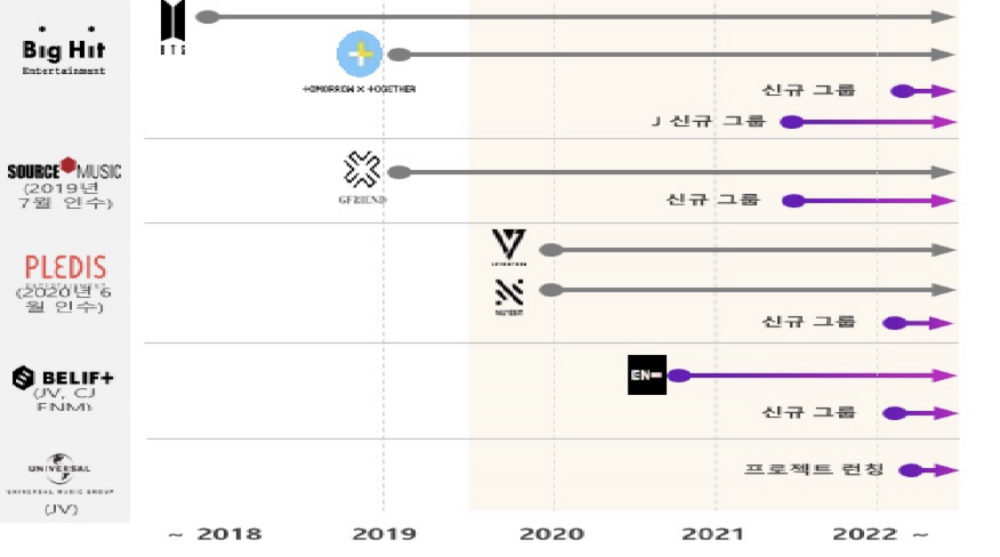 HYBE Corporation previously released the company's plans for the next two years.
The company revealed the plans to debut new idol groups under each affiliated label. According to the reports, BigHit Entertainment will be debuting a Japanese group that'll be active in South Korea starting mid-2021, and they'll also be releasing a new boy group in 2022.
The company's subsidiary Source Music will launch their first girl group since GFriend's debut in 2015 this year. Pledis Entertainment also reportedly plans to debut a boy group in 2022, and a female version of 'I-LAND' is debuting in 2022 as well. Universal Music Group will be launching a project in 2022, but fans are unsure whether it'll be a brand new group or a project group.

Since the report was made, netizens have been gathered in an online community to discuss HYBE's plans to release new idol groups under each music label. Netizens commented, "I don't understand why they are releasing so many idol groups around the same time. They're just going to be in competition with each other," "I don't think it matters since they're all different agencies," "I'm really curious about the group that's going to be released in the U.S." "I'm excited about the new idol groups," "The groups that deserve to debut will debut I'm sure," and "I'm excited in many ways about this announcement."