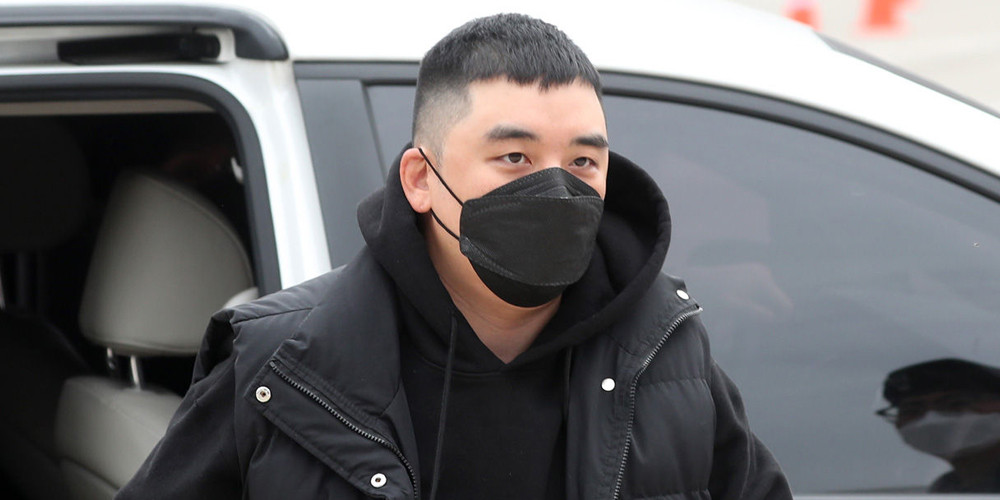 On February 26, former Big Bang member Seungri attended the 11th military court hearing session in his ongoing legal trial, involving 9 criminal charges such as mediation of prostitution, embezzlement, and illegal overseas gambling, etc.
During the 10th court hearing which took place earlier this month, prosecutors presented CCTV footage of a victim being threatened by 3 men outside a drinking establishment, identified as "3 gang members". The prosecutors then went on to accuse Seungri of mobilizing these gang members to threaten the victim, an alleged former entertainment agency employee.
However, Seungri's side denied these claims and instead presented, "While our defendant does not remember all of the events of this incident from 2015, he recalls that he decided to hold a year-end party with his acquaintances at a drinking establishment which he frequented. Because he was a celebrity, he purposely booked a private room. Afterward, the 'victim' suddenly came and attempted to greet Seungri, and he was somewhat intoxicated, causing an uncomfortable situation. Despite so, our defendant still smiled and offered the 'victim' a handshake."
Seungri's legal representative continued, "Seungri became aware of the fact that this 'victim' kept side-eyeing him, and so he attempted to leave the premise. It's true that a female actress who was an acquaintance of Seungri was also present at the site. Despite the fact that the defendant was also angry, Seungri attempted to quiet down Jung Joon Young, who was also angry and seemed intent on lashing out."
Next, Seungri's legal representative addressed the appearance of the three new figures captured in the CCTV footage. "These figures whom the defendant called to the scene at the time are not gang members. They are security guards who work with celebrities. It's true that one of the security guards is currently facing charges for driving without a license. Another of these security guards, who is facing charges of threatening and violence, is someone Seungri has never spoken with. This particular individual also confirmed that they were called to this conflict site by someone else, not Seungri."
Finally, Seungri's side stated, "We have thus far learned through this case that many of the witnesses who were questioned by the police during the initial investigation process have offered very different testimonies in court. This is an unusual case. Furthermore, Seungri's arrest warrant was also dismissed by the court twice. We have reason to believe that many of the witnesses involved were forced to admit to comments that are not true due to the pressure they felt during the questioning process. We are currently in the midst of reorganizing our responses to the court testimonies. We plan on resubmitting our position after wrapping up all witness questionings."
Meanwhile, it was also reported that former singer Jung Joon Young attended this 11th court hearing as a witness.