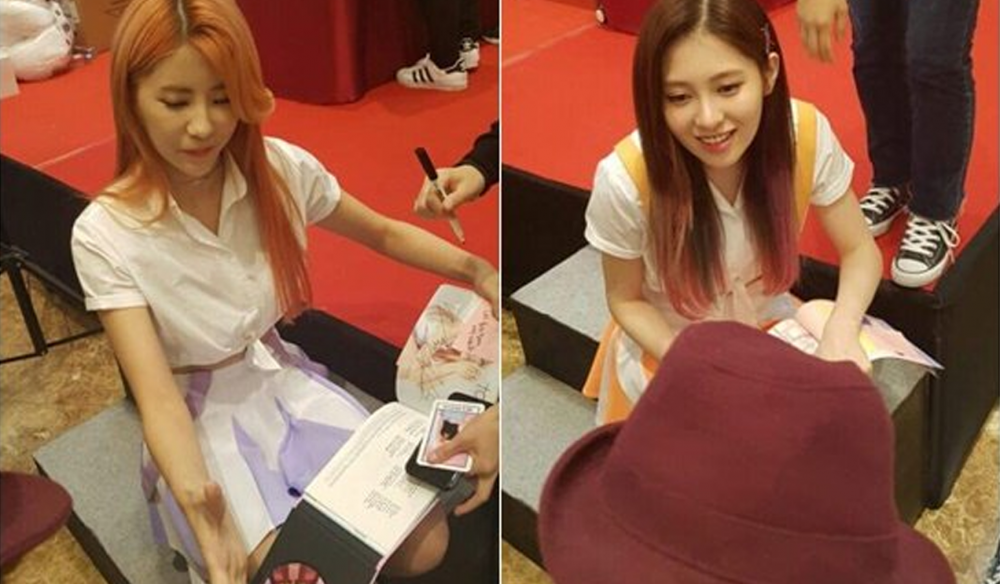 "This is the first time I've been treated with love by people who are not my family members. I received much strength."
In a sea of negative news reports these days with various Korean celebrities being involved in scandals and controversies, one netizen shared a heartwarming story about the girl group DIA.
The person who shared the story is Mr. W, who explained that he had received much strength from the girl group and that DIA had even changed his life. He wrote in an online community explaining, "I have to be in a wheelchair because I have a bit of a disability. So when I go to a fan meeting, I usually can't go up on the stage where the members give autographs or have to wait until the end when the managers can help me up. But on this day, no one was there to help, so the members had to come down the stage to me. So I thought they would stand since that's how everyone comes to see me. But the members sat down and talked to me by making eye contact. I was really touched. I never thought too much about it because I wasn't ever treated like a person all my life. AFter, I thought I should live diligently, earning money and even meeting friends.

Netizen W continued to write, "I hope our DIA does well. They're so kind, and they are the ones who made me live again."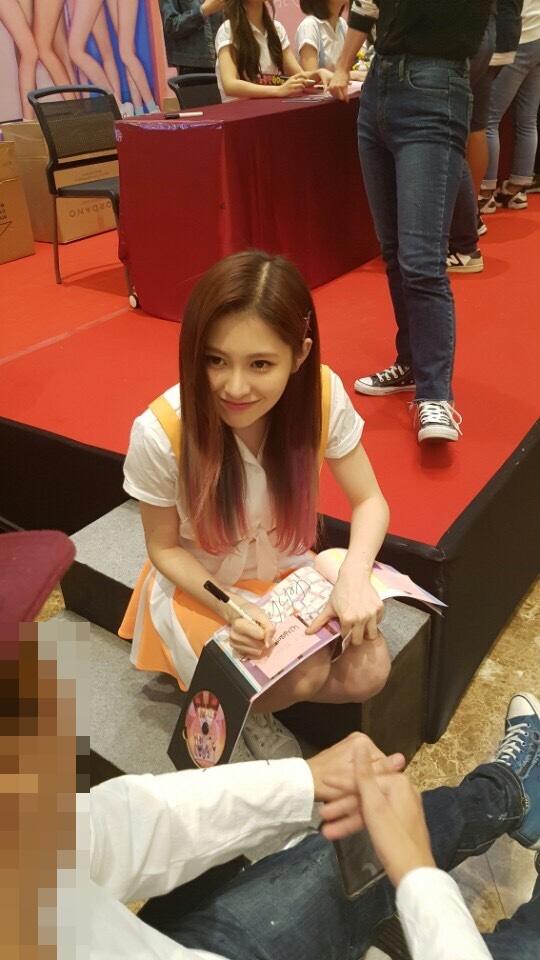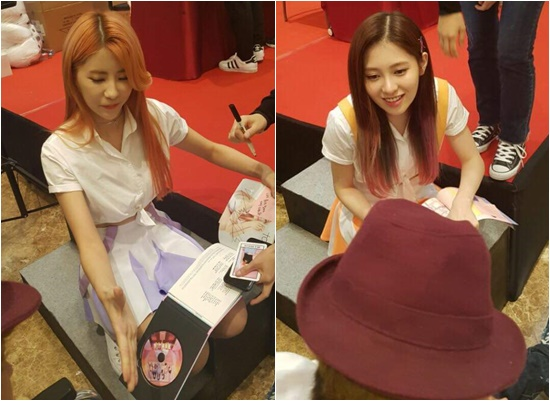 Mr.W also provided photos of the members actually kneeling and sitting on the stairs to talk with him at eye level. Many people were moved by seeing the photos that showed the members looking at their fans with fondness.

On April 13th, Mr. W had a phone interview with Xports News and explained, "I didn't have the urge to live until senior year of high school. Then I coincidently saw DIA's performance, and I thought they were very diligent and giving their all even though they're around the same age as me. After watching them, I decided to study hard again, and I was comforted by them. Then I wanted to see them in person, so I went to their fan sign event. At that time, I couldn't go up to the stage because it was too high. So the fan manager said that the members would come down from the stage, but I never thought that they would kneel in front of me."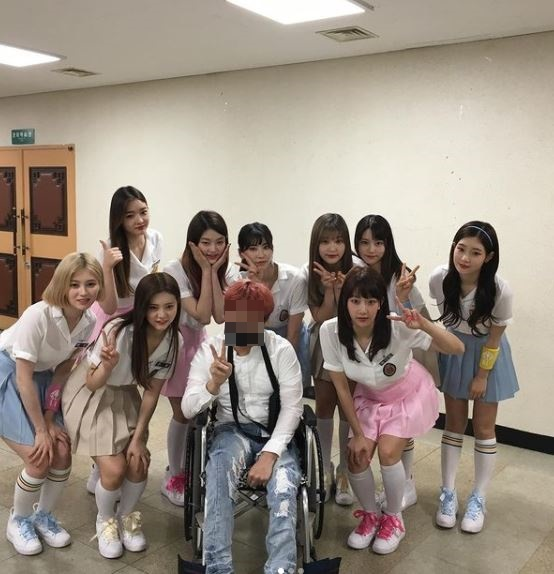 Mr.W continued to say, "I asked member Yebin, 'Why aren't you standing but kneeling like that?' Yebin said, 'didn't you come to see our face? I want to talk to you while making eye contact.' This is the first time I was treated with love by someone who was not my family member."

Mr. W also added, "Also, when I went to another fan sign event, Yebin cried when she heard my life story. I received so much strength because I didn't have a dream or any urge. I went to college, but I was having a hard time because I didn't like my major. I received strength from the DIA members and decided to live diligently as well. I also changed my views about people relations and my personality."

He also shared other heartwarming stories as well. He explained, "there was time I went to see Heehyun at her musical. I was told that I could give her a flower bouquet if I wait by the entrance. I didn't get to see her, so I was just going to leave the flowers with her manager when singer Chung Ha saw me and told Heehyun. So Heehyun came out and recognized me. She even introduced me to Chung Ha and Sol Bin and took a photo together."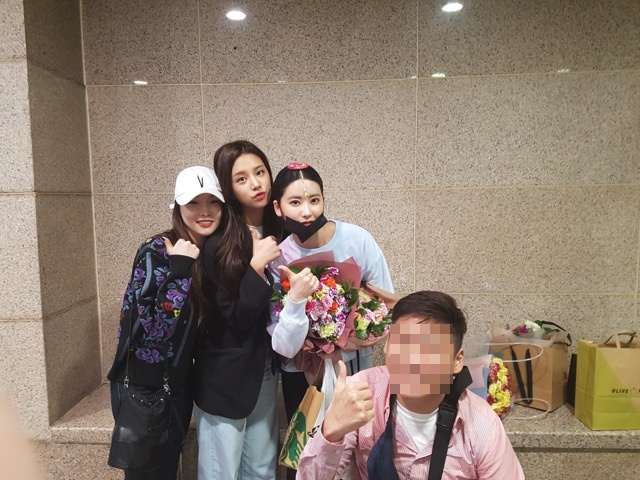 Recently, Mr.W shared that he left a comment on the DIA fan website, and Yebin replied to his comment, saying, "Wow!! Of course, I remember you. We cried together and laughed together...I hope you're well. Thank you for writing a letter and remembering us without forgetting us :) I also didn't forget our memories and am continuing to sing. So don't worry and come visit any time!!! I hope we can see each other's faces and smile while talking about many things after the COVID19 is over!!! I miss you and be well. Good night"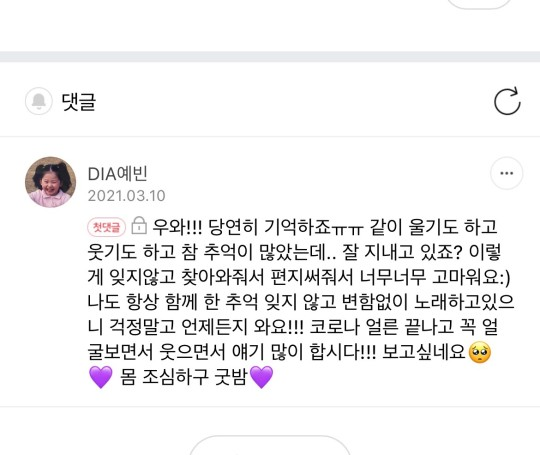 Mr. W continued to say that "It might seem like nothing, but this is so much strength to me. It's been seven years since DIA debuted, and I want them to do well because they're so kind."

The news media outlet also got into contact with the DIA members through their agency after talking with Mr.W. Member Heehyun said, "We remember him because he came to the fan sign event and the concerts often. We're actually thankful! We naturally acted that way because we just wanted to talk with our fans, who made their way to see us. I saw the fan's post and saw that our small actions gave him strength, so we felt many different feelings. I also can live day to day differently thanks to him. So thank you."
Member Eunchae also said, "It's been many years, but that was one of the fan sign events that are memorable. I also remember that fan. He came to so many of our fan sign events, and I'm rather thankful that he came all that way to see us. I'm also thankful that he still remembers us over these years, and I still remember crying while talking to him like it was yesterday."
It seems that the idols and fans form special relationships that have the power to change lives positively, just like the way Mr. W's life changed after being filled with happier memories with DIA.