In the past, many idols faced harsh criticisms for using ghostwriters, but there is an increasing number of singer-songwriting idols who are quickly proving their genius composing skills. Here are eight of the most talented idols who are proud to be self-producers!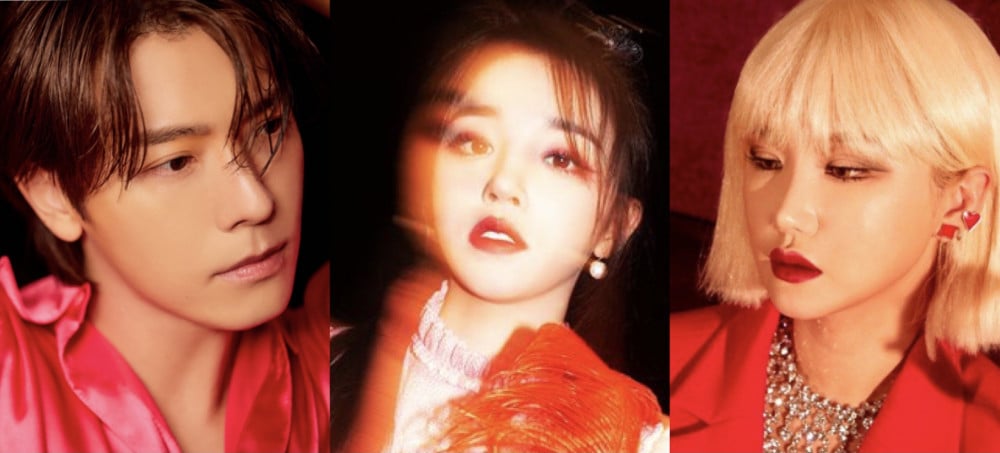 1. (G)-IDLE
Soyeon's claim to fame came from appearing on the first season of Produce 101 and Unpretty Rapstar, where she showcased her ability to compose music and create rap lyrics on the spot. Recently, (G)-IDLE released "HWAA," a song produced by Soyeon that was apparently rejected several times from CUBE, before finally getting approved.
(G)-IDLE's Yuqi also had a hand in producing the Chinese version of "HWAA," and helped her members with their pronunciation in the recording studio.
2. SEVENTEEN
SEVENTEEN's unique concept of being divided into three teams — the vocal team, rap team, and performance team — shows how every step of the producing process is accomplished internally. WOOZI is their main songwriter, who has also produced songs for artists like Ailee and I.O.I. Supported by Hoshi, their main choreographer, it's no wonder why nearly every song of SEVENTEEN's is a hit!
3. ZICO
Though ZICO has since departed from BLOCK B, he was responsible for producing many of the group's music. ZICO has produced an impressively wide range of music, from catchy beats on "Show Me the Money" to softer ballads like Block B's "A Few Years Later."
4. WINNER MINO
MINO is known as more of an artist than an idol because of his amazing drawing skills and a unique eye for fashion. When it comes to music, MINO is an excellent producer as well, having participated in hits like "Really Really," "Everyday," and most recently, his solo song, "Run Away." All of the magic happens in MINO's recording studio at his house in Mapo-dong!
5. EXID LE
Not only does LE write rap lyrics, but she also produces EXID's music, like their iconic song that saved their career, "Up and Down." Sometimes, members complain that LE pushes their vocal ability too far, but her perfectionism when it comes to producing helps make every EXID comeback just as iconic as the last.
6. Super Junior Donghae
Lovingly named as the group's "genius composer," Donghae has produced many of Super Junior's hit tracks, and his favorite song is "One More Chance." When the group finally returned from military hiatus in 2017, Donghae took great pride in composing a ballad song for Super Junior's comeback along with his best friend, Eunhyuk, who wrote the rap lyrics, hoping to show their emotional side to fans.
7. Stray Kids
Fans who watched the Stray Kids reality show produced by JYP in 2017 got a behind-the-scenes glance at JYP's goal to create a self-producing idol group. When 3RACHA's Changbin appeared on "Show Me the Money 9" in 2020, Stray Kids certainly dispelled the stereotype that idols cannot rap.
8. PENTAGON Hui
If you watched "Road to Kingdom," you know how hard Hui works on producing songs for his groups, from Triple H to PENTAGON to Solo Five, a project trot boy group. When "Shine" went viral, PENTAGON had Hui to thank for producing such a catchy and addictive song!