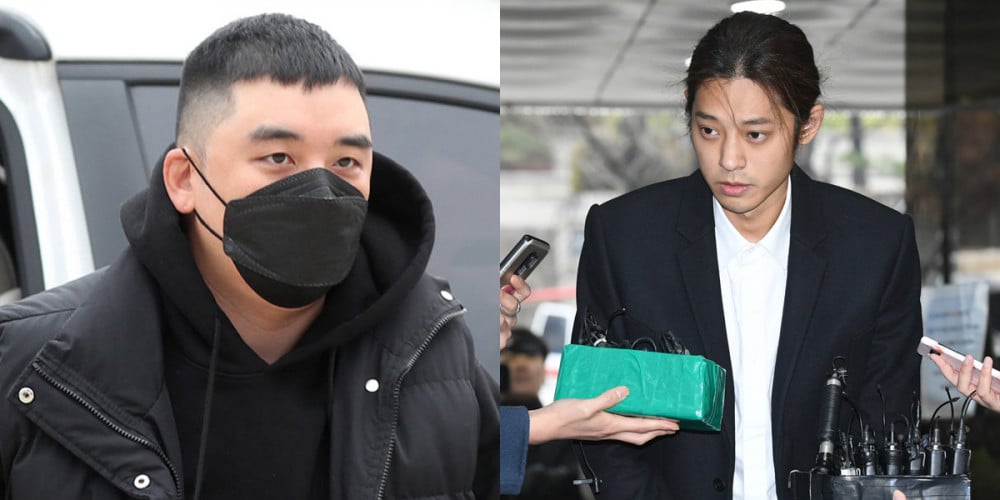 On the morning of February 19, former Big Bang member Seungri attended the 10th military court hearing session in his ongoing legal trial, which involved a total of 9 criminal charges such as mediation of prostitution, embezzlement, and illegal overseas gambling, etc.
During this hearing, the prosecution and the defendant were asked to present evidence related to the new charge raised against Seungi during the 9th court hearing, gang-affiliated threatening and violence. The prosecution submitted CCTV footage from December 30~31, 2015, when the incident in question took place. According to this CCTV footage, Seungri is seen talking with the alleged victim in a private room at a drinking establishment. Afterward, a group of individuals including the members of Seungri's Kakao chat rooms such as Jung Joon Young and Choi Jonghun arrived. 10 more minutes later, former 'Burning Sun' CEO Yoo In Suk arrived on the scene.
Not long after Yoo In Suk's appearance, 4 other individuals, suspected of being gang members, arrived. Sometime later, the 4 gang members were then spotted in outdoor CCTV footage along with the victim. 6~7 minutes later, when the police arrived on the scene, the gang members were nowhere to be seen.
In addition, media reports on February 19 revealed that of the two victims who were threatened violently by Seungri's party during this incident, one of them was allegedly the employee of a top entertainment agency.
The prosecution went on to present evidence of KakaoTalk messages Seungri sent to a group chat room the next day. This message thread included former YG Entertainment head producer Yang Hyun Suk, and as well as the head management officer of the other entertainment agency (of the alleged victim).
Meanwhile, the defendant's side (Seungri's side) largely rejected the validity of the above evidence presented by the prosecution. Seungri's side is also currently denying 8 of his 9 criminal charges and has partially admitted to the charge of illegal overseas money transactions.
It's also reported that of Seungri's Kakao chat room members, Jung Joon Young was in attendance at this 10th court hearing as a witness.