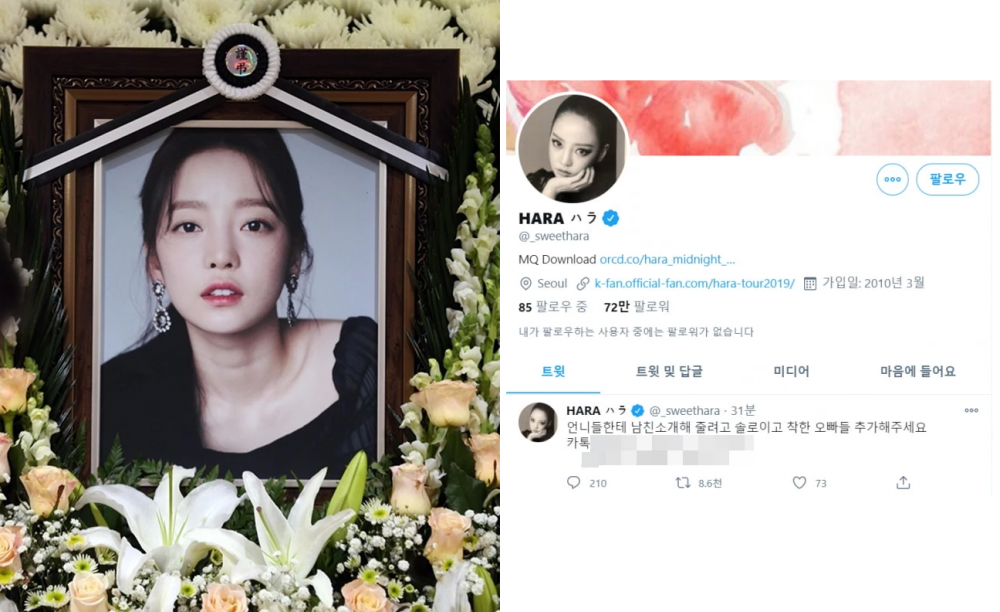 The late Hara's Twitter account has been hacked again breaking the hearts of many fans.

Last year, Hara's account was hacked as an anonymous person posted a mysterious tweet on the late singer's Twitter account.

On January 13th, another tweet was made from her account with the message, "I want to introduce my unnies to some boyfriend. Any single and nice guys add me to your friend list," and included various Kakao IDs. The tweet has been deleted since but still caused distress to Hara's fans.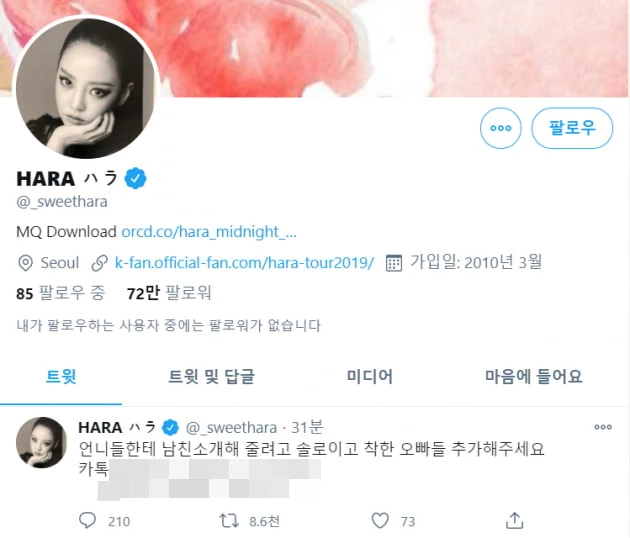 Last year on December 14th, a mysterious message of "123 9ld9c" was tweeted from the late artist's Twitter account bewildering fans and worrying them. Many fans were concerned that Hara's account had been hacked.
After Hara's account was hacked once more, fans have become agitated and angered at the individual committing such action. Netizens reported the tweet and replied, "Hara is in heaven, who keeps posting things like this? It's annoying," "It's disgusting that someone can do something like this," "I hope your actions can bring suffering later," "Stop, it's not funny anymore," and "I'm going to report this tweet as spam and I'm going to report all those Kakao IDs as well."


The late Hara was found dead at her home in Cheongdam-dong, Gangnam-gu, Seoul on November 24, 2019. Hara's Instagram has been converted to a memorial account that no one can edit except for the bereaved family members.

Fans have been requesting for Hara's Twitter to be converted as well since it was first hacked.

※ If you or someone you know is at risk of self-harm or suicide, seek help as soon as possible by contacting agencies specializing in crisis intervention and suicide prevention in the United States and overseas.