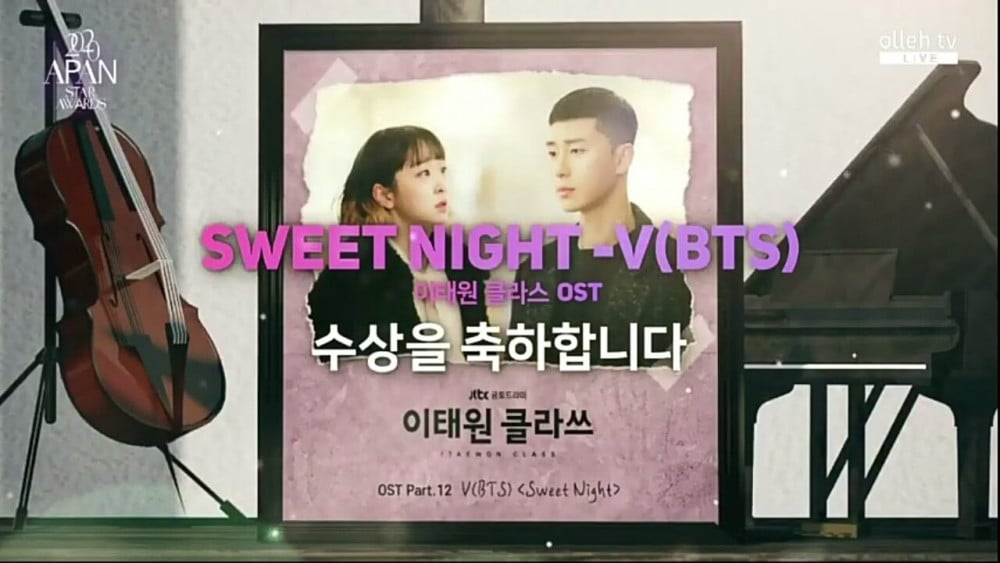 The APAN Star Awards took place earlier today, with the best from each category taking home the prestigious award, which was established to commend excellence in television and contribution to the Hallyu Wave. However, the most-talked about award of the night was 'Best OST,' which was won by BTS's V for his OST 'Sweet Night.'


'Sweet Night' was released back in March 2020 as a part of the soundtrack for JTBC's hit drama 'Itaewon Class.' The low-tempo ballad took the charts by storm and became the most streamed OST and the most streamed song released by a Korean male solo artist released in 2020 on Spotify. It was only natural for V to win an award for his record-breaking hit, which also left Adele behind and topped iTunes in 117 countries.


The Award was even more special owing to the fact that it made V the only solo artist from Bighit Entertainment to get an award in 3 different categories. V, whose real name is Kim Taehyung, has been decorated with 'Best Idol Actor' and 'Best Choreography' before, asserting his supremacy and excellence in the art of dancing, acting, and singing, making him the 'Master of the Holy Trinity of Entertainment'

Even though V has limited solo activities in comparison to his contemporaries due to BTS's intense schedule, his accolades speak volumes about his versatility as a performer. His passionate fling with acting made him one of the most 'Wanted' actors, and his dancing skills have often made his fancams go viral, with him having the most-streamed fancam of all times too! Whatever field V touches, he ends up being the ace, leaving behind professionals having years of experience.

Even though V could not attend due to his busy schedule, fans celebrated with great pomp and show, which was evident looking at the worldwide trends on Twitter. #SweetNightBestOST trended atop the worldwide trends chart and 'CONGRATULATIONS TAEHYUNG' also trended within the top 10. The hashtag also peaked at #1 in the US and South Korea and stayed in the top 10 of multiple other countries.




Many celebrities also joined this festive extravaganza by congratulating V on his win. Topping the list was Grammy-winning, Oscar-nominated, and Order of Cultural Merit recipient soprano, Sumi-Jo.

Argentina-born artist and muralist Alejandro Vigilante, who is considered as the founder of the iArt Movement, which gathers the legacy of pop art, adding the language and symbolism of the internet art, creating a new virtual and interactive world from his compositions, also congratulated V on his accomplishment.

Winning an award at a ceremony organized by the Korea Entertainment Management Association added another feather to the young singer's cap. Fans were proud, and their respect for V became as endless as the blue sky as V had produced, composed, and written the song himself. Even though the award-winning OST wasn't promoted by V's label at all, his name alone was enough to make the song well-known in every country where there's a heart that yearns for good music.

With an upcoming mixtape, V is set to take centre stage, and fans can't wait for it!