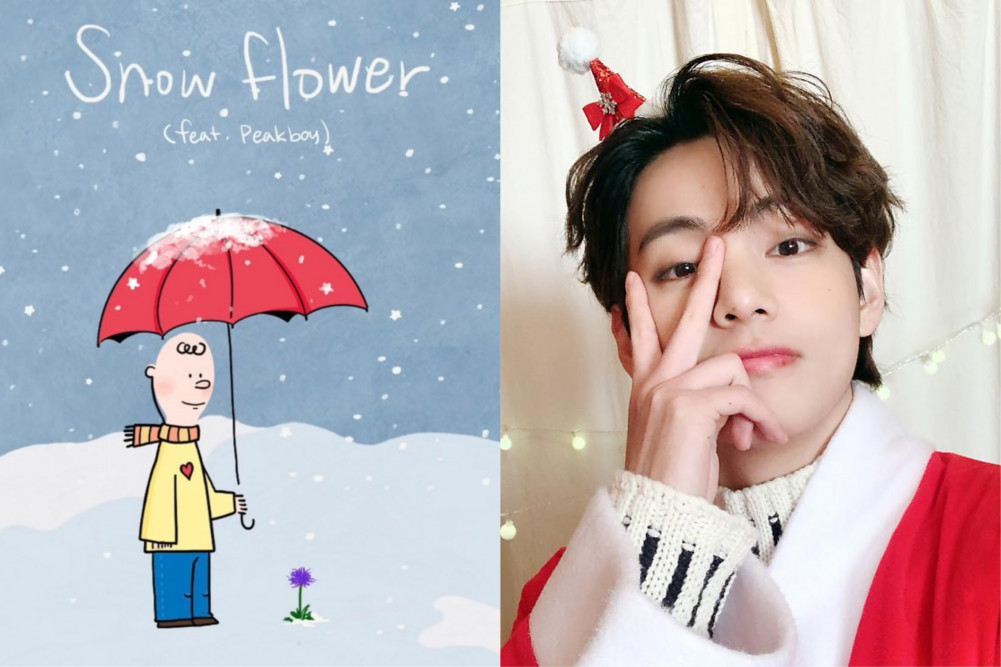 On December 25th at midnight (KST), V of BTS gifted the fans with a beautiful self-produced single titled "Snow Flower" featuring good friend Peak Boy. The song officially released on SoundCloud and YouTube serenades the listeners with its heartwarmingly sweet lyrics that beautifully highlights the duo's heavenly vocals.
In a blog post, V revealed that he "hurriedly created the song" as he felt apologetic towards the fans as his mixtape which was set to release this year got pushed back. He further added" I think that many people must feel like time stopped this year, and I also think that there must be many people who feel more anxious and depressed the closer they get to the end of the year. I hope that for today at least, white flowers will fall in your heart and all of you will feel warmth, comfort, and happiness."
He concluded his note by expressing gratitude and said: "This year, I'm truly grateful to many white angels, and I want to greet them, hehe. Thank you." Many fans have noted that "white angels" could refer to the front-liners and health workers who have been the true heroes of this dark year.
In addition to his heart-touching note, fans have also stated that they have fallen in love with his lyricism and how well-detailed and thought-out all of his songs are. From the cover to his lyrics and of course his soulful vocals, fans are pouring in love and praises for V.
Similar to his previous solo songs, "Snow Flower" also hasmany moments that tug the hearts of fans in a comforting and gentle manner. Some of the most talk-about lyrics include: "Christmas without you, would just not be Christmas at all" and "To you who will melt my blue & grey with your warmth," which fans regard as a nod to his lyrics in the song "Blue & Grey" which reads: "Can you look at me cause I am blue & grey?."
More so than anything, fans are the most impressed with V's soulful vocals in the song. Fans have noted that his velvety baritone voice is "uniquely beautiful", and the "personification of comfort." V has also received heaps of admiration for his solo music as fans deem them as artistic masterpieces that bring comfort to millions across the globe.
One of the most popular topics among fans regarding the song is also the title "Snow Flower" itself. A fan who looked up the flower on Google shared that it is a purple-colored flower which blooms on top of the snow to remind everyone that winter doesn't last forever. While some fans noted that the character in the cover is protecting the "Snow Flower" with his umbrella, others shared that the purple flower represents ARMY as the hue is special to the fans. `
Upon release, "Snow Flower" also took over the trends and has surpassed over 809K streams (as of now) on SoundCloud and over 1M likes on YouTube.
Snow Flower is an instant mood-changer that leaves the listeners with a sense of warmth and comfort in this cold season. It is undoubtedly another gem of a song by V.
Listen to V's Christmas song below: