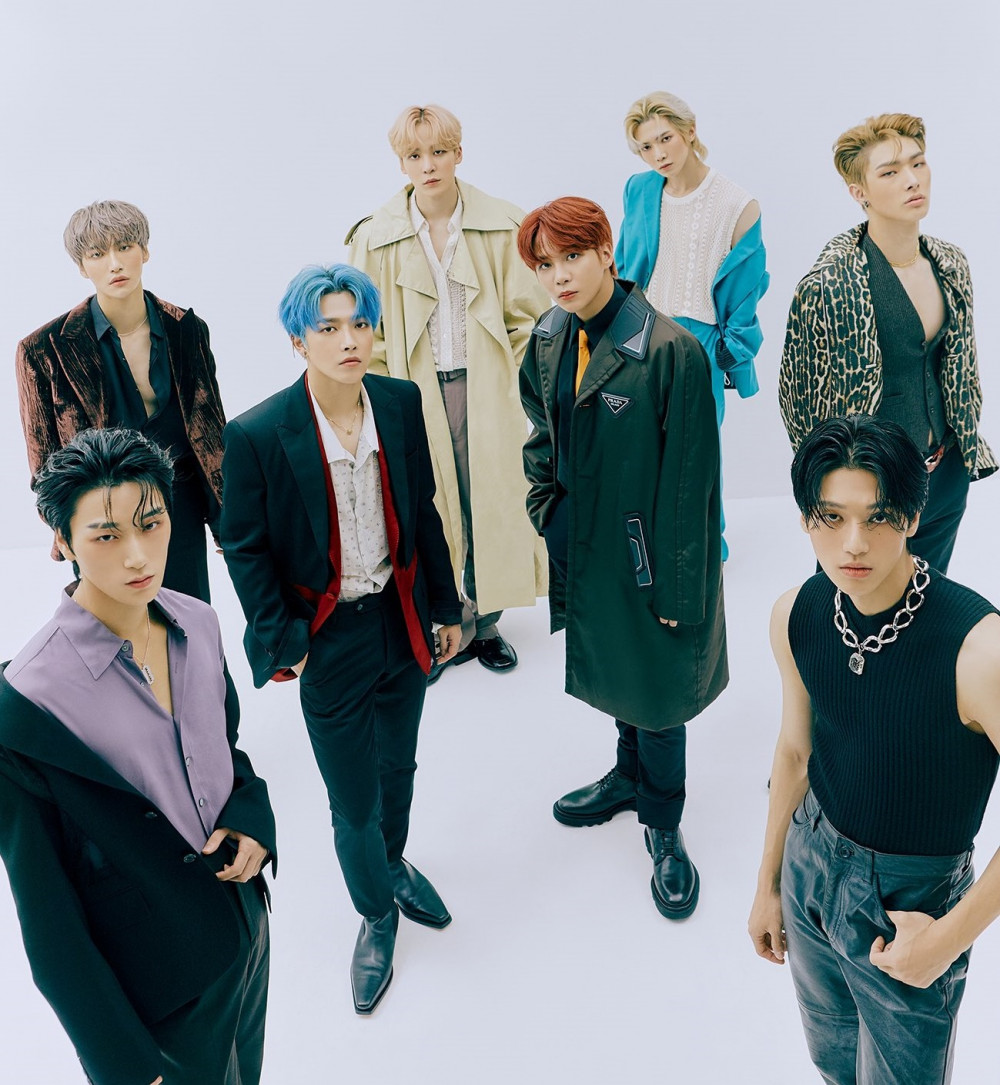 People can't take their eyes off of them! ATEEZ keeps attracting everyone's attention with their talent. I had made a list with idols and more 16 months after ATEEZ debuted. Now it's their 2nd anniversary. Enjoy the 2nd part!
35.Lim YoungWoong (Mr.Trot's winner) chose ATEEZ as his favorite idol: "ATEEZ is cool, their facial expressions are also really cool. I like ATEEZ."
36.U-KISS's Kevin: "ATEEZ is the strongest rookie group I've seen in the past year. I saw them perform at KCON last year in New York and LA. Their performance was just mind-blowing. Just the energy, the stage presence that they all had. I couldn't believe that they were rookies. I felt like they were going at it for at least 5 years. They got so much swag on the stage. It's hard to believe that they are rookies." *cr*
37.CRAVITY's Serim: "I really want to work with ATEEZ. I've always dreamt of having a collaboration with them."
"I'm a fan of ATEEZ. I love their performances, and I want to be on the same stage with them."
38.CRAVITY's Allen: "I really look up to ATEEZ. Their stage presence and performances are on the other level. You can really feel their energy even just watching it through a video, and it makes me just as energetic as they are.
39.Super Junior's Eunhyuk: "ATEEZ is the next rising stars." "ATEEZ is the idol group I have my eyes on lately. I have to get my eye on groups with good performance since I like dancing." + Kwanghee added, "Eunhyuk doesn't talk that much, but he always said ATEEZ's performance is so good." *cr*
40.KARD's BM: [Q. Anybody that's caught your eye?] "ATEEZ. They are killing it. I've been a fan since they came out first because they are super talented.
41.Day6 Young K: "I remember them being crazy dancers. They had super high energy & the way they performed was good. I checked their music. I thought they had great music too"
"I have been watching ATEEZ for a long time, once I saw them performing Wave & ''Hakuna Matata'' left a strong impression on me, I think ATEEZ is really good on stage, seeing them live is even cooler."
42.Day6's Jae: "We saw them (ATEEZ) live a couple of times and they are mad talented!!"
43.Saturday's A Yeon: "They are the best. They do really good live too. How can you sing and dance like that at the same time? The performance is really great!"
44.The Boyz' Sunwoo: "It's my first time seeing someone who sing live really well while doing a difficult choreography."
45.The Boyz's Jacob chose ATEEZ's 'Thanxx' as the stage he thought was cool
46.E'LAST's Wonhyuk said ATEEZ is his role model
"There are a lot of senior artists that I look up to, but among them 'Master at Facial Expressions,' ATEEZ's Choi San is someone that I admire. I always work hard to imitate him. I became his fan right away after watching fancam and his expressions on stage are really amazing. I really want our group to be a cool group just like ATEEZ."
"I've mentioned and talked about it a lot before. I really like Choi San sunbaenim and he's my role model. His expressions on stage move my heart. The keyword associated with him is "Master at Facial expressions and I would like to be one too.
"It's all about his charisma, his facial expressions on stage. Kind of these makes my heart move."
47.ELAST's Wonjun said ATEEZ is his role model
48.ELAST's Baekgyeol: "I'm a fan of ATEEZ's Wooyoung. He's my bias in the group."
49.ELAST's Rano said he purchased this checkered beret after seeing Hongjoong wearing it often
50.TOO's J.You: "I really like ATEEZ sunbaenims."
"I watch and learn from San and Hongjoong sunbaenims."

"My favorite members used to be Hongjoong & San sunbaenims, but now I like everyone. Wooyoung is sexy and I want to go to an ATEEZ fansign."
"I'd like to do a very strong concept like ATEEZ sunbaenims in the future."
"ATEEZ sunbaenim's TREASURE EP.3 is a masterpiece. Everyone should listen to it."
51.Jung Sewoon: "They dance perfectly in sync."
52.Kang Daniel: (commented under ATEEZ's Inception MV Instagram post) "It's cool"
53.Kaachi's Chunseo said she's a huge fan of ATEEZ and her bias is San.
54.Kaachi's Nicole: "ATEEZ is my favorite group and my bias is Seonghwa and Hongjoong. Chunseo's bias is San. "
55.PRECIOUS' Lee Soo: "San is my role model. I got inspired by him after watching Answer."
56.Secret Number's Jinny: "I'm a big fan of ATEEZ."
57.NOIR's Hoyeon: "I saw their(ATEEZ) concert; they were so cool."
58.Stray Kids' Changbin chose THANXX as one of the stages he thought was cool recently.
59.AleXa: "I really like listening to ATEEZ. I love their discography."
60.Golden Child's Y (Sungyoon) sang and ATEEZ's Wave and said he really likes that song.
61.F_ABLE's Hojun: "My biases are San and Hongjoong."
Hojun also had an ATEEZ group photocard and Wooyoung photocard in his phone case
He has ATEEZ posters on his walls
There are many more idols who talked about ATEEZ and covered their songs. Click this tweet thread for more!