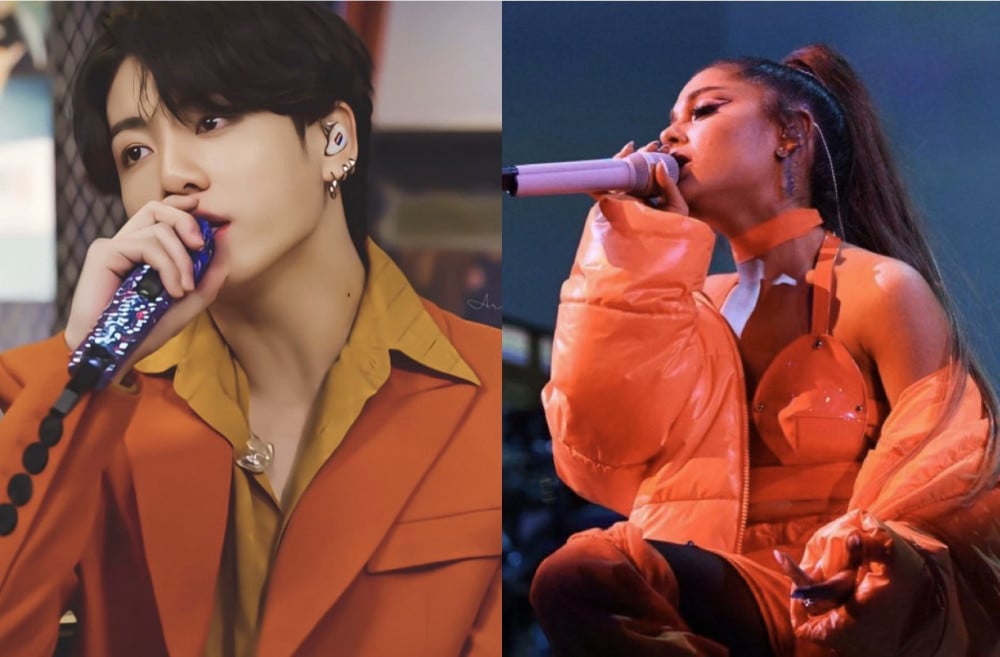 Last year, we witnessed the biggest crossover between K-pop and western music scene when BTS' Jungkook and Ariana Grande met backstage during Ariana's Sweetener Tour in Los Angeles in May. Since then, fans and medias worldwide started to speculate that a collab is on the way and express their wish to see both of these famous stars and vocal powerhouses together in a song.
And recently, the speculations for a collab is getting louder after the release of Jungkook's live showing him working in the studio. The reason being Jungkook's vocal sounds very similar to the vowels of Ariana's new snippet, and a video showing this similarity went viral on Twitter. Spin or Bin Music tweeted on their account expressing their excitement and eagerness for any sign of confirmation that a collab between the vocal king and queen is actually in the works.
Both ARMY and Arianators are hyping this collab rumor, showing their full support if Jungkook x Ariana or BTS x Ariana is actually happening.
The speculations about their collab went hugely viral to the point Jungkook became one of the related topic searches to Ariana Grande on Google on the same day.
Jungkook showed continuous support to Ariana's music throughout the years. He expressed his wish to meet the pop star as early as 2015, when he named Ariana as the artist he would like to meet during an interview at Summer Sonic Festival in Japan in 2015. His wish came true last year when they met during Ariana's concert in Staples Center, Los Angeles, which shook the internet and the music industry tremendously. Both Jungkook and Ariana took it to social media with him posting a tweet saying he felt challenged by watching her stage and her posting on Instagram thanking him for coming to her show with the warmest caption. Following their social media updates, articles after articles were released around the world reporting this rare occasion and talk shows in South Korea were discussing the happening in the most endearing way. Ariana's picture with Jungkook also became one of the Best Nine posts of her Instagram for 2019.
In early 2020, BTS also met Ariana prior to the Grammy Awards and followed each other on Twitter.
This "east meets west" music collaboration is truly a dream for millions of fans worldwide, it will surely break the internet and the charts if it is actually coming.