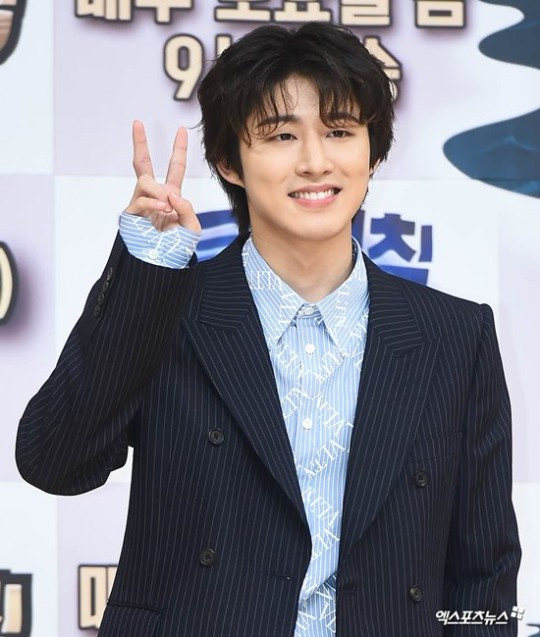 It's been belatedly revealed that formeriKON member B.I performed a great deed while in hiatus.
On the 19th, a B.I fan account stated on SNS, "He didn't want to make it known to the world but he just couldn't hide his warm heart. Instead of just words, he decided to show it with a great deed.

B.I reportedly sent over 100,000 masks and asked to donate anonymously. The masks donated are said to be worth about 200 million won.

In response to the donation, an official stated, "We would like to express our sincere gratitude to B.I and will try to convey his warm heart to those in need. Thank you for this good deed during reflection."

The masks will be distributed in Korea, China, Thailand, Japan, Indonesia, Vietnam.


[ARTICLE]"A great deed is a great deed"..B.I revealed to have donated 100,000 masks while in reflection > waves of praise


1. [+5,690 -278] A great deed is a great deed. Thank you B.I for your generous donation.
2. [+2,360, -160] He didn't want this to be known but he deserves to know this. You did a great a job! Thank you.
3. [+1,426, -60] Thank you for your donation
4. [+1,060, -60] Very well done! Great job!
5. [+475, -18] B.I asked to donate the masks anonymously. The recipient even confirmed this. Those people that are cursing him saying he's trying to clean his image should donate first before speaking.
6. [+422, -9] "I want to protect the people who have loved and supported me"…Ah this is so moving and heartwarming. The more you have, the difficult it is to give to others so it's amazing he donated over 100,000 masks.
7. [+390, -14] He spent over 200 million won but people just want to curse him because of his controversy when they won't even donate 1,000 won to help those that are suffering. He's actually being helpful with preventing the spread of the Corona more than they are.
8. [+374, -3] Good job. Thank you.
9. [+246, -0] Thank you for your donations. The masks are a need right now.
10. [+165, -60] How can I donate 100,000? I can't even buy 10 of them because they're out of stock.
11. [+149, -14] I loved B.I. I'm listening him.

12. [+107, -3] Well done, well done. Thank you.
13. [+95, -1] 100,000 is about 200 million won, but my heart is warm.ᅮ
14. [+70, -7] B.I is doing more than our own government.
15. [+69, -2] To be honest, giving 200 million won isn't an easy thing to do

[ARTICLE]B.I has donated 100,000 masks to help those who are having trouble obtaining masks due to the Coronavirus




1. [+1458, -48] Let's say you did a good job.
2. [+1113, -16] Until now, 100.000 is the biggest amount I've seen. This deserves praise, because there are so many people in this world who have many, but they don't give anything.
3. [+742, -30] Good job, Hanbin. You are so good to your fans. I hope those masks you sent will help the people who are suffering from corona.
4. [+564, -5] Great job, B.I!
5. [+563, -6] You must be really worry about your fans. Good job. You are helping a lot of people.
6. [+310, -2] Donation of 100K masks in this situation...That's amazing. Good deeds deserve praise. To be honest, I think even 10K donation would be impossible if you really didn't mean it.
7. [+274, -3] Wow 100.000? That's great. I really want to praise you. It must have been hard. You have a great heart.
8. [+265, -3] 100.000 is more than 200 Million Won. Kim Han Bin is cool
9. [+229, -1] I can feel what he felt. Thank you for making such good deeds during your self-reflection.
10. [+223, -3] So he donated around 250 Million Won... That's fucking amazing.
11. [+215 -3] It's so hard to get a mask, amazing. He donated 10 Million Won to The Seungil Foundation quietly every birthday, but let's reflect on what you did wrong and do more things
12. [+205, -2] He's been donating for people who have Lou Gehrig's disease, actually I'm kinda sorry that a drug case broken out like this... I think he wanted to donate quietly, but now that the article is out, I don't know if it's good or not.
13. [+182] Please, don't be so rude to the person who made the donation. He donated 200 Million Won, but mostly who leave harsh comments, don't even donate. They are busy making their own money. Do you really have to say something harsh to someone like this?
14. [+160] It's amazing to see someone is so worried about their fans, even though it's difficult to get even a single mask.
15. [+140] I hope everyone will get to know your good heart that is always doing good things. You're so cool Hanbin.
16. [+132] The anti-fighters said they couldn't put copyright fees in drug dealers' pockets for something that hasn't been ruled out, and they went on a rampage, but they donated a huge amount that couldn't be compared to royalties. But B.I has been making a lot of donations. If I do something wrong when I'm immature, I regret deeply and want to see you again.
17. [+90] Regardless of his mistakes in the past, I think this is something to praised for and to be proud of.
18. [+50] Not only in Korea but in another countries too. That's great.
19. [+32] I feel so sorry for B.I. I think he is really nice and kind. He did a great job here. I think that complimenting him is the right thing to do.
20. [+30] Celebrities earn so much money but there are so many of them who hold onto it, than those who don't. I think that he must be a kind person because he easily donated such a large amount of money for people whose faces he doesn't even know. Isn't this real self- reflection? It's incredible of you to have a good influence on your fans while you quietly lead the way.
21. [+22] It's a huge amount, this is really great. Just by looking at him and his actions, I can tell that he's been quietly self-reflecting. Those who say negative things about his good actions should look back at themselves first.
Source: Naver
Trans Credits: Daily Naver