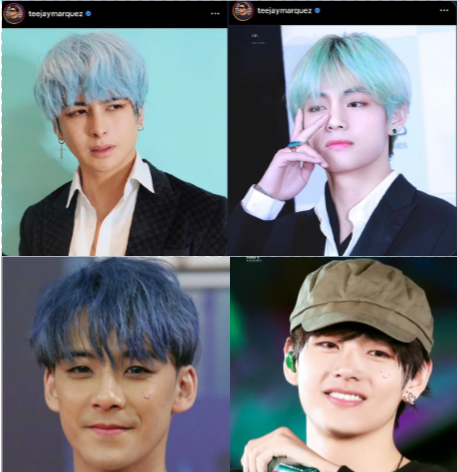 Kim Taehyung aka V of the k-pop band BTS enjoys phenomenal fame. His fans always go all out for him- be it in buying his merchandise, or in donating to humanitarian causes under his name, BTS V's fans always go an extra mile.
The young idol is also looked up to a lot by many celebrities and is always a crowd favourite. Lovingly called "The Idol of Idols", the list of rookie idols who admire and aspire to be like him is practically endless and it shows as many celebrities dressed up as him during Halloween.
A famous Filipino actor, Teejay Marquez, dressed up as BTS V for Halloween. He posted multiple pics of his look on his official Instagram account and even wrote "Singularity" on one of the posts.



One of the famous actresses from Hong Kong, Carol Cheng also stans BTS V. Carol is a huge fan of BTS V and her Weibo is almost filled with her admiration for him.


Actor Dickson Yu, who is co-hosting a radio show with her, pleasantly surprised her when he turned up to meet her dressed up as BTS V. He said that he dyed his hair blue to resemble the look BTS V had during Boy With Luv MVand even drew a little smiley on his face that BTS V had drawn on his face in their recently concluded KSA tour.
He revealed that the reason he dressed up as BTS V was because he wanted to show support for Carol Cheng's new talk-show and wanted to surprise her and cheer for her. He even danced a bit to their song "Boy With Luv" to make her smile.


Seems like even celebrities are taken by BTS V. From idols to actors, everyone truly adores him and it is so heartwarming to see this young idol be an inspiration to so many. The fact that there are bug celebrities who look up to him and want to be like him is remarkable thing to achieve at his age.
Looking forward to more such tidbits about Taehyung!