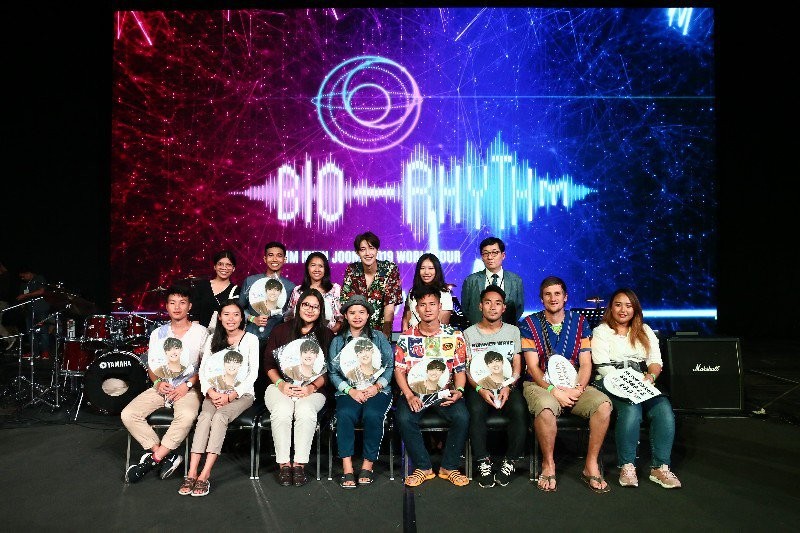 Kim Hyun-Joong, recently had a stop in Bangkok, Thailand for his ongoing world tour BIO-RHYTHM and he took the opportunity to donate money to support the tuition fees for the students from Sumakee Learning Center, Mae Sot District, Tak Province, phew donated the amount of 250,000 baht approximately 9.7 million Won. In addition, Kim Hyun-Joong also invited the children for the concert and spoke to them, encouraging them.
He recently arrived in Mexico for the Latin American leg of his world tour.
Happy Henecia USA to see Kim Hyun Joong arrive! 😍❤️😊❤️ #Henecia #BIO_RHYTHM #KimHyunJoong #MexicoCity pic.twitter.com/LpJX3tk1jZ

— Alikkay 🇺🇸 (@alivenner) October 12, 2019
#KimHyunJoong#frontónMéxico pic.twitter.com/B52RRyFB8u

— Sherlin Rodriguez (@SherlinRodrig15) October 13, 2019
Look at this energy. He is absolutely amazing.#BIO_RHYTHMenMexico#KimHyunJoong#BIO_RHYTHMenLatam pic.twitter.com/5Zcgoh1u5U

— Melanie (@melanie_ancor) October 13, 2019
KHJ gets off stage while singing I'm A Million. He surprised everyone! He is on fire! 🔥 #KimHyunJoong #Biorhythm2019Mexico pic.twitter.com/FV05V17jtc

— PhxAnn (@annieloveshyun) October 13, 2019
While in Thailand he expressed thankfulness that fans continued to support him and stated that he would continue to perform till his fifties even if he has only 100 fans left.
Fans replied that they would continue to support him for as long as possible.
He has two more stops in Latin America, Peru and Bolivia, before he returns to Asia.