TRIGGER WARNING-
SENSITIVE TOPICS SUCH AS DEPRESSION AND SUICIDE AHEAD.
Please do not read if you feel uncomfortable with such topics, or someone you know or yourself have been impacted by such things.
-If you or someone you know has similar thoughts, please remember that you are VALUABLE and your life is worth living-
Anonymous chatting numbers/ URL's
Worldwide- Befrienders/Click here
USA- 1-800-273-8255/ Click here
S. Korea- +82-2-2203-0053/ Click here
-Feel free to add more in the comments...
Finally, I'm sorry the introduction is so long, but I thought it was important to include the above for anyone who needs help. Needing help is natural in life, and don't be afraid to talk to family or to a counselor/ therapist. They can help!

STARTS HERE- (Please be civil in the comments, no blaming, harassment, etc.)
-----------------------------------------------------------------------------------------------------------------------------------------------
25-year-old k-pop singer Sulli (formerly) F(x) has been found dead in her Seongnam home today, October 14, 2019. Sulli was a child actor before she debuted with the 5 member girl group F(x) in 2009. She left the group in 2015 to focus on acting, but returned to music, releasing a new single, Golbin in 2019. (Source)
Unfortunately, this is not the first time that a successful k-pop artist has passed away at a young age. The Korean police are speculating that it was a suicide, but nothing has been confirmed. No foul play has been detected. The k-pop industry is notorious for its rather harsh treatment and expectations of their celebrities. All aspiring idols are called "trainees" and they must train extremely hard to even have a possibility of debuting. Due to a limited number of groups, many trainees don't debut and see all their hard work go to waste, while the lucky handful does. However, debuting isn't the end of the idols' problems. Some idols are locked in so-called "dungeons" where they are blocked from any activities. From hateful comments by both international and domestic fans to possible injuries and overworking, life is undoubtedly a difficult path for many idols. (Source) (Source)
Prior deaths include Jonghyun, a member of the popular k-pop group, Shinee, (Goo Hara is still alive, sorry for the confusion) Many of these passings are still sensitive topics for many k-pop fans and Koreans all over the world. However, these deaths seem to repeat themselves every few years or so, and no strict regulations or changes have occurred. It seems that adequate change is not happening in the company or in South Korea. Or is it?

According to a study, South Korea experiences a surge of suicides after deaths of celebrities. The study has found three out of eleven cases of celebrity suicide resulted in a higher suicide rate of the population. In addition to the increased suicidal ideation, celebrity suicides lead people to use the same methods to commit suicide. Following actress Lee-Eunju's death in 2005, more people used the same method of hanging. (Source)

In South Korea, mental illness is taboo, even within a family. Over 90% of suicide victims could be diagnosed with a mental disorder, but only 15% of them received proper treatment. Over two million people suffer from depression annually in South Korea, but only 15,000 choose to receive regular treatment. Because mental illnesses are looked down upon in Korean society, families often discourage those with mental illnesses from seeking treatment. Since there is such a strong negative stigma on the treatment of mental illnesses, many symptoms go unnoticed and can lead to many irrational decisions including suicide. Additionally, alcohol is often used to self-medicate, and a significant percentage of attempted suicides occur while drunk. However, it has been found that South Koreans are slowly changing their thoughts on such illness', with a focus on the younger generation that is working to stop stigmatizing the suffering. (Source)
South Korea has implemented the Strategies to Prevent Suicide (STOPS), a project whose "initiatives aimed at increasing public awareness, improving media reporting of suicide, screening for persons at high risk of suicide, restricting access to means, and improving treatment of suicidally depressed patients". All of these methods strive to increase public awareness and governmental support for suicide prevention. The education ministry created a smartphone app to check students' social media posts, messages and web searches for words related to suicide.Another method that South Korea has implemented is educating gatekeepers. The government has reduced "access to lethal means of self-harm". As mentioned above in the methods, the government has reduced access to poisoning agents, monoxide from charcoal, and finally train platforms. (Source)


It seems undeniable that entertainment companies are also part of the problem. SM Entertainment has released a statement, but they have not publicly announced any changes they have made following Jonghyun's death. In fact, some idols such as BTS have openly shown messages about self-love and mental health awareness. The rather unfortunate thing is that companies have not openly shown examples of understanding and support for artists that are suffering from such. One of the best examples of understanding that has happened is in JYPE. Mina, a member of Twice was suffering from anxiety disorder, and the company replied that they were "continuously take all measures for Mina's recovery". Clearly, this is the type of empathetic response that should have been delivered from SM, when Sulli showed signs she was struggling. This is in no way shaming SM, but rather displaying what kind of precedent should have occurred. (Source) (Source)
But what about the public that has been commenting malicious things about Sulli?


I have seen many international fans blame it on the Korean netizens, and this is what truly gets my blood boiling. Many Korean netizens are fine, fine, people, and by blaming them, you're also blaming the many Koreans who use SNS sites to meet new people and just blow off steam. There should be NO BLAMING either side. Everyone who has given her hate is bad, and that is just a fact. I wish there was less tension between the two groups...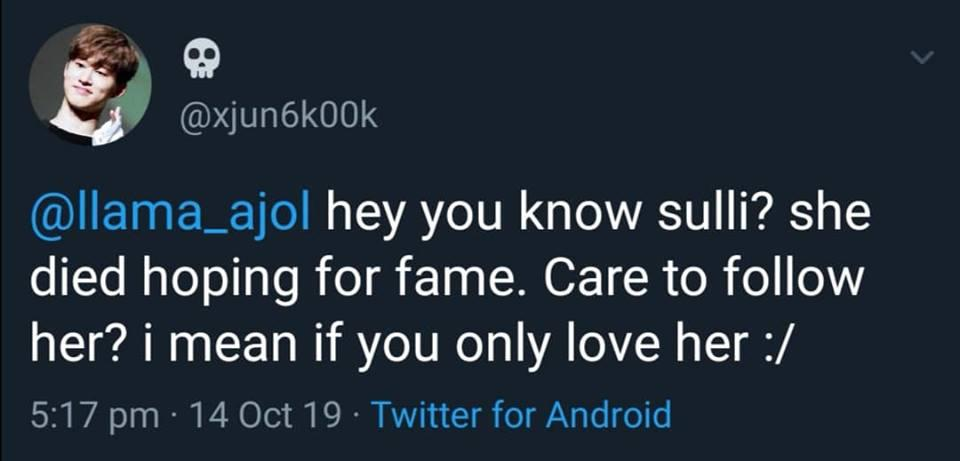 Both sides have done wrongdoing, and it is pointless to blame someone. Every time I see comments on Youtube and Allkpop about Korean netizens only doing the harm, it hurts my feelings so much. Maybe it's because I too use Korean SNS sites, and therefore am a "Korean netizen". No matter how angry you are, please refrain from doing so. Also, remember that there are a lot of nice netizens. Please make an effort to separate haters from the good people. Just like that happens in the US, do that to the Koreans as well. A lot of us are nice people, just trying to live our lives.
"I'm sorry Sulli..."
"Sulli I'm sorry that I only encouraged you in my heart."
"This is really unfortunate. I really rooted for her but I'm sorry I couldn't be more active."
"When she was alive, everyone showered her in malicious comments. Now that she's gone, all the comments are supportive. The world is a scary place."


"I hope you can rest peacefully, flower-like Sulli."
"Beautiful Sulli. You were so pretty and I always rooted for you in my heart but I should have come out loudly and spoken for you. Please know that there were so many people who loved you compared to those who hated you."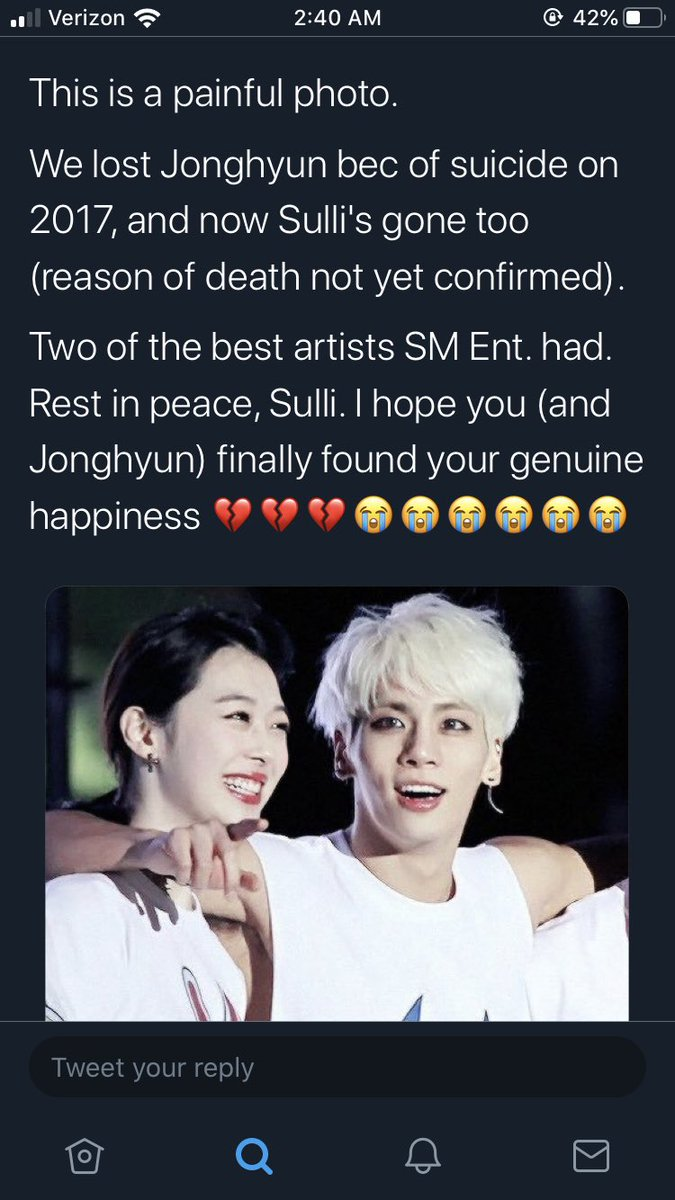 Finally, how can the internet community prevent this from happening in the future? Sadly, there will always be haters and that's an indisputable fact. What we can do is put a stop to the hate when we see it, firmly but also kindly. Remember the haters are people as well.
For example,
Hater: Taehyung should go die.
Person: Please don't say that, how would you feel if someone said that about you?
(DON'T ENGAGE CONTINUOUSLY IF THE RESPONSE IS VIOLENT, report them instead)
What NOT to do!
Hater: Taehyung should go die.
Person: OMG WHAT IS WRONG WITH YOU! GO COMMIT SUICIDE B****! YOU'RE WORTHLESS!
Remember that haters are cowardly and probably insecure people. There's no reason why a fully grown mature person would attack other people to gain confidence.
If you are a hater reading this post and felt a bit of regret or sympathy, it's not too late. Go on wherever you posted hate comments. Apologize. People will understand because people CAN change!
On the flip side, if you see someone apologizing, don't criticize them for their past actions. Accept them and say it's ok. Both sides shouldn't hold grudges.
Additionally, remember that criticism and hate are different.
Criticism is rooted (mostly) in logic. For example, an EXO hater would say "Ewww EXO sucks. Go die lol". Meanwhile, someone who is offering criticism might say, "EXO's vocal line could be improved, I personally favor a less breathy voice". (they are fire, but I don't have a good example lol) Remember criticism should be respectful, hate is not. Please don't hate on people who offer valid criticism and comments, especially if it's in a respectful manner. If you do, you are no better than a hater. However, please note that someplace such as an MV is NO PLACE for even criticism. There is always an appropriate place to express opinions, such as forums or discussion-based Youtube channels such as DKDKTV. Boundaries need to be kept, and time and place is an important part of that.
Thanks for staying with me for this really long post... If you liked the content, please upvote, and leave any comments down below. (Please be kind) If their in a question format, I will try to answer all of them. Feel free to ask about Korea (I'm Korean) or anything really.
Remember to be kind to everyone. You never know who's suffering, and if you see someone going through a difficult time, help them out. You never know who's next. Let's try to learn from this and become more mature as a community.
Finally, my deepest condolences to Sulli's family, her fans, and her friends. It's painful to see someone you love leave, and I completely understand that. I hope that she's an angel somewhere and most importantly, she's happy.
-Remember to treat others the way you want to be treated,