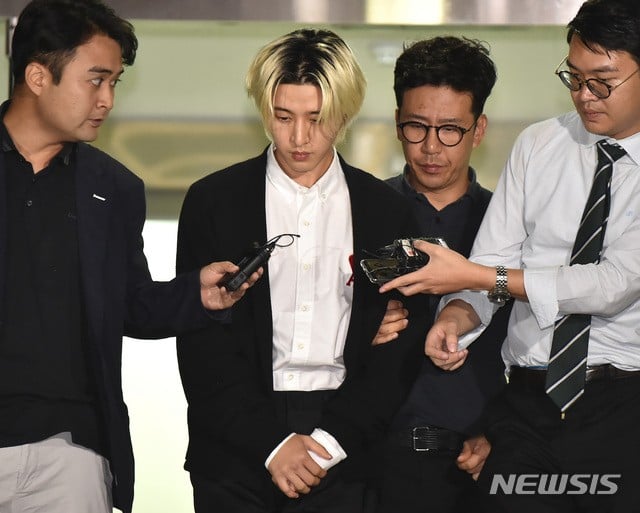 Image source: Newsis
Several news sources (1, 2, 3) have reported that B.I. (formerly of iKon) has admitted to some of the suspicions raised against him about taking cannabis/marijuana in 2016, and thus has been formally booked as a suspect by the police. (See also this article)
The Southern Gyeonggi Provincial Police department called B.I. in for questioning on 17th September originally as a person who had information about the 2016 drug case (see 4, 5, 6). They called him in at 9 a.m., and after more than14 hours of questioning, B.I. left the police building at around 11:30 p.m. During that time, he was reported to have admitted to some of the suspicions against him. Thus, the police have converted his status from information source to suspect.
Being booked as a suspect means that the police have concluded the stage of internal investigations, in which they were deciding whether there was sufficient reason to believe the person might have committed the crime he was accused of. Now, going forward, he has been officially recorded ('booked') as a suspect, and the police would be formally collecting evidence to build a case against him. After the evidence-collection phase is complete, the police will be passing the case over to the prosecution, who will determine whether to bring B.I. to trial in court, and under what charges. (See this article for a summary of Korean criminal justice procedures)
In the opinion of this author, it is unlikely that B.I. would be arrested or held in detention during the investigation before his trial. The police have the right to arrest and hold a suspect in custody for a maximum of 48 hours before they must apply for a pre-trial detention warrant from a judge. The pre-trial detention warrant, if granted, would allow the police to hold the suspect in custody indefinitely until the trial starts. However, this warrant is only granted if (a) the crime is serious enough (e.g. murder, treason), and/or (b) there is reason to believe the suspect would either destroy evidence or flee the country if allowed to roam free. As there is little reason to believe any evidence remains to be destroyed since 2016 or that B.I. would flee the country, and because this is not a particularly serious crime, it is unlikely that a judge would grant the warrant to hold him in jail until the trial.

The crimes that B.I. is suspected of is a violation of the Narcotics Control Act, which states "No person shall engage in any of the following acts: - Carrying, possessing, using, managing, exporting, importing, manufacturing, trading, assisting in trade of, or giving or receiving, psychotropic drugs..." The penalty of violation of this law (Article 61) is "imprisonment with labor not more than five years, or by paying a fine not exceeding 50 million won".
Recent cases involving other public figures who violated this law resulted in sentences of a fine of 1.4 million won and 10 months in prison, suspended in favour of 2 years of probation (Park Yoochun), and a sentence of a fine of 2.2. million won and 1 year in prison, suspended for two years on probation (Hwang Hana). It is likely that B.I., should he be brought to trial under similar charges, would face a similar sentence of a fine and a sentence suspended in favour of 2-year probation, as the government recognises the need to reform drug addicts rather than simply punish them.