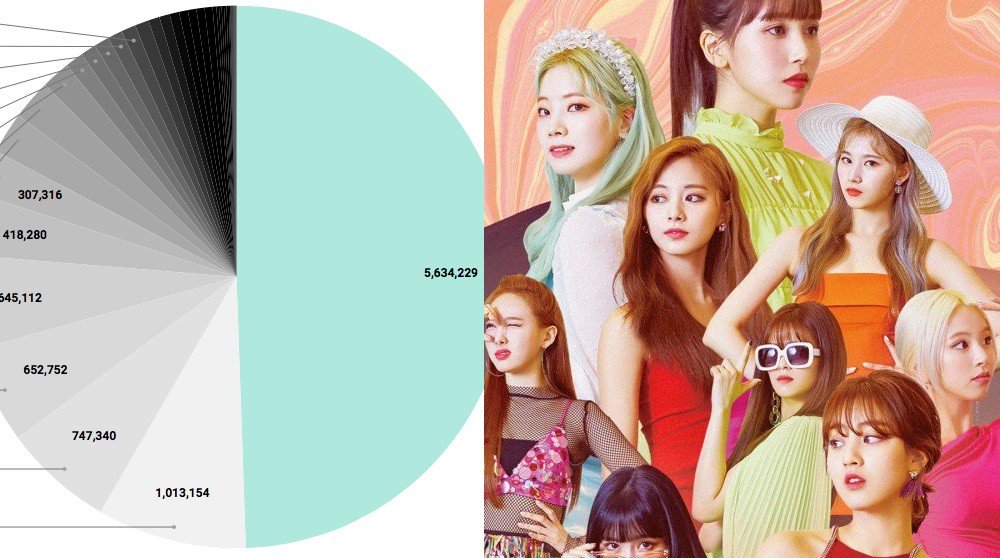 TWICE dominated the album charts of all 3rd generation girl groups.
On May 10, a pie chart on Twitter depicted the number of album sales of girl groups that were active since 2014. The chart included numbers from April's Gaon Chart and Oricon records, bringing the most up-to-date information for the fans.
Out of the 11,393,292 total albums that were sold, TWICE dominated the chart by owning the huge 49.5% chunk of the pie, having sold over 5,000,000 copies. The second largest piece belonged to Red Velvet, with 8.9% of the total sales; the third belonged to IZ*ONE (6.6%), and the fourth to BLACKPINK (5.7%).
The list was followed by these girl groups (from highest to lowest): GFriend, MAMAMOO, Lovelyz, Cosmic Girls, IOI, Oh My Girl, Dream Catcher, Weki Meki, Gugudan, DIA, and LOONA.
As noted, almost half of the pie was 'eaten' by TWICE, with sales equaling that of more than 15 groups combined. Congratulations to Once and TWICE!