https://kpopkfans.blogspot.com/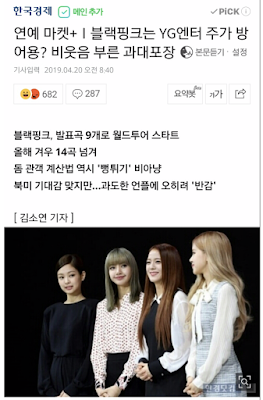 Article: Entertainment market - Blackpink is a shield to secure YG Ent's stocks? Exaggeration of results which caused people to ridicule them

Pann: A journalist from Korea Economics criticizes Blackpink
1. [+287, -10] That's a good journalist. He wrote the article so that clueless stock investors won't get scammed.


2. [+216, -37] What post-BTS ㅋㅋ Their #43 rank in the first week on the billboard was barely achieved by their excessive promos. In the second week, they were to be kicked out of top 100.


(Ticket bundle - buying a concert ticket comes with a digital album download which counts for the billboard)

3. [+192, -13] Such a refreshing article.


4. [+122, -1] The article isn't just criticizing Blackpink. It's pointing out the fact that Blackpink is being overly media-played by YG. YG released articles on selling out the world tour but the concert tickets were still being sold at a much cheaper price. They bluffed the scale of the Dome tour. Don't the fans also admit that YG's media-play is really weird? I also don't understand how they started a world tour with 9 songs. When BTS and Twice held their first concerts, they had over 20 songs. How did they think of filling 2~3 hours with just 9 songs? At Blackpink's first concert, Seungri came as the guest and sang 3 songs. They also sang the same songs for encore. When you do encore, you don't sing the same song. I think YG was hasty with planning Blackpink's tour when they don't even have that many songs yet. Their first concert was held with a lot of sponsors so the members had to say "Thank you BC Card, thank you Mise en scene, Adidas, Vibe Music app, Guess..." I was embarrassed at how the audience laughed at it.


5. [+110, -1] This kind of fact is really necessary to point out. There might be people who get fooled by YG's media-play, invest in their stocks, and ruin the household.


6. [+80, -1] The journalist knows Blackpink's results and reactions but he's saying that the reason behind their dirty media-play is to prevent YG's stocks from falling. Yet Blinks think it's just an anti dragging them down ㅋㅋ


7. [+78, -2] The CEO of Interscope who signed with YG is connected to Coachella, that's how Blackpink got to perform there. Other Korean artists who performed at Coachella are CL and Epik High (when under YG). There's a lot of Korean artists who appeared on American talk shows. Advancing into the US means you sign with an American agency, so they'll hook you up on a talk show. The real problem is whether you get attention afterwards or not.


8. [+67, -1] Why do people call it a troll post when the article is true? Instead of calling it a troll, email the journalist and ask them to take it down ㅋㅋ If you don't even put that effort, I don't think you're a fan.


9. [+66, -1] What Blinks should know is that YG's excessive media-play can cause damage to small stock investors. I used to like Blackpink but their result bluffing, media-play putting down other artists, and forcing to have concert made me dislike them when Blankpink themselves didn't even do anything wrong. Blinks should give their opinions to YG instead.
10. [+58, -1] How is this jealousy and damaging their career ㅋㅋㅋㅋ It's true that their dirty media-play made people dislike them ㅋㅋ Are you that shameless?