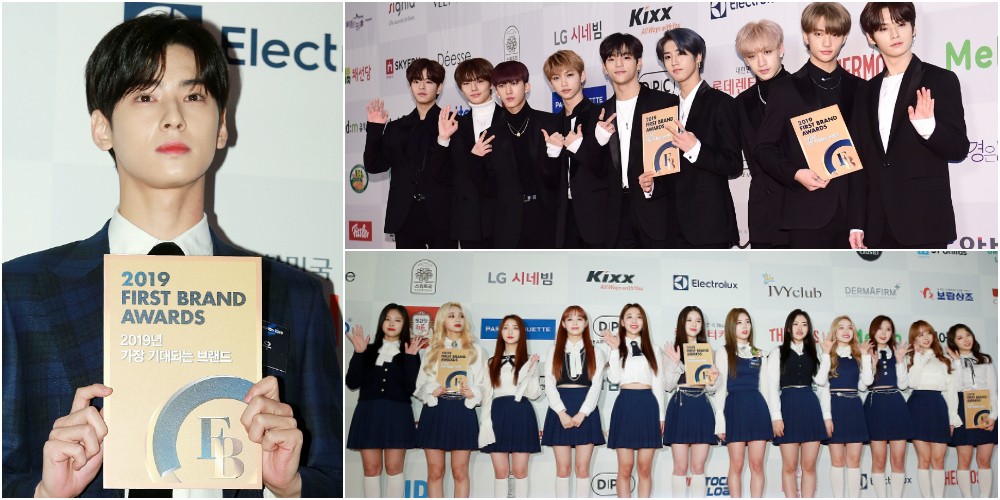 On December 19, the '2019 First Brand Awards' took place at Conrad Seoul.
'First Brand Awards' is a grand scale ceremony giving recognition to the brands and figures that consumers are looking forward to the most in the new year. Many hot celebrities are given awards for 2019.
Check out the winners below!
Male Idol: GOT7

Female Idol: Red Velvet
Male Solo Artist: Roy Kim

Female Solo Artist: Soyu
Female Vocalist: Punch
New Male Artist: Stray Kids
New Female Artist: LOONA
Rising Star: Weki Meki
Hip-Hop Artist: Superbee
Actress: Jo Woo Ri
Actor: Kwak Dong Yeon
Child Actor: Oh Ah Rin
Male Idol Actor: ASTRO's Cha Eun Woo
Female Idol Actor: Cosmic Girls' Bona
Male CF Model: Cha Eun Woo
Female CF Model: Jeon So Min
Male Comedian: Park Sung Kwang
Female Comedian: Jang Do Yeon
Male Variety Star: Kim Ho Young
Female Variety Star: Kim Sook
Foreign Variety Star: Sam Okyere
Male Idol Variety Star: NU'EST's JR
Female Idol Variety Star: Girl's Day's Hyeri

Beauty Icon: G-Friend's Sowon
Mobile/Web Variety MC: Yang Se Hyung
Celebrity YouTuber: Yoo Byung Jae
Sport-tainer (Sport Entertainer): Kim Dong Hyun
Art-tainer (Art Entertainer): Solbi
Model-tainer (Model Entertainer) : Han Hyun Min
Mukbang Creator: Banzz


Kids Creator: Ddoo Ah Ddoo Ji


Best Couple: Bgeul Bubu


Sports Star: Jo Hyeon Woo


Character: Kakao Friends
Variety Show: 'Lan Cable Life'
Film: 'Our Nation's Language'
Drama: 'Asadal Chronicle'
Radio Show: 'Sandeul's Starry Night'