Big Bang
's
Seungri
ultimately deleted the post regarding his friend
Lee Ah Yun
.
Seungri received backlash from netizens after sharing a supportive post, asking fans to vote for his close friend Lee Ah Yun for the '2018 Miss Maxim Contest.' The idol star promised an hour of Instagram live if his friend wins first place. Many netizens were displeased with the "deal" Seungri offered, claiming he is "taking advantage of fans by bribing with his Instagram live."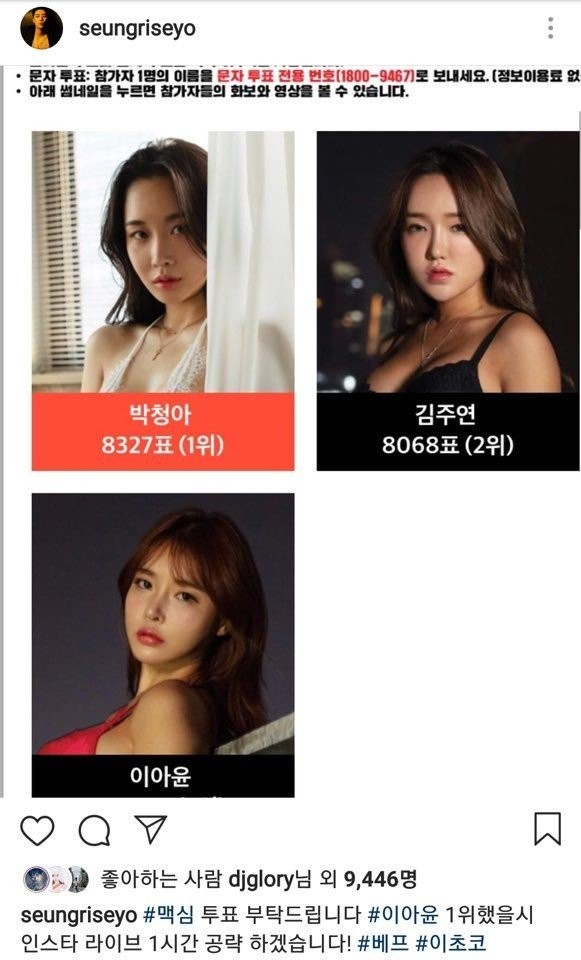 [SEEALSO]https://www.allkpop.com/article/2018/11/netizens-deride-big-bangs-seungri-for-asking-fans-to-vote-for-his-friend-in-maxim-magazine-model-contest[/SEEALSO]
In response to the unexpected criticism, Seungri temporarily turned his Instagram account private. Ultimately, Seungri deleted the controversial post and made his account public again. 
Some are continuing to criticize Seungri, while others are finding the criticism unnecessary. What are your thoughts on the issue?