Hi peeps!
I would like to recommend some great music from Korean indie band named : G'mornin' Dalí (굿모닝달리)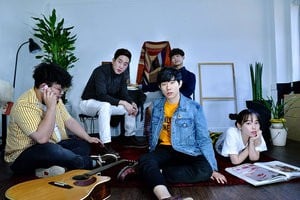 Check out their cool music videos with genre of Acid Jazz / Funk / Synth-pop which is so danceable to make you groove along!
Summer Fling / G'mornin' Dalí (굿모닝달리)
내일 말고 오늘 / G'mornin' Dalí (굿모닝달리)

"Every morning upon awakening, I experience a supreme pleasure: that of being Salvador Dalí."

Inspired by this quote of Spanish Painter : Salvador Dalí, the Korean band G'mornin' Dalí captures the moment of self-confidence and happiness through music.

Band members
Vocal / Guitar : Thomas Chung (정지영)
Drums : Min Chang Chip (민챙칩)
Keyboard : Jihye Kim (김지혜)
Percussion : Baeka Baek (백하형기)
Bass : Sujong Park (박수종)

Discography
EP Album : G'mornin' Dalí / Released on May 18, 2016
Single : Summer Fling / Released on July 18, 2018

Official sites
**Music are available on iTunes and Spotify.

Facebook : https://www.facebook.com/gmornindali/


Instagram : https://www.instagram.com/band_gmornindali/

Bandcamp : http://gmornindali.bandcamp.com/