Hara's ex-boyfriend Choi Jong Bum has issued a strong counteroffensive against Hara along with his legal representative in the ongoing case involving the couple's violent altercation, which took place last month on September 13. In order to take a firmer stance, Choi decided to reveal his full name as well as his face to the public, and now, Choi has released additional "evidence" in the form of KakaoTalk messages, which you can see below.

According to Choi, Hara was already visiting the hospital for health issues suspected as gastrointestinal (GI) bleeding before their altercation took place. However, "Even though [Goo Hara] frequented the hospital for diagnosis and treatment at the gynecologist from August 23 through September 1, she made it seem as though the health issues occurred due to Choi's actions, and we deduced through Goo Hara's decision to release records of her visits to the gynecologist that she had no intention of coming to a settlement."
Below are samples of KakaoTalk messages which Choi provided the police with during his investigation. The messages between a figure suspected to be Hara and Choi read: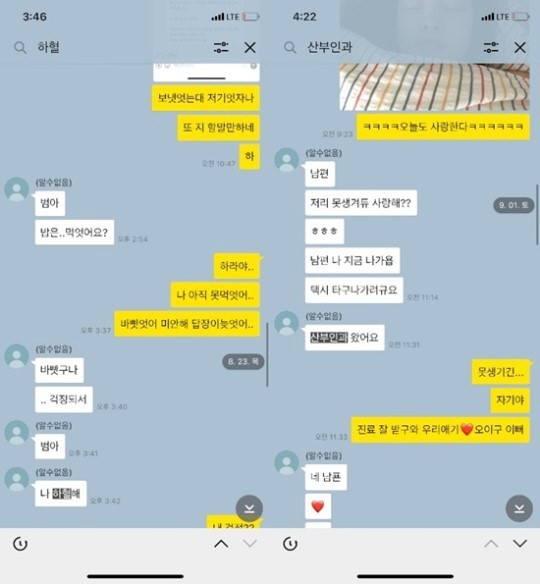 <1st panel>
(Hara) Bum, did you... eat?
(Choi) Hara... I didn't yet... I was busy, I'm sorry, I was late responding...
(Hara) Oh I see, you were busy ...I was worried.
(Hara) Bum, I have gastral bleeding.

<2nd panel>
(Choi) I love you again today kekekeke.
(Hara) Husband, do you love me even though I'm that ugly? Hehehe. Husband, I'm leaving now. I'm taking a taxi. I just arrived at the gynecologist.
(Choi) Who said you were ugly... Jagiya, receive treatment safely my baby (heart) oigoo good girl.
Alongside the KakaoTalk messages, Choi's legal representative stated, "As Choi Jong Bum is continuing to cooperate to the best of his ability to police investigations for his charges of sexually violent intent, threatening, etc,... Goo Hara must in turn also face police investigation for Choi's charges against her of violence and assault without any lies or exaggerated truths, cooperating to the best of her ability. We feel upset that Goo Hara's side has a one-sided say in the biased content she provides the press. We ask that Goo Hara's side refrains from further damage toward Choi."