Fans are showing their love and support for
Cosmic Girls
'
Yeonjung
.
On October 20th KST, Yeonjung went on a hiatus as she suddenly felt ill prior to Cosmic Girls' SBS schedules for 'Inkigayo' and an open radio show in Hwasung. Starship Entertainment later made an announcement that Yeonjung won't be able to participate in promotional activities for the time being, in order to fully recuperate.
According to the health reports, Yeonjung has been dealing with reduced stamina, low blood glucose, low blood pressure, among other symptoms. Her agency wrote, "Yeonjung had full intention to show up for her fans, but we all decided that it was best for her not to exert herself. We ask pardon from all fans."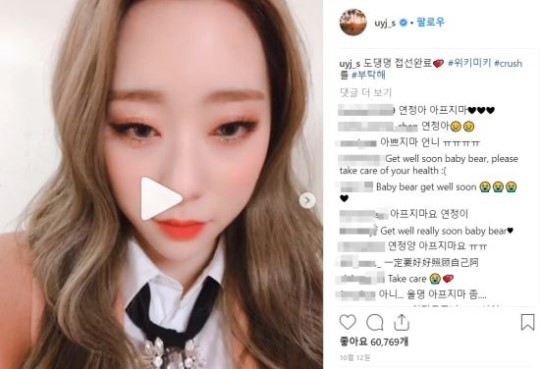 After the word got out, fans flocked to Yeonjung's Instagram and left messages wishing her a speedy recovery. Some comments include: "Please get well soon, unnie T___T", "Take care...", "Getting enough rest is the #1 important thing! We will wait for you!"
Get well soon, Yeonjung!