The '
DPR Live Coming to You World Tour 2018
' is visiting 21 cities, 13 countries, and 3 continents. Now it's closing up the sold-out North American leg and moving onto Europe. 
DPR Live, is a South Korean rapper and singer who began his music career on Soundcloud with "Till I Die" in 2015. His name DPR stands for "Dream Perfect Regime" and aspires to create a multi-genre music and video group that can touch on various musical styles and influences.
This release was followed by "God Bless" featuring fellow Korean rapper and singer, PUNCHNELLO, in 2016. 
As DPR Live continued to grow and garner popularity, he attracted the attention of well known Korean singer and rappers such as FLOWSIK and SIK-K in 2016 where he released a few more collaborative singles. 
On March 15, 2017, DPR Live released his first ever album 'Coming to You Live' that reached a peak chart position in Korea at #31. The album featured some of the best Korean artists such as DEAN, Crush, CODE KUNST, Jay Park, LOCO, and Dumbfoundead. 
Quickly after, he released "Her" on December 7, 2017, that peaked at #24 in the Korean charts. The time was ripe for him to start a World Tour as his star power was growing.
I attended the LA show at 'The Novo' on October 12. The tickets sold out just a few days after they went on sale and they even had to upgrade to a larger venue as there was a big demand to see DPR Live. He started the show strong with a few of his hits like "Laputa" and "Cheese & Wine" that got the crowd majorly hyped for the show. He then stopped the music and threw it back to some of his oldies on Soundcloud and got the crowd hype by yelling, "If you know it, you better turn up. If you don't, you better turn up." And then threw down with, "God Bless." 
At one point, DPR Live stopped the show with "Interlude" playing and talked about his amazing growth: "On behalf of the team, this is crazy. It's surreal. We started in the basement with just a dream, a passion. This wasn't what we had planned we just followed it. We're fanatics when it comes to making top quality music and music videos for you. Honestly what excites us the most is to share energy with y'all. My first ever show in LA and you're all here. This historical moment. Thank you so much. I love you LA."
After this tender moment together, he dropped "Right Here. Right Now" and brought out Christian from the team to say a few words of gratitude. 
For the LA crowd, he also mentioned that his MV for "Know Me" featuring DEAN was shot in LA! 
DPR Live then brought out his cousin, Cline, who performed "Please" with him throwing the crowd into a chaos of fun and loud singing.
Again, he took a moment to be vulnerable with the fans and spent some time to discuss the album. He said, "'Coming to You Live' is our debut album. As much as it was our debut, we really wanted to show what we can do as a creative powerhouse. We have visual, we have music, as you know we don't have a limit. We do 'Cheese and Wine' and then we do 'Please' it's a weird spectrum. But us loving the music, loving the video we really didn't want to be boxed into an image of us. With 'Coming to You Live' we made sure it had variety and I'm glad we did it like that." 
And he proved during the show how really creative and fun him and his team can 
be with their amazing performance and the interaction with the fans.
He dropped "Jasmine" and every fan pulled out their phone to record and sang along.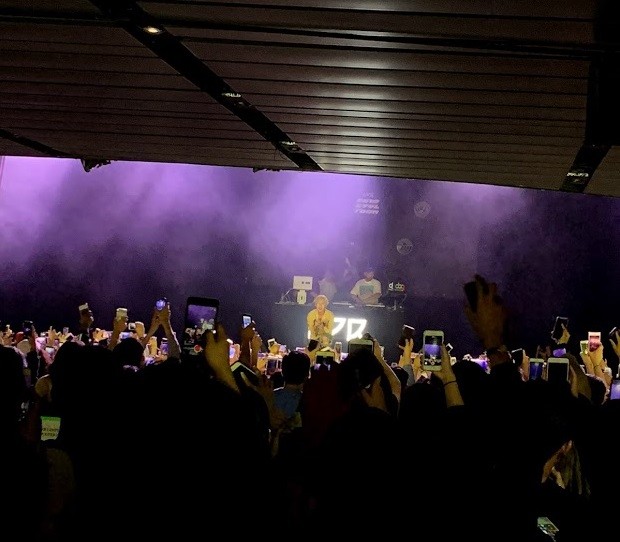 He followed up with "Is You Down", "Text Me", and then "Till I Die." He ended the show with "Martini Blue," a long-awaited song that really hyped up the crowd before he left the stage. 
It would've been a great show if it ended right there but he came back with an encore of "To Myself" with his whole team on stage with him. The team and the crowd took a group selfie before ending the show. 
DPR Live, in the short amount of time he has been active in the music industry, has really made a name for himself. Not only has he collaborated with influential artists but his first world tour is selling out at every stop. His style continues to challenge the ways albums are created and challenges the limits placed on artists from expressing their various styles. As he continues on his tour, fans can only hope he continues to challenge his music styles and grow as an artist.