Block B
's
P.O.
is making fans laugh with his new Instagram account. 
On October 9, the idol rapper appeared on brand new Instagram account with the ID pyojihoon_official. The first post is a collection of black and white photos of P.O. in Paris. The caption stated, "Come see P.O.'s photos here. I'll run the account well from now on. Please look forward to it!!!!"
Usually, the official group Instagram account is operated by the agency and personal accounts are operated by the idol stars themselves. But it seems the personal account for P.O. is also operated by his agency. 
In the bio section, P.O. made an honest confession, stating, "P.O. does not know how to use SNS (this is run by the agency)."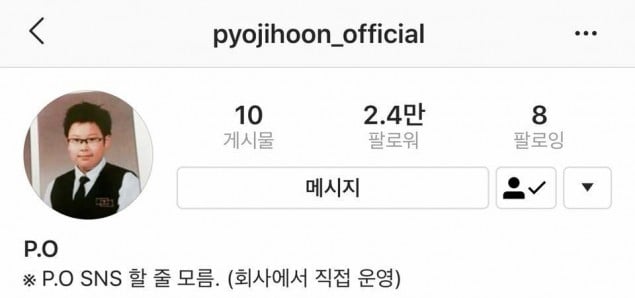 Fans are cracking up at the honest confession, and commented, "LOLOL he said he doesn't know how to SNS", "Oh P.O... lolol", "LOL so cute", "And his profile pic lolol."