Spanish weekly magazine, 
El Jueves
, has outraged K-pop fans with inappropriate content. 
According to a Twitter user, CintiaDero, El Jueves recently published a satirical comic strip about the K-pop industry. It touched upon sensitive topics of sexual abuse, exploitation, and depression in the K-pop scene. It also criticized the K-pop idols' styles and performances, as well as their fandom. 
Hello everybody, as you all know by now there was a comic mocking Jonghyun's passing, you'll find the trans below with the credits and a note. I hope it helps you understand even further how sick and unnecessary this comic was.#justiceforjjong pic.twitter.com/POaG4wFmUk

— Jinkisease (@CintiaDero) October 26, 2018
The part that angered fans the most is how El Jueves mocked the death of
SHINee
's
Jonghyun
. The character with pink hair resembles
"an idol that killed himself at age 27 after not being able to cope with the pressure of the industry."
His bubble reads,
"At 27! Just like my buddies Jimi Hendrix, Janis, Jim Morrison, Kurt...!"
Jimi Hendrix, Janis, Jim Morrison, and Kurt (Cobain) are artists who have died at the age of 27. 
Other characters in the comic are seen saying, "Call security...! A nobody is trying to sneak into the '27 Club'."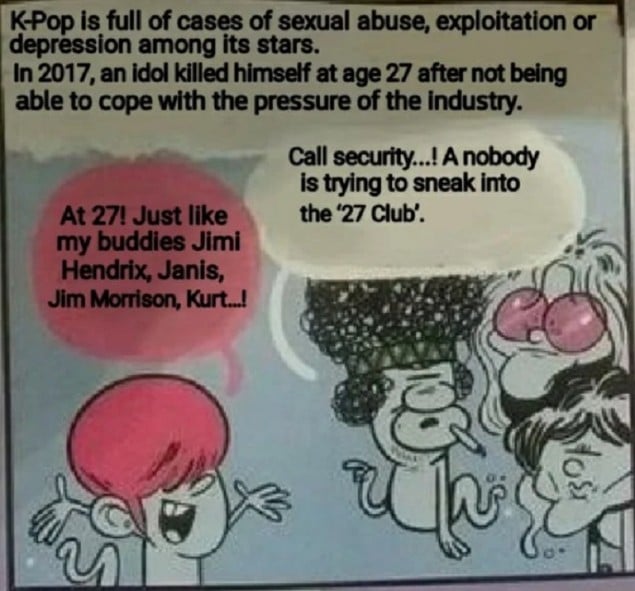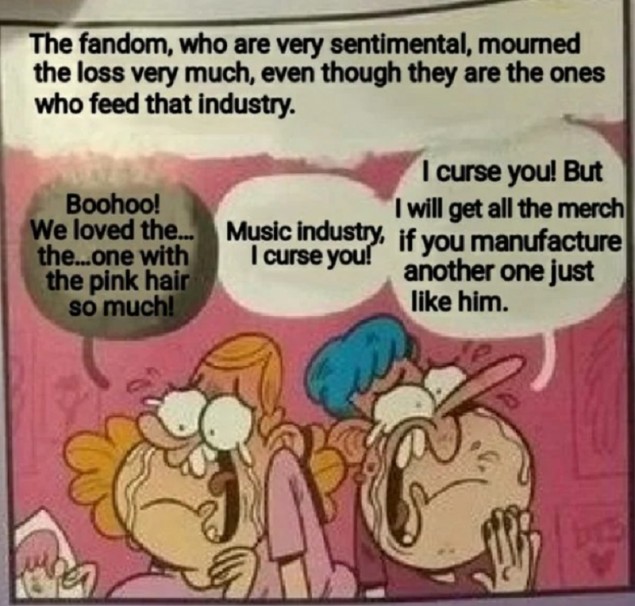 The comic also often uses the word "Pinypons" to describe K-pop stars. Pinypons are plastic toy dolls. The nicknaming seems to imply that K-pop artists are plastic, mass-produced dolls. 

In reaction to the comic, K-pop fans have
created a petition on Change.org
to shut down the magazine. Around 28,000 fans have left signatures as of this writing.