On September 14, Hara's ex-boyfriend 'A' sat down for an interview to relay his side of the story. (Warning: possibly graphic image below.)
The interviewer noted that upon meeting 'A', there were visible scars all over his face. 'A', who is a hair designer, began,
"I first asked that we break up due to our differences in personalities. However, the reports that the fight was two-sided are false."
Furthermore, 'A' also revealed that he is receiving treatment at a hospital for his scars,
similar to Hara
.
The interviewer observed that there were three scars on A's face approximately 3 cm, one on his forehead approximately 4 cm, and one under his right eyebrow approximately 5 cm. 'A' stated, "I didn't know that me calling the police for both of our safety would become this big of an issue. Some of the news reports are reporting things about me which are completely false without consent, so I decided to do this interview." He added, "I didn't break into Hara's house. The password for the house is the day that we met. We were using the space together."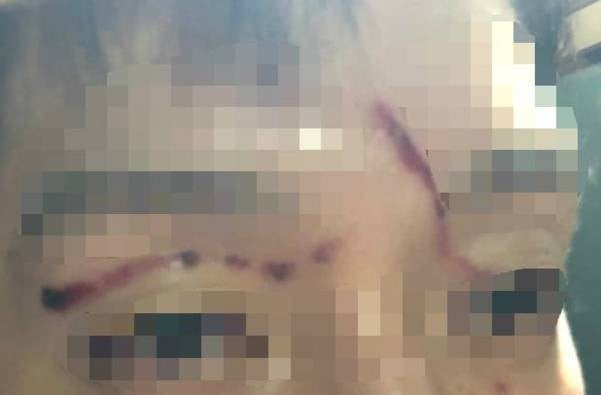 Regarding reports of two-sided violence, 'A' responded, "I've never been involved in a physical fight in my entire life. Even more so with a woman. If [Hara] suffered bruises, it was because I was trying to calm her down while she hit and scratched me. I swear that I meant no intentional violence on my end."
'A' then stated that he has not been in contact with Hara since the incident, but Hara did send photos of her bruises to 'A's mother. As to why he was unable to answer some of the police's questions, 'A' answered, "I was shocked by the malicious comments. Currently, I am unable to receive help from anyone. I do not know what to do. I am also in pain physically, and emotionally."
'A' replied to rumors that he was threatening Hara, "It's not true. We used to be lovers, why would I do that?. I don't understand why such rumors came about."
Finally, 'A' said, "If it's a crime to be the one to request a breakup, then it's my fault. However, it was not a two-sided assault case. We used to be lovers, but now we're separating with scars like this, and it pains me. I may be a non-celebrity, but I hope that Hara herself will reflect back on this apart from her status as a celebrity, and apologize to me."