Hara
revealed how she was threatened by her ex-boyfriend
Choi
.
Hara also explained the couple fought often due to Choi's obsessive behavior. Choi reportedly always got suspicious and angry whenever Hara met anyone of the opposite sex, even if the person was just a staff member Hara worked with.
According to Hara, after attacking her, Choi left her house saying, "I'm going to f*ck you up. I'm going to end your celebrity career," and said he would be reporting their relationship and issues to Dispatch.
Dispatch revealed that they did indeed receive two emails from Hara's ex-boyfriend. With his number, Choi messaged, "I have reports about Hara. I'm going to report it to another media outlet if you're late," and another message stated, "This won't be disappointing. Contact me."
Dispatch attempted to reach Choi, but he did not pick up.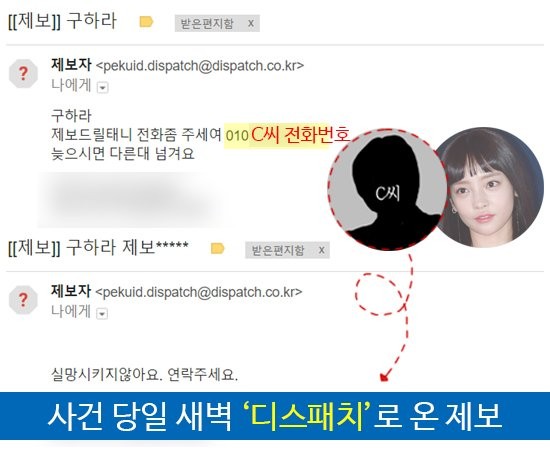 While talking with
Chosun Ilbo
, Choi admitted to sending the emails to Dispatch, however, claimed some of Hara's statements are lies.
Meanwhile, Hara told Dispatch that she didn't want to make headlines for such displeasing issues, so demanded they talk in person, however, Choi refused to meet.
Stay tuned for more updates.