JYP Entertainment has issued a response to the flood of fan criticism that erupted shortly after the label revealed details of 2PM's upcoming 10th anniversary exhibition '10 Seasons'.
The exhibition is set to take place from September 4 - 23 at The Seouliteum. According to newly released details, tickets for the event cost 20,000 KRW (~ 18 USD) for official HOTTEST, and 25,000 KRW (~ 22 USD) for non-HOTTEST. Furthermore, the exhibition will be hosting a series of special events for attendees, including a 'Special Tour with 2PM' and a mini fanmeeting. However, the special tour is only available to 30 lucky winners, while the mini fanmeeting, for 50 lucky winners. The winners will be decided by a familiar system in the world of K-Pop - a lottery based on purchasing MD, purchasing lottery tickets, taking part in events which require purchases, etc.

As many of you know, domestic fans are known to spend huge amounts in order to obtain lottery tickets for fan events, such as one instance when a Wanna One fan purchased $4,000 in albums in order to draw a lottery ticket, but still failed to do so.
Fearing similar results, some fans decided to band together and create a Twitter hashtag: #JYP_???_???_??? (#JYP_Cancel_Events_CheatingOutFans).
The Twitter hashtag movement below reads:
"This hashtag is being trended in order to request the cancellation of events meant to only bring in revenue for JYP Entertainment, cheating fans out of their money and refusing to listen to fans' requests regarding 2PM's 10th anniversary exhibition. We ask for JYP Entertainment's official feedback and cancellation of events which are being carried out on a one-sided basis while ignoring fans' voices."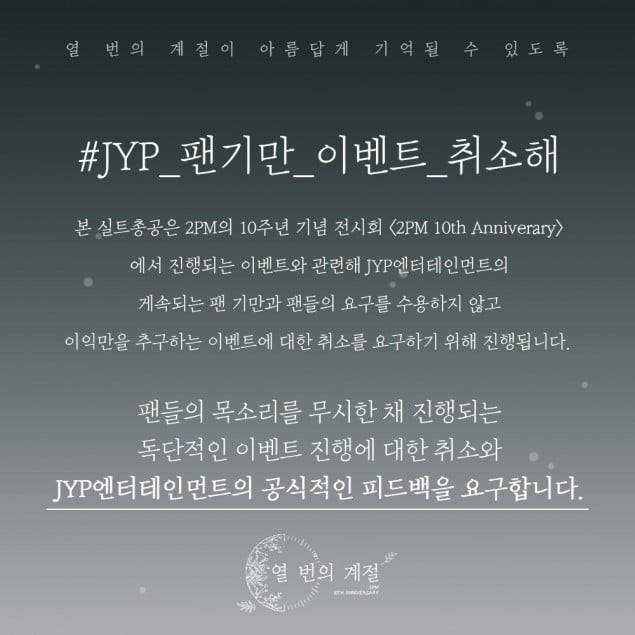 Other fans commented,
"After 10 years they still think fans are stupid, trying to cheat us out",
"Please stop deceiving us fans, acting like you're giving us a chance to enter in these great events but really its just worrisome for all of us because everybody's concerned about getting in, spending money"
,
"60% of your flashy new building must have come from HOTTESTs, why don't you think about that"
,
"Treating us like ATMs from start to finish, do you know how many random, random events we've spent money on all these years"
, and more.

As the issue grew, JYP Entertainment notified on August 23,
"We apologize for causing many fans worry which wasn't meant to occur regarding the fan events. We planned to release a secondary notice containing various details for the upcoming exhibition, including several corners for fans to participate in; however, in order to bring fans an even better event, we will reevaluate the details and contents and announce a new notice as soon as possible. This upcoming exhibition will have the theme of the 4 seasons, and is a large-scale exhibition full of video content and interactive art installations reflecting back on 2PM's 10 years. We will do our best to ensure that everyone finds an enjoyable exhibition."
The announcement image containing the above details (first image) has now been deleted. What do you think of fans' concerns?