Korean-Amercian actor
Steven Yeun
is under fire after liking an image with the Japanese rising sun flag. 
On May 11, Steven Yeun liked a photo on Instagram of a boy with attire made of the Japanese rising sun, uploaded by a movie director Joe Lynch (the photo has been taken down). Thousands of netizens saw this and since then, called out the actor for his insensitive action.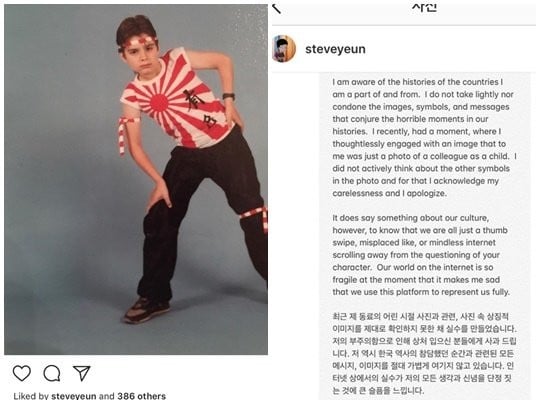 The Japanese rising sun is especially a sensitive topic in Korea as it is largely viewed as a symbol representing the Japanese imperialism in the early 20th century (World War II) - which significantly affected Korea and China. Because of the history behind the flag, many Koreans and Chinese find the flag to be deeply offensive, with some even comparing it to the Nazi Swastika.
Since the controversy, Steven Yeun stepped forward to issue an apology for his mistake and stated that he will learn from this experience. The full apology statement can be seen in the photo below.
What do you think of the situation?