Kang Tae Gu
 has been accused of abusing his ex.
His ex 'A' left a long post on her SNS, claiming that she had dated him from 2012 to 2016. She accused him of abusing her throughout the relationship and said she was revealing a few cases to be publicized.
According to 'A', Kang Tae Gu constantly picked at her outfits and makeup to make her feel ashamed. Whenever she tried to work with others in the music industry, he told her he would break up with her if she continued to work with them. He forced her to watch porn, and if she refused, he would force her to with their love on the line. Even after they broke up, he said they had a 'special relationship' and demanded intercourse from her. But when she tried to get him to be responsible for his actions, he would just say they were friends.
Because of his constant abuse, she got professionally treated for self-loathing at a hospital. She said, "
I didn't have the courage to reveal this until now. When I saw the other voices of victims of sexual and date violence, I realized that I could not just leave this as my pain. I also wanted to make sure no one else would be a victim like me.
" 
When the singer saw this, he posted on his
Twitter
, "
Let me know how to contact you. There are falsehoods in your story. There are also parts that I didn't think of, and I won't make any excuses as of now. Let's talk. I'll apologize as you want, and you should correct what's not true. I think it would be nice to meet up for the first time in a while, and talk about how I'm doing and how you're doing.
"
He added, "I won't be erasing what I wrote. If there's something I was wrong about, or if I expressed it wrongly, I will correct my thoughts and apologize. But please wait, and listen to my story as well. I will definitely correct things that could be mistaken later. When I said I wanted to meet her, it's not me forcibly requesting her to meet me. If there was a misunderstanding, I will apologize to her. And as she wants, I will relay my story to her through someone else, and apologize."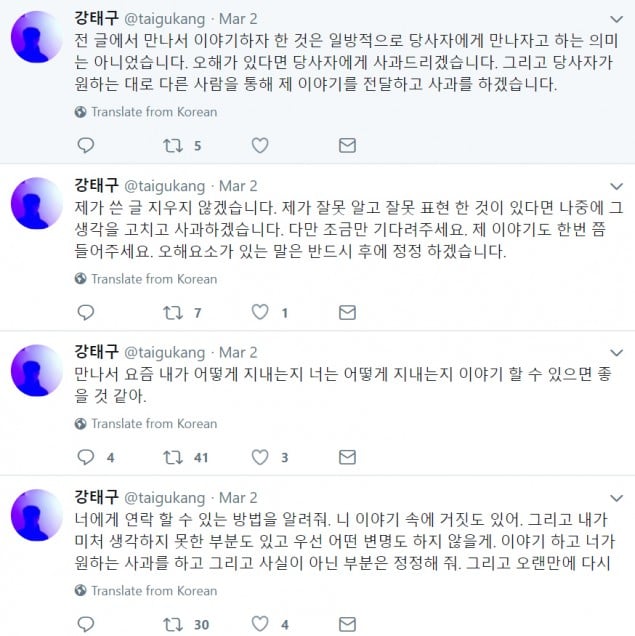 He had recently been
awarded
at the
Korean Music Awards
in various areas, including 'Best Folk Album', 'Best Folk Song', and 'Album of the Year'. The KMA reported that they would be talking over waht to do, including possibly cancelling his awards.