Every chaebol story you've ever seen in any Asian drama plotline ever, you'll be able to find in MBC's new drama 'Great Temptation'. I mean, seriously, if I learned anything from episodes 3 & 4, it's that this drama is literally a chaebol ice cream sundae.
A quick summary of the story as a reminder: Kwon Si Hyun (played by Woo Do Hwan), the heir of the JK Group, has a mission to seduce Eun Tae Hee (played by Red Velvet's Joy), all in a great scheme for Si Hyun's childhood friend Choi Soo Ji (played by Moon Ga Young) to take revenge on her ex-boyfriend Lee Ki Young. Eun Tae Hee is believed to be Lee Ki Young's first love, but each of these characters and their family ties run much deeper than just a simple revenge game.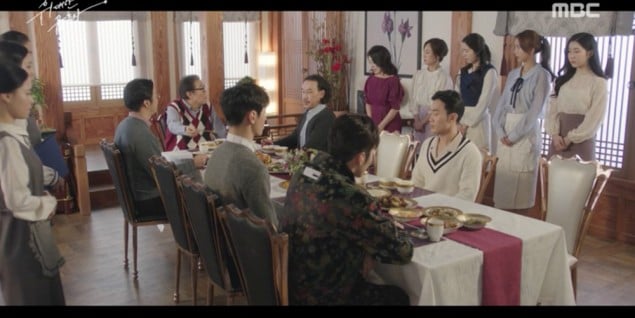 Literally the definitive picture of a dramatic Asian chaebol family...

Episodes 3 & 4 gave us even more details on the complicated family and relationship situations of each of the characters. Let's start with the new information we learned about Choi Soo Ji.
Choi Soo Ji's love/hate relationship with her mother runs very, very deep. What she wants more than anything is to be different from her mother. And yet, we also learn in episodes 3 & 4 that Soo Ji takes medication for mental illness - pills she simply took from her mother, who is a doctor, without any prescription - copying her mother by taking the same pills that her mother once took. Because she drinks alcohol at the dinner party while on her medication, she goes berserk from learning that her mother will be marrying Kwon Si Hyun's father. 
Then later on, as Soo Ji mildly takes up Kwon Si Hyun's offer to "get married before our parents do", she again forewarns that she may be following exactly in her mother's footsteps. Despite her resolve to be different from her mother and despite claiming that she doesn't want a fake marriage with Si Hyun for material gain, Soo Ji is more than just a little tempted at the prospect of marrying Si Hyun. In a nutshell, the poor girl hates her messed up family but is helpless but to repeat the same kinds of mistakes on her own. Things are really, really starting to look bleak for her...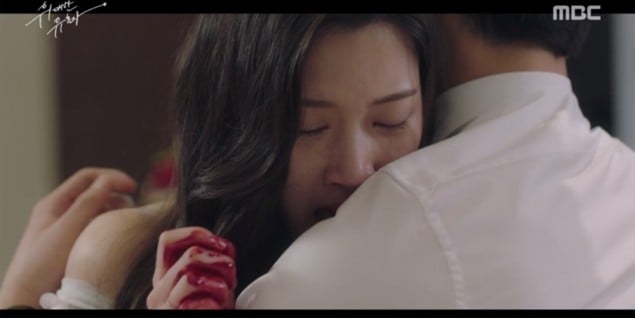 And then we have this crazy unexpected scene here (below) of Kwon Si Hyun's father Kwon Suk Woo (played by Shin Sung Woo), creepily creepin' on Tae Hee's mother! Like WTH!!! Okay so we don't know what the deal is here, but apparently, Tae Hee's mom and Si Hyun's dad had some kind of fling back in the day. But don't go guessing that Si Hyun and Tae Hee might actually turn out to be related or something crazy like that (Totally did for a few seconds and then scolded myself hard...) That would be really really bad.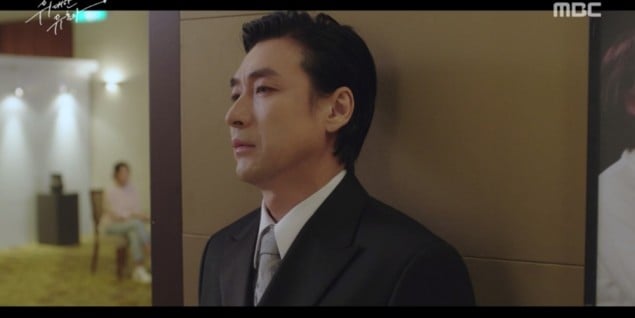 Ohhhh man hiding behind a wall and creepin' on the woman I love listening to music is soooo romantic...
At least that brings us to a bit more of Tae Hee's family situation. So the shocking thing we learn in episodes 3 & 4 about Tae Hee is that when she was sent to live with her dad in Germany during her middle school days, her mother divorced her father and named Tae Hee's father as Tae Hee's sole legal guardian, all while keeping Tae Hee in the dark. You can imagine why Tae Hee refuses to accept monetary support from her mother now... technically, they are no longer family, legally. And now, all Tae Hee wants to do is to get through college on her hard-earned full scholarship, then eventually get a job to support herself on her own, running away from her family forever...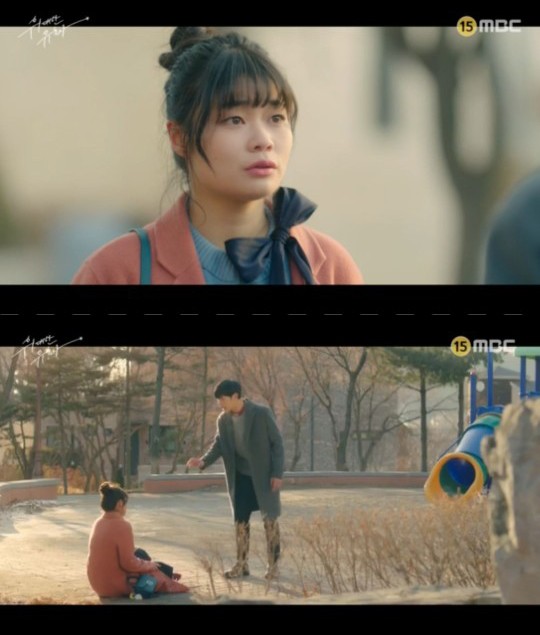 Before we move on from character/family situations, I want to briefly touch on Tae Hee's best friend, Go Kyung Joo! She's a cute one, this one. So she's the daughter of the famous model that Kwon Si Hyun hooked up with at the club in episodes 1 & 2. And she's a smart girl, so she's found out about her mother hooking up with one of her high school classmates, which she finds deathly embarrassing. Early on yesterday, we learned that the model isn't Kyung Joo's biological mother. Kyung Joo's family is rich too, btw. There's no telling when she'll become involved in Si Hyun, Tae Hee, Soo Ji, and Se Joo's 4-way mess, being a chaebol in her own right and all.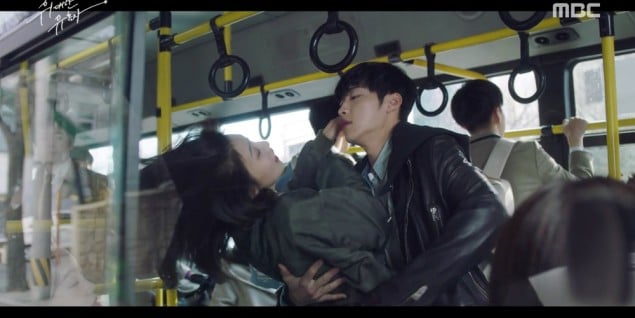 OMG there are too many chaebols and too many families connected all over the place and ADL;JSG;SLKFGJS /falls over but there's no hottie to catch you/

So now some thoughts about the drama so far. I quite enjoyed episodes 3 & 4, as much as I enjoyed the first two. My favorite parts were the ones involving Lee Se Joo (played by Kim Min Jae) and his almost comically crazy chaebol family. So many dramatic relationships and family issues can bring the mood of the drama down by a lot, but the writer did a great job with Se Joo's character. His sarcasm and apathetic attitude toward the various chaebol family feuds, play a very important role in giving the drama the little bursts of lightheartedness it needs. But it's not that his character is shallow or void of emotions, not in the least bit. We'll see Se Joo facing up to his own problems soon, I'm sure. Overall, the drama has had great transitions and a very smooth timeline in the storytelling so far, Se Joo's appearances being an example of that. 
If you haven't realized by now, this drama is going to be full of chaebol talk. Which is why I recommend that fans of 'Heirs' give 'Great Temptation' a try. One media article even pointed out after the airing of episodes 3 & 4, that Kwon Si Hyun very closely resembles Kim Woo Bin's character in 'Heirs', Choi Young Do. They even have the same mothers, like literally. (As in the same actress plays their mothers.)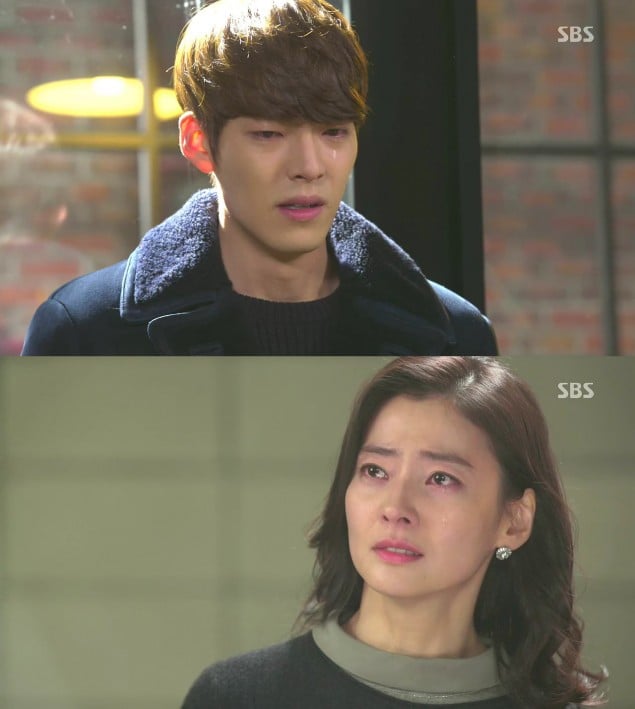 Young Do, I have a secret to tell you... you have a long-lost brother... but he comes out in an MBC drama.
That about wraps it up for the premiere week of 'Great Temptation'. Who else can't wait to see how badly Si Hyun fails at trying to seduce Tae Hee next week?
Score


Plot..........................6
Performance............9
Pacing.....................9
OVERALL..............8