As professional athletes entered Pyeongchang Olympic Stadium on February 9 KST for the Opening Ceremony of the '2018 Pyeongchang Winter Olympics', they were welcomed not just by the loud audience rooting patriotically for their nations, but by K-Pop music.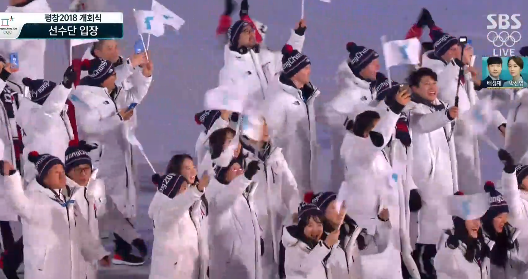 With the '2018 Pyeongchang Winter Olympics' finally here, all eyes were fixed (or should I say ears) as trendy K-Pop music rang throughout the grand facility.  
It was a grand moment for avid K-Pop fans around the world as they were proud and delighted to listen to some of their favorite songs from their favorite artists.
Hit tracks including Psy's "Gangnam Style", TWICE's "Likey", Big Bang's "Fantastic Baby", BTS' "DNA" and Red Velvet's "Red Flavor" were played as athletes from around the world walked with pride and dignity, waving at the spectators.  Figure Skater Kim Yuna also took the spotlight by lighting up the magnificent cauldron.

The opening ceremony was an emotional and historical event for many Koreans, marking 30 years since South Korea hosted the Summer Olympics back in 1988.
Decorated with flashy LED lights, fiery explosions, catchy K-pop music, and elaborate performances, the opening ceremony at this year's 23rd winter games is set to become another legendary memory.
EXO and CL will be presenting performances at the closing ceremony.
What was your favorite highlight of the evening?
The songs played during the athletes parade.

PSY - GANGNAM STYLE
TWICE - LIKEY
BIGBANG - FANTASTIC BABY
BTS - DNA
Red Velvet - Red Flavor#OpeningCeremony #WinterOlympics #Pyeongchang2018

— Coops. (@wosaurus) February 9, 2018
Anyone watching the @pyeongchang2018 #OpeningCeremony?@BTS_twt "DNA" was played as Cyprus, Chinese Taipei, Thailand, Turkey, Togo, Tonga, Pakistan, Portugal, Poland, Puerto Rico and France walked into the stadium! #iHeartAwards #BestBoyBand #BTS pic.twitter.com/ytgv85IUMg

— BTS UK ARMY UNITE (NEW PROJECT in Pinned Tweet!!) (@BTSUKUNITE) February 9, 2018
The #PyeongChang2018 #Olympics #OpeningCeremony was amazing!

With drones, LED lights and so much technology at their disposal,
we can only imagine what sort of performance(s) @weareoneEXO has in store for the #ClosingCeremony#EXOL #iHeartAwards #BestFanArmy pic.twitter.com/R54VnVTwog

— EXO SCHEDULE (@exo_schedules) February 9, 2018
During the #OpeningCeremony of #PyeongChang2018 we've heard a song of:
-JYP
-YG
-SM
-And a song of Big Hit

They played DNA in front of the world.
This is a proof that "The Big 3 agencies" era is finished.
Let's introduce "THE BIG 4".#iHeartAwards #BestFanArmy #BTSARMY @BTS_twt pic.twitter.com/Fpm22nBYkP

— HITMAN BANG FANBASE : HITMEN (@HITMAN_FANBASE) February 9, 2018