During graduation season in Korea, numerous fans often gather around school premises hoping to get a glimpse of their favorite graduating idol stars. T
his is causing an issue as students expressed their anger towards such intolerable acts via online community boards.
A graduating student enrolled at arts high school recently shared his/her concerns via social media.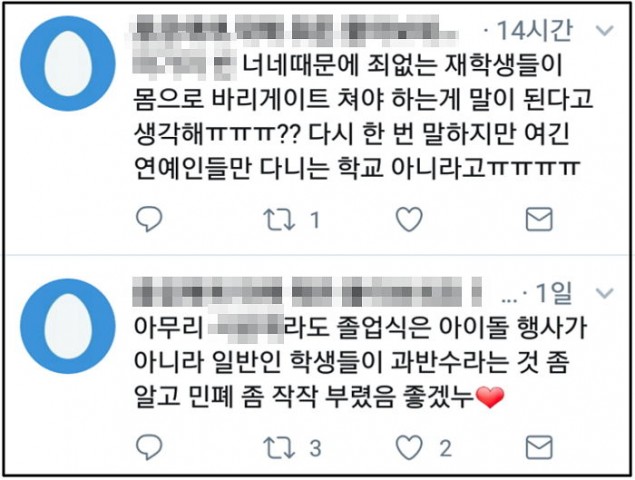 The netizen said, "Does it make any sense for us, enrolled students, to form a human barricade because of such fans? This isn't a school where only celebrities attend you know," stated with rage.
The netizen continued with the rant, "Even if popular idol members were to attend this particular school, a graduation ceremony isn't some kind of idol event. Please understand that normal students make up the majority of this school, and ask that you would all refrain from causing any further chaos."
The writer also shared that a specific clan of fans went all out by even daring to dress up in school uniforms or wear press badges around their necks, in order to attend the graduation ceremony.
Furthermore, it seems this isn't the first time such appalling incidents occurred where fans showed up at the ceremonial hall to take photos of their favorite idols. In 2017, numerous posts were made via online community boards and social media by students saying things such as "Don't want my graduation ceremony to be ruined because of some fan."
During that time, a student from arts high school commented that he/she almost fell down the stairs due to pushy fans swarming around.
On the other hand, it seems some refuted the students' complaints. A representative of one arts high school stated, "Many journalists, as well as domestic/international fans, do show up at graduation ceremonies. Which may, in turn, transform the boring ceremony into a lively festival."
When asked if the students weren't affected by such aggressive actions from fans, the rep responded, "We usually have staff and police officials on site. In the past, fans came in orderly fashion. However, the rep also said,"But there are some students who do oppose outsiders from attending the graduation ceremony," and, "We'll take necessary protocol if a large number of students voice their demands."