Tweety
 is making a comeback as a band. 
The girl group is planning to return with a new track "Bad Boy" in March. This will be their first release since "Fighting Ahjussi" in May 2017. 
"Bad Boy" portrays woman's desires to go back to herself after being heartbroken by a boyfriend who has cheated on her. The metal rock track consists of heavy guitar sounds and drums, which work together to create a sexy yet refreshing tone.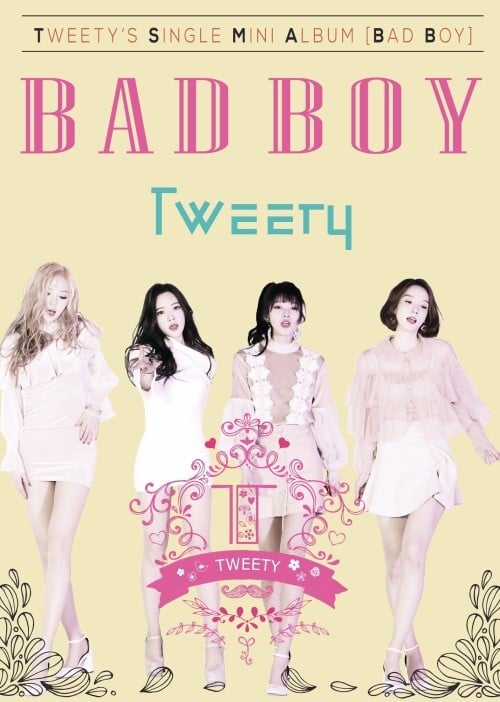 "We will go beyond just idol girl group and display girl crush charms. This time, we will be actually playing the instruments," said Tweety. However, the girls explained this does not mean they are completely transitioning into a band. "'Bad Boy' has such strong band sound so we are trying it out accordingly. This does not mean we're turning into a band group. It's a challenge to broaden our musical spectrum."
Member Haein (24) and Ahin (26) are in charge of the bass. New member Hanul (24) is taking over the synthesizer while another new member Boreum (19) is taking control of the drums.  
Tweety also shared about the departure of Sia and their new members. Tweety said, "While preparing for 'Bad Boy', Sia injured her leg. Her knee bone was misplaced and it would've gotten worse if she continued her girl group promotions so she had to stop. Hanul is a singer who was well known in Hongdae for her vocals. Boreum appeared in 'Open Concert ' in 2014, 'Enjoy Saturday' in 2015, and more. She's also a great dancer who has been part of the dance teams for Park Mi Kyung sunbaenim and Clon sunbaenim. With Hanul and Boreum's addition to the team, our vocal and dances have both strengthen."
"Bad Boy" will be coming in March. Stay tuned for more on Tweety's comeback!