ARMYs all over the world have banded together to trend '
#NAMJOON DAY
' worldwide!
Each day, fans have been trending one member of BTS and today they showed their love and support for BTS and leader RM.

SEE ALSO: [Interview] Ask anything and everything: Let us know your questions for IN2IT!
Numerous tweets went out consisting of photos/video clips and encouraging quotes by RM himself, making ARMYs proud.  Many mentioned how RM influenced them to become better human beings and to strive for their goals in life.
Happy Namjoon Day!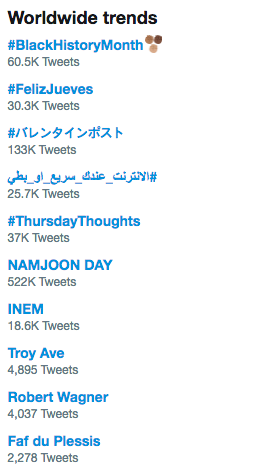 I wonder if he understand and know How powerful his words can be and how helpful they are,Namjoon have the power to save lives through his words and music

NAMJOON DAY #iHeartAwards #BestFanArmy #BTSARMY @BTS_twt pic.twitter.com/q2p1cbiscJ

— ` (@Armys_Crew) February 1, 2018
Y'all we can't let the gap keep decrease like this. ARMY keep on voting.

We need to vote faster per hour then them. We are not giving up #iHeartAwards
Here is JK for motivation #BTSARMY #BestFanArmy @BTS_twt NAMJOON DAY pic.twitter.com/Hy35x4whOn

— Marta BTS ♡ ARMY (@MartaKarineSaga) February 1, 2018
since it's namjoon day let's remember the time he signed every fan's album even though his right hand was injured.. he even drew a heart, omg he's the sweetest #iHeartAwards #BestFanArmy #BTSARMY @BTS_twt pic.twitter.com/Xrg26uNr2f

— michelle (@jeonglows) February 1, 2018