Families, friends, and fans' hearts went out to 
Ladies' Code
 as the funeral procession took place for 
RiSe
 at Korea University Anam Hospital in Seongbukgu, Seoul on the morning of September 9.
Members Ashley, Zuny, and Sojung were present to pay their respects to the late RiSe who passed away on the 7th at 10:10 AM KST due to severe injuries from the tragic accident. Sojung, who was unable to attend the late EunB's funeral on the 5th due to her surgery, made her way out of the hospital in a wheelchair despite still being in recovery from her procedure. Also in attendance were family members, agency artists and employees, as well as fellow 'Birth of a Great Star' contestants.
After the funeral procession, the cremation will take place and RiSe will be laid to rest in Japan.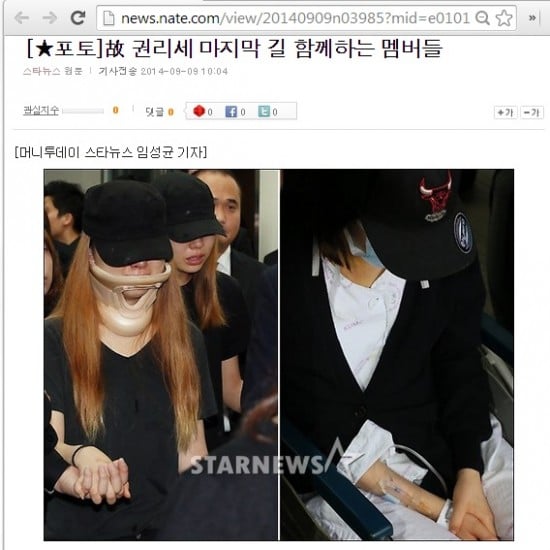 Lee Eun Mi also touched the hearts of many recently as she shared her thoughts on her 'Birth of a Great Star' mentee RiSe during her performance for the Sewol families in Seoul on the 8th. She shared emotionally, "Please don't falter. RiSe, who left before me yesterday, taught me that. She was someone who didn't tire out nor give up and worked hard to pursue her dream. Upon seeing her endless passion, I was able to reflect on myself. I felt like I wasn't the mentor, but a mentee in front of her. So don't get tired nor give up and fight until the end."
Our hearts and prayers go out to all the friends and families of RiSe and EunB. May they rest in peace.