The youth-centered K-pop market is constantly searching for the next big thing. Young people in this scene get easily bored with the tried and true, and for this reason, they're usually the agents that soak up Western attitudes and unique fashion trends and bring it back to Korea. One of the most interesting of said trends is the attitude toward tattoos.
In Korea, tattoos have long been considered taboo and people take care to keep them hidden in public. But nowadays, idols' acceptance of tattoos reflects a liberalization of Korea's mainstream culture. With their appearances on broadcasts in all their tatted glory, idols are challenging the market to keep up with the pace of an increasingly dynamic youth who don't care so much for conservative taboo.
So with that, let's take a look at some male idols and their ink:
B.A.P's Bang Yong Guk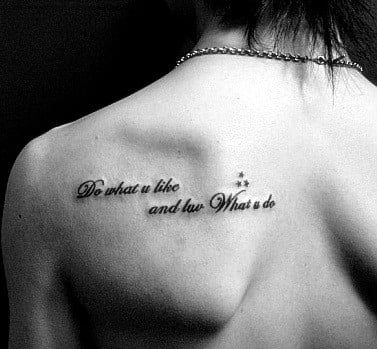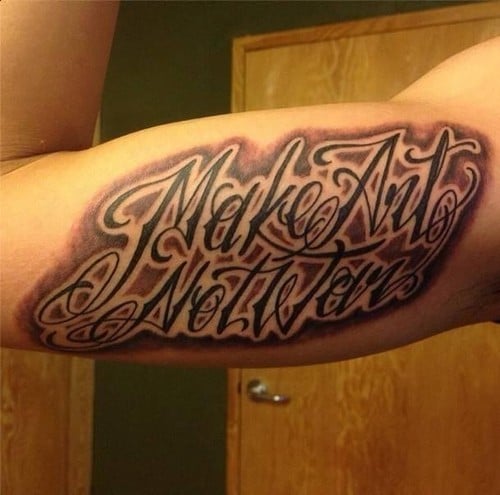 Bang Yong Guk has a tattoo on his back that says "Do what u like and luv What u do" and another one on his right bicep that says "Make Art Not War".


JYJ's Jaejoong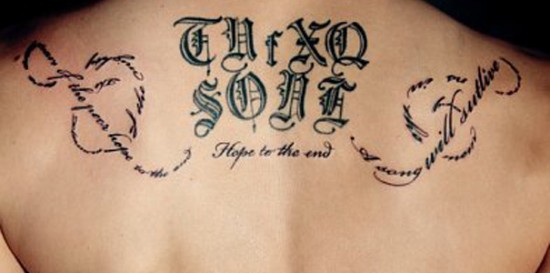 Though Jaejoong has tattoos all over body, we'll focus on one of his earlier ones, located on his back. Here, it reads, "The pleasure of the mighty are the tears of the poor," "Hope to the end," and "A song will outlive all sermons in the memory".
Block B's Taeil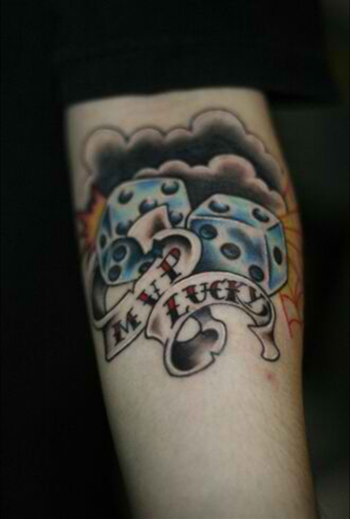 Taeil has a tattoo of "777" on his wrist because 7 is a symbol of good fortune. Another tattoo he has is that of a dice with "MVP" and "Lucky".

Kris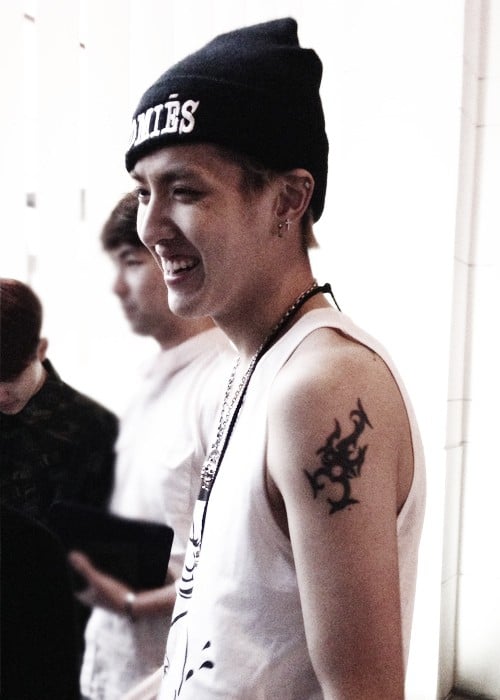 Kris has many tattoos as well, but his Borneo Scorpion is probably his most well-known one. The design is a tribal tattoo that represents valiance and protection.
Big Bang's Taeyang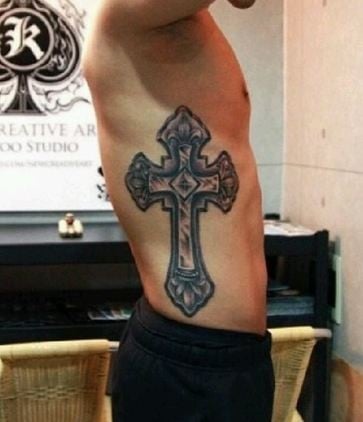 Taeyang is known to be an adherent of Christianity. And the way he chose to express his deep attachment to his religion is through ink. He went to the United States to get his tattoos done by world renowned tattoo artist
Anil Gupta
. There is a big cross tattooed running down his right side and a Jesus' death and resurrection scene spanning across his upper back.
JYJ's Yoochun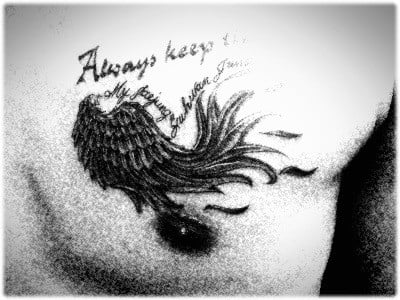 Though Yoochun has several tattoos, we'll focus on the one located on his left chest. Initially, he tattooed, "Always keep the faith". He got this done in 2009, soon after filing the lawsuit against SM Entertainment. He later added a wing with the words "My Jaejung Yuhwan Junsu" flowing along the edge.
Big Bang's G-Dragon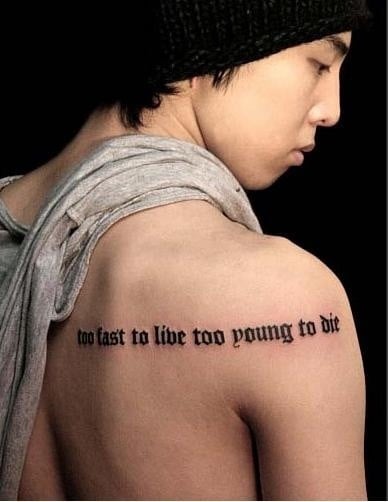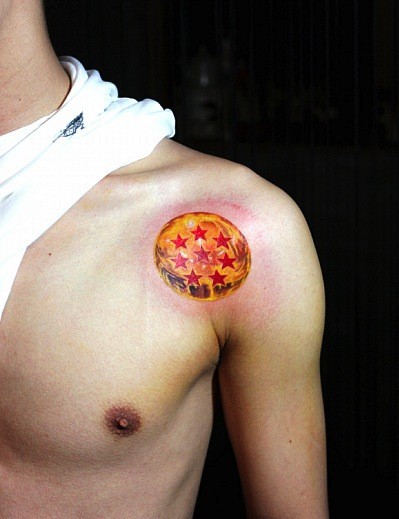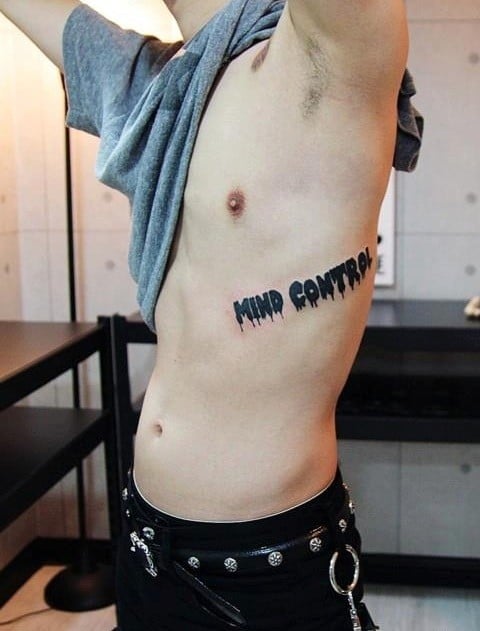 G-Dragon currently has a total of seven tattoos on his body. Of these, the most well-known is the
"too fast to live too young to die"
tattoo inked across the right half of his back. The words are also included in one of G-Dragon's song, "
The Leaders
". Although not pictured, there is a pair of tattoos in Italian,
"vita dolce,"
which means beautiful and sweet life,
and
"moderato",
which means moderate tempo. On his right arm, there is a tattoo of a cartoon heart with arms and legs, which was inspired by
Keith Haring
. Haring is a protestor involved in issues, such as racism, nuclear movement, and homosexuality. On his left shoulder is a tattoo of a dragon ball with eight stars from the '
Dragon Ball
' series. Then he has
"Forever Young"
tattooed on the right side of his torso and
"Mind Control"
on his left flank.
Block B's Zico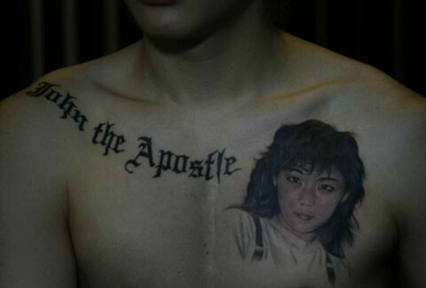 Zico is a devout Roman Catholic. He has his baptized name tattooed across his chest and a portrait of his mother when she was younger on the left side of his chest.
F.T. Island's Hongki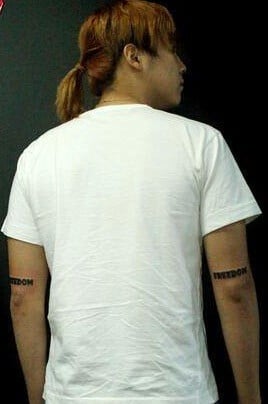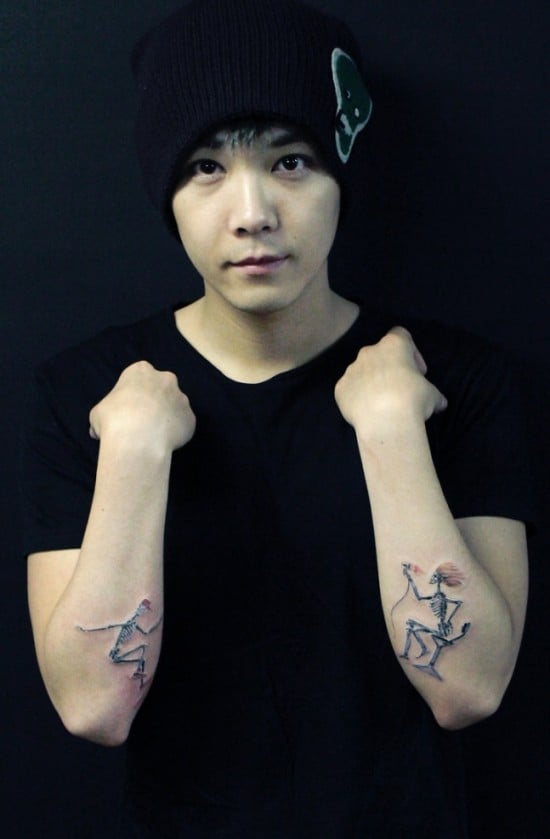 In addition to the pair of skeletons tattooed on his arms, he has
"Freedom"
tattooed on the backs of both his arms.
B2ST's Junhyung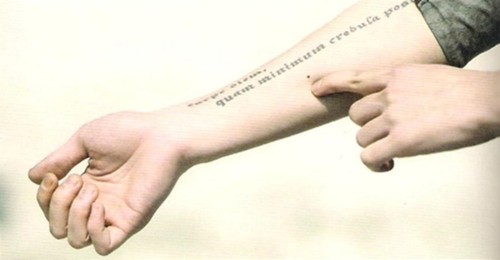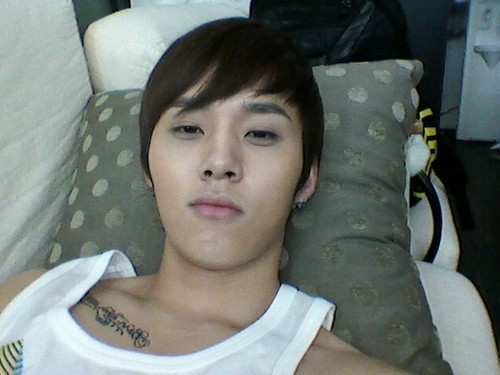 Junhyung has a tattoo on his right arm which says "seize the day, put no trust in tomorrow" in Latin while he says "If I die tomorrow I would never regret" on his upper left. He also has one on his chest which reads, "born again still your son," which goes to show how much love he has toward his parents.

Jay Park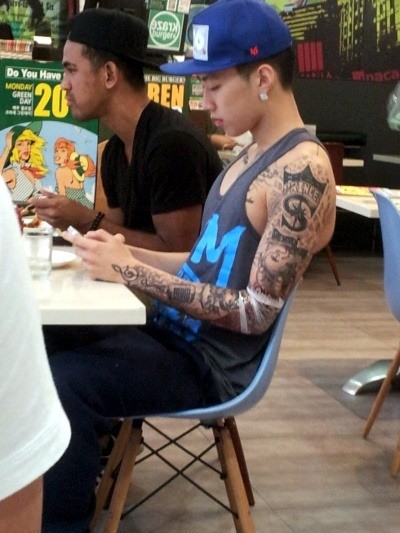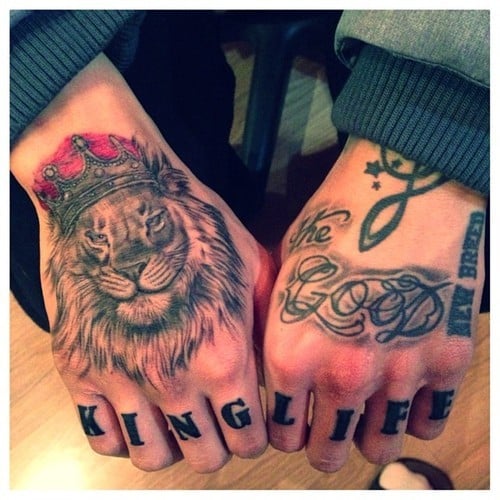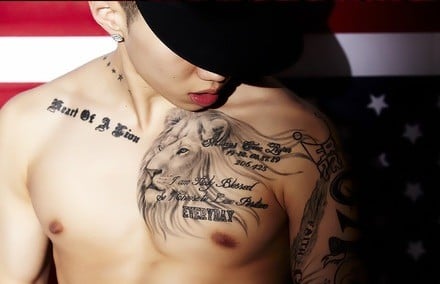 Jay Park is widely known for his tattoos and how much they mean to him as a form of expression. He says he's too lazy to count the number of tattoos, but considering his whole left arm is now filled, we can only imagine. All his tattoos stand for his music, family, crew, and his morals. Frankly, it might be easier to find places on his body that aren't inked up.
---
Which are your favorite tattoos?