Track list:
Domino Game

Domino Game (Inst.)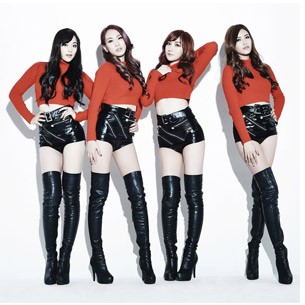 Kiss&Cry debuted with the single "Domino Game" which was released a couple weeks ago on January 24th. Before I continue I will note that one of the four members, Dia, was previously a solo artist. Also, two other girls were part of girl groups that are no longer active (Bohye under Bella and Soyumi under VNT). These girls obviously have some industry experience so they were likely feeling less pressure than actual rookies for their debut. They are not veterans, either, but the point I am trying to make is that they appeared comfortable in the spotlight—and confident. They are off to a good start.
Moving on, the group's debut contained just one song—"Domino Game"—with the other track being the instrumental. It is quite unfortunate that the group debuted with a single album; after multiple listens of "Domino Game," it wasn't too difficult to grasp how solid the members were vocally. They dragged long notes without getting breathy, and the vocal ranges were rich, going from husky low to a mile high with ease. Had they debuted with a full album—or even a mini album—I would have been able to appreciate the group's vocal performances more fully.
Interestingly enough, it was revealed that Dia had played a great part in composing this song, showing that these girls were not just gifted vocally. "Domino Game" gave off this Latin / salsa feel when I first listened to it. I thought I heard wrong but after listening for the umpteenth time, I came to the conclusion that yes, there are indeed hints of salsa elements in the song. The prominence of brass instruments such as the trumpet and trombone can be heard rather plainly all throughout (am I the only one who was reminded of Shakira?). Drums also played a big part in the song as a whole, sounding the most dominant in the chorus. All in all, the song was perfect for showcasing the vocal potentials of the members.
If you like any type of music with a Latin background, whether it be reggaeton, salsa, or even jazz, I recommend this song. A solid first effort for Kiss&Cry, let's see what they have in store for us from here on out.