Throughout the month of December, we brought you our list of the best and most important K-Pop songs of 2013. Now, with the new year, we're pleased to present the best K-Pop music videos of 2013!
Read on to find out where your favorites rank in our list. On today's list, we bring you the second half - numbers 25 through 1.
[SEEALSO]http://www.allkpop.com/article/2014/01/allkpops-top-50-k-pop-mvs-of-2013-26-50[/SEEALSO]
---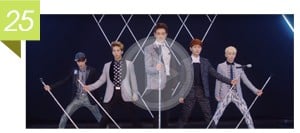 25. SHINee "Dream Girl"
Label:
SM Entertainment
Release Date:
February 19th, 2013



SHINee's been a busy, busy group this year, knocking out comeback after comeback with very little time for breaks in between- so much so that it seems like "Dream Girl", their first video of 2013, came out much earlier than it actually did. The video features all five guys navigating a strange, topsy-turvy dream world while chasing a faceless girl in a painting through rooms where time and gravity have no meaning.

---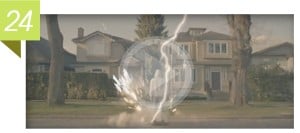 24. Cho Yong Pil "Hello"
Label:
Pil Records
Release Date:
April 23rd, 2013
When the creative team at Lumpens makes a video, they go all out. There is no subtlety to be found in the over-the-top, bizarre video for Cho Yong Pil's "Hello", but that's half the fun. The video is all about a young kid trying to imagine himself as a rock star to impress his pretty new neighbor. As his imagination runs wilder and wilder, he eventually sees himself as Iron Man, living in a flaming treehouse in the sky- that'll impress the ladies.

---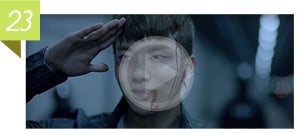 23. B.A.P "One Shot"
Label:
TS Entertainment
Release Date: February 11th, 2013



B.A.P pulled no punches in their first ever drama video, "One Shot", with some of their hardest-hitting choreography to date and the band's first turn at acting. Similar to BoA's "Disturbance", "One Shot" featured two different endings- in the first, the band pays Youngjae's ransom but the hostage takers kill him anyway. In the second, it turns out Youngjae was just a cop trying to put Bang Yong Guk and his cronies behind bars.

---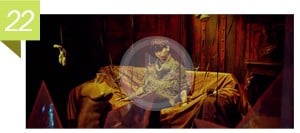 22. VIXX "Voodoo Doll"
Label: Jellyfish Entertainment
Release Date: November 19th, 2013
VIXX's turn toward the creepy and bizarre has done wonders for their career as they've taken the dark image to new levels never before seen in K-Pop. "Voodoo Doll" is a song about an obsessive, stalker-like man bent on winning over the woman he wants by getting revenge on a guy who broke her heart and being willing to do destroy himself in the process if that's what it takes. The video turns the story on its head, with one girl holding the boys of VIXX hostage, torturing them with a voodoo doll of her own creation. Hongbin in particular underwent a huge transformation for this video, completely changing his cheerful, goofy image for that of a monster driven crazy by his own creator.

---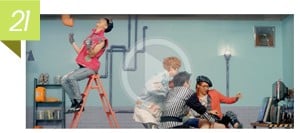 21. B1A4 "What's Going On?"
Label:
WM Entertainment
Release Date: May 7th, 2013
"What's Going On?" is a very literal box video- some of the box sets are so small, the members can't even stand up inside of them. However, the video tells a story about privacy (or lackthereof), and may even be a commentary on the way the frustrations of being a celebrity with no private life. Even in their own home, the main couple has to wear masks because they're constantly being watched, even when they don't want to be. B1A4 break into the house to "rescue" the girl, decapitating her boyfriend in the process. Dressed up as a Barbie doll, she was quite literally viewed as an object rather than a person. In the end, they just end up fighting amongst each other and ignoring the girl; their efforts had more to do with themselves than they ever had to do with her. Of course, being B1A4, the entire story is wrapped up in a technicolor package and disguised as all fun and games.

---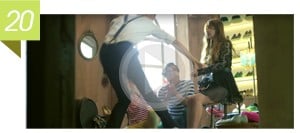 20. IU "The Red Shoes"
Label:
LOEN Entertainment
Release Date: October 7th, 2013
Hans Christian Anderson's "The Red Shoes" is a cautionary tale about the dangers of vanity and selfishness, represented by a pair of red shoes that control the wearer and force her to dance wherever they want to go, taking total control of her life. In the video, IU tries to choose her own fate, but the shoes eventually chase her down and take her away from the person she wants to be with. It's a sad story for such an upbeat song, but the beautiful, silent film era-inspired filming makes up for the sadness.

---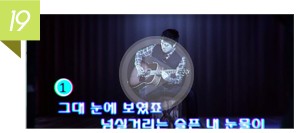 19. Baechigi "Shower of Tears"
Label:
YMC Entertainment
Release Date:
January 13th, 2013



If you've ever had that feeling that you're being watched when you know you're alone, you know how the leading man in Baechigi's "Shower of Tears" feels as he strolls down a snowy street and the posters on the buildings all stare at him. And if you're the kind of person who uses music to get through the hard times in life, then you know how our leading actress feels at the world's lonliest noraebang. Meanwhile, our other male lead's conscience won't leave him alone while he tries to drink his coffee in peace. It's a simple story of heartbreak and regret, beautifully filmed and executed.

---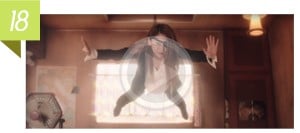 18. Brown Eyed Girls "Kill Bill"
Label: Nega Networks
Release Date: June 28th, 2013



Our resident adult-dols came back to us in 2013 with the campy drama version of "Kill Bill", a tale of betrayal, revenge, and- of course- murder. The members star assassins on a mission to kill each other. It seems that they all succeed in their missions and die in the first half of the video, but we soon learn that they they all survived their own murders and four years later they're all still on their murderous missions. Do they really all die in the end, or is it just another plot twist waiting to happen? The world may never know.

---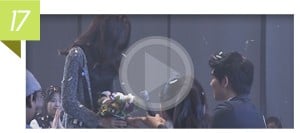 17. Lee Seung Chul "My Love"
Label:
CJ E&M
Release Date:
June 17th. 2013
Lee Seung Chul's "My Love" was one of 2013's most ambitious videos. Not only was it a massive production that involved 31 cameras, 50 actors, and a huge live orchestra, the video was an actual proposal that had to be shot in just one take. The video shows glimpses into the setup for the big surprise before we follow the beautiful bride to be on her surprise journey to getting engaged. Thankfully for everyone involved, she said yes.
---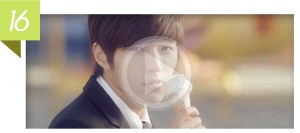 16. K.Will"Love Blossom"
Label:
Starship Entertainment
Release Date:
April 3rd, 2013



K.Will is well known for not appearing in his own music videos (in fact, he said one of his dreams was to appear on his own MVs). To make up for that, his videos are always full-on events, and "Love Blossom", starring INFINITE's L and SISTAR's Dasom, is no exception. The video somehow manages to make motion sickness and murder at an amusement park funny- more surprising, however, was the fact that K.Will himself plays the carnival-ride-operating murder victim! Meanwhile, the bullies get their comeuppance, and L not only gets the girl, but he givs her a piggyback ride into the sunset. What more could you ask for, really?

---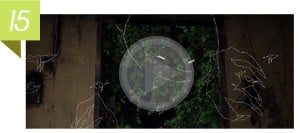 15. Drunken Tiger "The Cure"
Label:
Feel Ghood Music
Release Date:
September 12th, 2013
The creative team at Lumpens really went all-out in 2013, creating videos like SPICA's "Tonight", Cho Yong Pil's "Hello", and MFBTY's "Sweet Dreams". Among them, it was the simple imagery of MFBTY's "The Cure" (released as Drunken Tiger ft. Yoon Mi Rae and Bizzy) that really stood out. The song talks about the struggles that come with depression and lost love, and the need for rescue. What could have been a simple box-style video of the group wandering around in a rundown building was brought to life with line drawings showing the invisible "monsters" of depression following the members around and trying to hold them back. The monsters never quite leave, but they don't win either, as hope ultimately always takes flight. Mental illness is something of a taboo subject in Korea, and MFTBY did a beautiful job of not only bringing it to light, but reminding sufferers to never lose hope.

---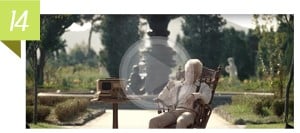 14. J.Y. Park "Had Enough Parties"
Label:
JYP Entertainment
Release Date:
September 8th, 2013
While J.Y. Park is better known for his dance numbers than he is for introspective songs and videos, in 2013 he showed us a new side of himself with "Had Enough Parties". The video takes the song's message of wanting to settle down from a wild lifestyle one step further, using makeup and prosthetics to illustrate just how unsustainable and shallow that lifestyle can be. JYP imagines where his life could take him depending on what choices he makes, and pleads for his love to save him from a sad and lonely future. Shortly after the release of this video, we found out why he had the future on the brain when he announced his upcoming marriage- as they say, the best songs are the ones that come from personal experience.

---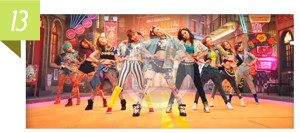 13. Girls' Generation "I Got a Boy"
Label:
SM Entertainment
Release Date:
January 1st, 2013
Despite being their sole Korean comeback for 2013,
Girls' Generation
had one heck of a year with the colorful video for their trend-setting song, "
I Got a Boy
". While the video was essentially your standard
SM Entertainment
fare- box video, Matrix-cam, only one love interest to share between all the girls - it brought a lot of attention. Fan voting gained the video international attention when it won the
Best Music Video Award
at the first ever
YouTube
awards. IGAB went on to be named the fifth-biggest song of the year by
Time Magazine
, beating out heavy-hitters like
Lorde
's "
Royals
",
Miley Cyrus
's "
We Can't Stop
", and even the juggernaut that was
Anna Kendrick
's "
Cups
". The video featured some of Girl's Generations most complicated choreography to date, courtesy of
NappyTabs
of '
So You Think You Can Dance
' fame, as well as some of their wildest fashion so far. While the song and video were loved by some and hated by others, no one could deny the huge impact it had in 2013.
---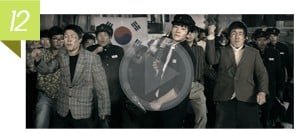 12. SPEED "Sad Promise", "It's Over", "Never Say Goodbye"
Label:
Core Contents Media
Release Date:
January 7th, 2013
Core Contents Media
is notorious for their dramatic, big-budget drama MVs. While they've been known to go for fantastical, unbelievable stories - such as
T-ara
's supernatural "
Day by Day
" or
Gangkiz
's European vacation in "
Honey Honey
", this year, they turned the spotlight to very real events that happened not that long ago.
SPEED
's "
Sad Promise
" is an epic tribute to the lives and tumultuous times of South Korea of the early 80's, focusing on the personal lives of a few fictional soldiers and civilians for more of a slice-of-life story than a history lesson. The full mini-drama spans across three music videos and clocks in at about a half an hour long, making it one of CCM's most ambitious projects to date.
---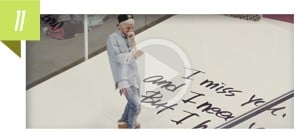 11. G-Dragon "Who You?"
Label:
YG Entertainment
Release Date:
November 13th, 2013
We all know to expect strange, interesting, and experimental stuff from
G-Dragon
when he sets to work, and he certainly didn't disappoint in 2013. Perhaps most interesting was his video for "
Who You?
", which placed him in a literal glass house, surrounded by his fans. The video was partially filmed by his own cameras, but was also filmed by his fans, as their footage of the event was used in the final edit of the video. We've gotten used to G-Dragon the actor in his music videos, but "Who You?" gave him a chance to not only be himself in front of his fans, but to collaborate with them for a truly special event.
---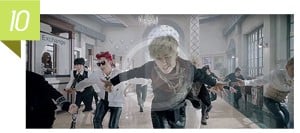 10. Block B "Very Good"
Label:
Seven Seasons
Release Date:
October 1st, 2013
Talk about a positive attitude - after everything they went through to get here,
Block B
made their triumphant return to the limelight with the wild and crazy video for "
Very Good
". "Very Good" was proof that you can knock these boys down, but you can't keep them down for long. Old and new fans alike were thrilled to see that Block B is still Block B after all this time, and their bizaree, bank-robbing shenanigans brought back the high-energy fun that makes them such an exciting group.
---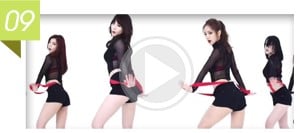 9. Girl's Day "Expectations" Dance Ver.
Label:
Dream Tea Entertainment
Release Date:
March 17th, 2013
While all the pre-release buzz for "
Expectation
" was about
Yura
's turn as an actress in the video, that's not what people were watching when the video came out.
Girl's Day
's sexy makeover and "suspender dance" were so eye-catching, that the dance version of the video went on to be more popular than the original version. Even
Hyeri
's dating scandal couldn't overshadow this song and video, which finally pushed Girl's Day to that next level of popularity and made them into one of 2013's top girl groups.
---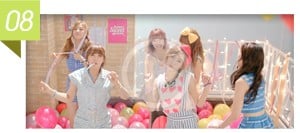 8. A Pink "NoNoNo"
Label:
A Cube Entertainment
Release Date:
July 4th, 2013
2013 was the year
A Pink
officially broke out of their rookie status and into the big leagues with their
S.E.S
-inspired hit, "
NoNoNo
". The video is pure adoreableness, showing the girls getting ready to throw a party for each other, but it was the dance that really helped rocket this video to the top. The girls of A Pink stuck to their cute image with swishy sailor dresses and the most innocent "butt-dance" K-Pop has ever seen.
---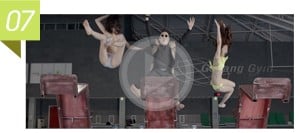 7. Psy "Gentleman"
Label:
YG Entertainment
Release Date:
April 13th, 2013
Psy
's "
Gentleman
" has a very simple concept going for it- sing about being a gentleman while acting like anything but. The song and video are both very clearly the spiritual successors to "
Gangnam Style
", which had a similar theme of bragging about being something he's not. Psy brought on
Brown Eyed Girls
'
Ga In
as his co-star this time around, introducing the whole world to the "arrogant dance" that BEG popularized with their own hit, "
Abracadabra
", several years ago. The video was a center of controversy earlier this year when it was slapped with a ban - not for the destructive behavior towards other people or the heavily suggestive imagery, but for showing Psy kicking over a government-owned traffic cone five seconds into the video. The ban was eventually reconsidered and lifted, and Psy was left to dance in peace.
---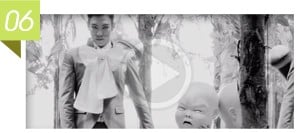 6. T.O.P "DOOM DADA"
Label: YG Entertainment
Release Date: November 15th, 2013



Fans know Big Bang's deep-voiced rapper, T.O.P, as something of an eccentric. He doesn't speak up often, but when he does he always surprises. It's appropriate, then, that his sophomore solo release came as a complete out-of-left-field surprise. Even with a serious message about art and media and a video stuffed to the brim with references to everything from important art to world history to the origin of man, T.O.P never takes himself too seriously. It's this balance of humor and introspection that set up for a truly unique music video no one saw coming.

---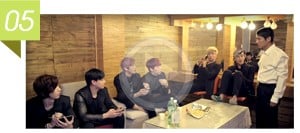 5. Lim Chang Jung "Open the Door"
Label:
NH EMG
Release Date:
November 2nd, 2013
Lim Chang Jung
's "
Open the Door
" features the singer acting as an unlikely fairy godmother of sorts, fixing the things he doesn't like about the world around him. Labelmates
U-KISS
co-star as disrespectful young people too obsessed with their phones to pay attention when their senior walks in the room- at least, until Lim Chang Jung gets a hold of them. The MV features a bucketload of A-list celebrities, including
Super Junior
's
Heechul
,
Kim Soo Ro
,
Choi Daniel
,
Lee Jong Hyuk
,
Kim Jae Dong
,
Solbi
,
DJ DOC
, comedian
Han Min Kwan
, and more. He also stops a restaurant from using MSG in their food, men at the gym from leering at a woman nearby, a litterbug from littering, turns a girl being bullied by her classmates into a popular girl, and a handful of other injustices, all while doing a hip-swinging dance that took the country by storm.
---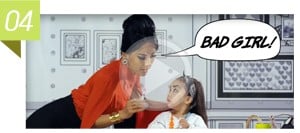 4. Lee Hyori "Bad Girls"
Label:
B2M Entertainment
Release Date:
May 20th, 2013
2013 was the year of the bad girl- songs about bad girls, songs by bad girls- and nobody made a better bad girl than the princess herself, Lee Hyori. Her comically exaggerated take on the struggles of growing up female and a few... dramatic solutions for getting people to either take her more seriously or leave her alone co-starred top Korean model and musician Jang Yoon Joo as a sympathetic female cop. While "issue" videos and pop-music-activism run the risk of feeling trite or overwrought, Hyori brought enough of a sense of humor to her causes to keep things from veering into PSA territory.
---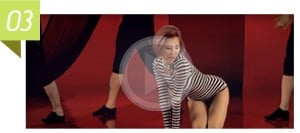 3. Sunmi "24 Hours"
Label:
JYP Entertainment
Release Date:
August 20th, 2013
One thing ties all of our top three videos of 2013 together, and that's catchy dances. While high-budget songs and videos are wonderful, in K-pop it's almost always a strong hook and catchy choreography that makes a song or video into a classic. One video we'll still be watching for ages to come is former
Wonder Girls
'
Sunmi
's breakout solo single, "
24 Hours
". It seems you couldn't turn a corner this year without bumping into this song and its many parodies. Her pink bob and striped leotard have become icons in their own right, and everyone's been doing their own take on the choreography.
---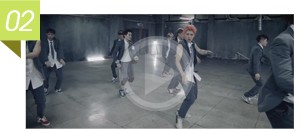 2. EXO "Growl"
Label:
SM Entertainment
Release Date:
July 31st, 2013
SM Entertainment
is often criticized for its over-reliance on "box videos", but this year they proved that they can make a box video worth remembering with the dance video for "
Growl
". The set was a simple warehouse with flashing lights, but the clever, 360-degree choreography and one-take filming style with a constantly moving camera made for one (well, two if you count the Mandarin version) of this year's biggest videos. Sometimes, less really is more.
---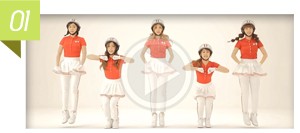 1. Crayon Pop "Bar Bar Bar" Dance Ver.
Label: Chrome Entertainment
Release Date: June 23rd, 2013
At the end of 2012, a "map of girl groups" started making the internet rounds, with different girl groups assigned spaces based on how successful they were projected to be in 2013. Many commenters balked that
Crayon Pop
was given a small space on the map- who had even heard of this quirky little group? Hardcore fans stayed loyal however, as they all knew Crayon Pop was on the verge of something big.
Crayon Pop had one of 2013's most unusual hits with their song "
Bar Bar Bar
". It peaked low on the charts before falling away after it's initial release. Later, the group released a second version of the video that featured the girls goofing around in an empty amusement park and revealed the song's choreography and performance costumes. Something about this new version of the video caught the public's attention as the song started its slow climb back up the charts. Once the parody videos started rolling in, there was no stopping this song, dance, and music video's straight-shot to the top.
allkpop's 'Top 50 K-Pop Music Videos of 2013? was compiled by allkpop staff. This list is staff-determined and is not in any way connected with the fan-voted 2013 allkpop awards.