A former manager 'A' spoke with 'Dispatch' to expose the poor, toxic working conditions that singer/actor Lee Seung Gi dealt with during his early debut days, when he was just 18~19 years old.
'A', who worked at Hook Entertainment in 2004 and who usually managed Lee Seung Gi's activities, told 'Dispatch' in a report published on December 6, "I can't believe that [she] is still the same after all these years."
Although it's been a while since 'A' left Hook Entertainment, he remembers his days working as Lee Seung Gi's manager in detail. According to the former manager, Hook Entertainment's CEO Kwon Jin Young often called Lee Seung Gi (who was 18~19 at the time) out to karaoke bars late at night so that he could "entertain" her and her guests.
"She would have drinking outing with her acquaintances or industry affiliates. She would call Seung Gi out very late at night, so he could sing for them at the karaoke. Behind Chungdam-dong, there were a lot of late night karaoke bars. She was a regular customer at those bars... Seung Gi was living in Sanggye-dong at the time. Sanggye-dong is very far from Gangnam. So in the mornings, when I went to pick him up for his schedule, he would look so tired. If I asked, 'Did you not sleep well?', he said, 'I went somewhere last night'. I asked him, 'Where?', and he just said, 'CEO Kwon called me out for a little bit'. It wasn't until later that I found out from Seung Gi's outfit coordinator that CEO Kwon called him out at night to entertain her and her guests."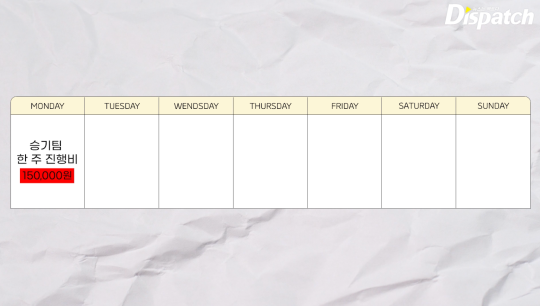 'A' also revealed,
"I was baffled when I saw the news reports from a few days ago, that Seung Gi still had to receive permission to use the company card for 20,000 KRW. It's been 20 years... Seung Gi's position in that company must be very different now from what it was during his debut days. So I was certain that things would have changed. Back then, he was just a rookie. We also did not have Kakao Talk. It was almost 20 years ago. So those days, we had to physically report all of our spendings in receipts. They always found the receipts problematic. It was like, 'Why did you spend so much on food?'. I usually received a business spending allowance for the week on Mondays. It was about 150,000 KRW (~ $114 USD). That was for three of us on our team for that week. Me, Seung Gi, and his outfit coordinator."

'A' continued,
"When Seung Gi was filming 'Nonstop', he usually had script readings on Mondays. On Tuesdays and Wednesdays, there were outdoor shoots, and on Thursdays, indoor shoots. Seung Gi usually only ate things cheap meals, like kimbap. But even that adds up, you know. It's three days of back to back filming. So Seung Gi always asked me, 'Hyung. How much money do we have left for food?'. Occasionally, he would go, 'Should we just go eat something good?', and he would give me his own card."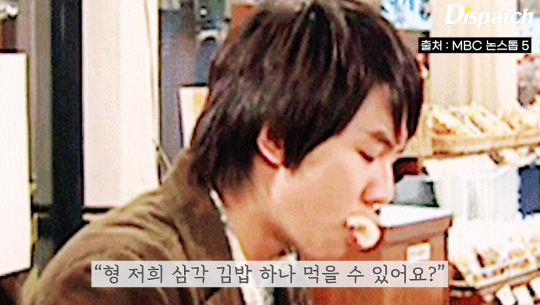 Furthermore, 'A' claimed,
"Once, I was assigned to (actress) Go Hyun Jung's team. Her team went out to a fancy Chinese restaurant, ordered 6~7 dishes, and each person also ordered a dish for themselves. Of course, Go Hyun Jung was a top actress at that time as well. But it still struck me what a difference there was in the treatment. Seung Gi only ate cheap food like kimbap. When he had early morning schedules, he would ask me, 'Hyung, can I have one samgak kimbap?'."
"Even though he was a rookie at the time, he earned around 7~8 million KRW (~ $5,000~6,000 USD) each time he went to perform at a show or event. If it was somewhere rural, 9~10 million KRW. There were also days when he went to 2~3 shows in one day. Even then, we had to take care of our meals at rest stops or just in the car... And if we ever got coffee, Seung Gi always paid for those with his own money. CEO Kwon said, 'You? Why do you need to drink Starbucks?'. So we couldn't report Starbucks receipts. Seung Gi always bought Starbucks with his own money."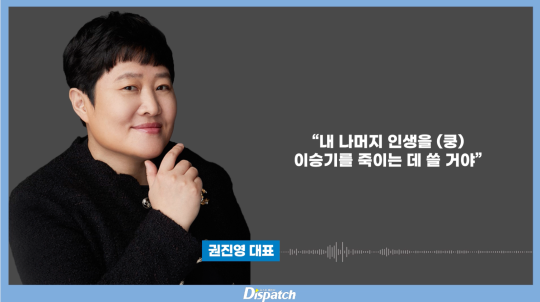 "I heard the recording of CEO Kwon yelling. She's exactly the same as she was 20 years ago. I thought, wow, she hasn't changed one bit. Back then, she always shut Seung Gi down whenever he said something. It was always, 'Seung Gi, that's why you're good for nothing'. And another thing she always said to people was, 'Have you lost your mind?'."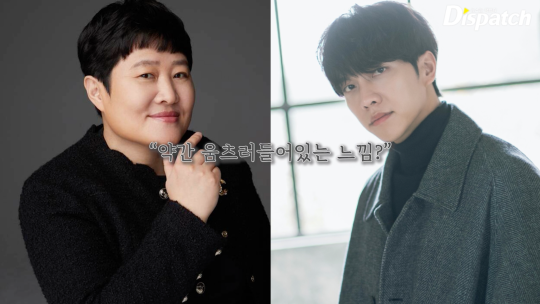 "Seung Gi was always kind of cowered in front of CEO Kwon. He might still do that now. If he got a call from her, he immediately became nervous. He would step away somewhere to take the call. When he came back, his face was tense, but he tried to hide it. And after performing, he would always ask me, 'Hyung, how did I do?'. Because if he did something that didn't sit right with CEO Kwon, even the smallest thing, she would call him right away and make a big fuss. I mean, he was a rookie, so at the time, I just kind of thought that that was how things were. But I think what made me sad was that Seung Gi never once rebelled, or defended himself."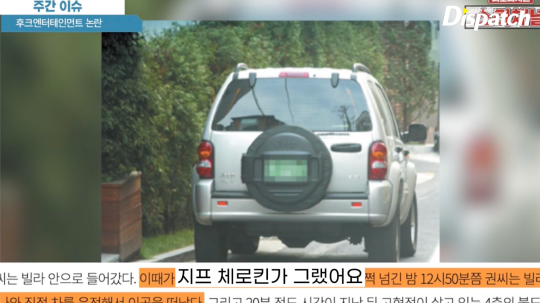 Finally, 'A' told 'Dispatch', "What makes me shudder is that even after 20 years, [she] hasn't changed one bit."