Netizens applauded VIVIZ's SinB for deciding to play the role of a "villain" on episode 0 of Mnet's 'Queendom 2', which aired earlier this week.
On this episode, the 6 competing artists of 'Queendom 2' met one another for the first time on the official filming set. Before making their appearance on stage, VIVIZ revealed, "We got extra dressed up all gorgeous today because we wanted to scare the other teams."
When each of the artists began making their appearances one by one, a hot topic of discussion was whether or not VIVIZ were to be considered "sunbae" artists or "hoobae" artists. First, Brave Girls discussed the topic amongst themselves, asking, "When did GFriend debut?" Minyoung stated, "GFriend debuted before us, I think?". (The currently active Brave Girls members all joined the group in 2015.)
Cosmic Girls also chatted about the topic once VIVIZ made their entrance. Luda said, "The VIVIZ members are actually from GFriend, and to us, GFriend are very high sunbaenims." However, Dayoung smiled and pointed out, "But in their introduction, it stated that VIVIZ debuted in 2022. So they're not our sunbaenim~".
Sitting next to the Cosmic Girls, the VIVIZ members heard Dayoung's comment, and all turned their heads. Here, SinB loudly said, "So, excuse me, Yeoreum. Are we really not your sunbaenim? Hurry up and tell that to your other members."
Later on, during their private interview, the Cosmic Girls members recalled the scary(?) moment and reflected, "We were so shocked, I thought I was going to pass out." On the other hand, SinB recalled the same moment and remarked, "That didn't sit well with me. I gave them a scolding(?)!"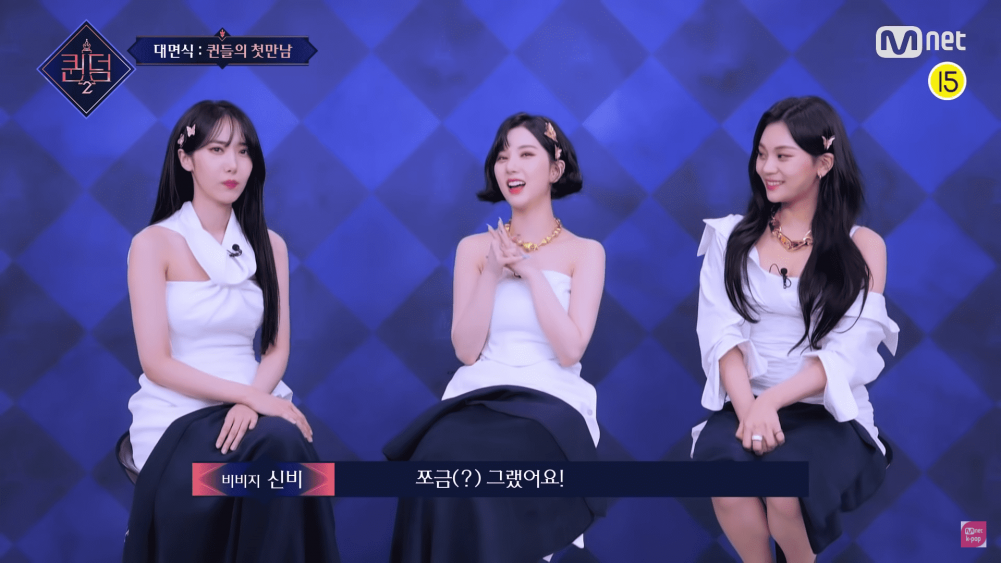 The scene is in fact receiving positive responses from netizens, who left comments like,
"Honestly, competition programs need characters like this to make them interesting. If they didn't have SinB, it would have been kind of boring."
"You can't get mad at SinB. She is just too cute even when she's a villain."
"That was so cool of her!"
"SinB has been in this industry for 8 years. She knows how to get on the screen, but in a way that doesn't make her look bad in real life. She's being cute and playful, but still making it interesting."
"Look at SinB go kekekekeke. She is having so much fun on this show."
"SinB totally paused for a minute after she said 'So...' just so Mnet could use that moment as an editing point kekekekekeke."
"Mnet better be glad they have someone who can play that villain role so cutely."
"Cosmic Girls and VIVIZ are good friends, so there's no need to read into it too much kekekekeke."
"At this point, VIVIZ has been around in this industry long enough to do everything as Mnet says and then some kekekekeke."
Did you watch episode 0 of 'Queendom 2'?