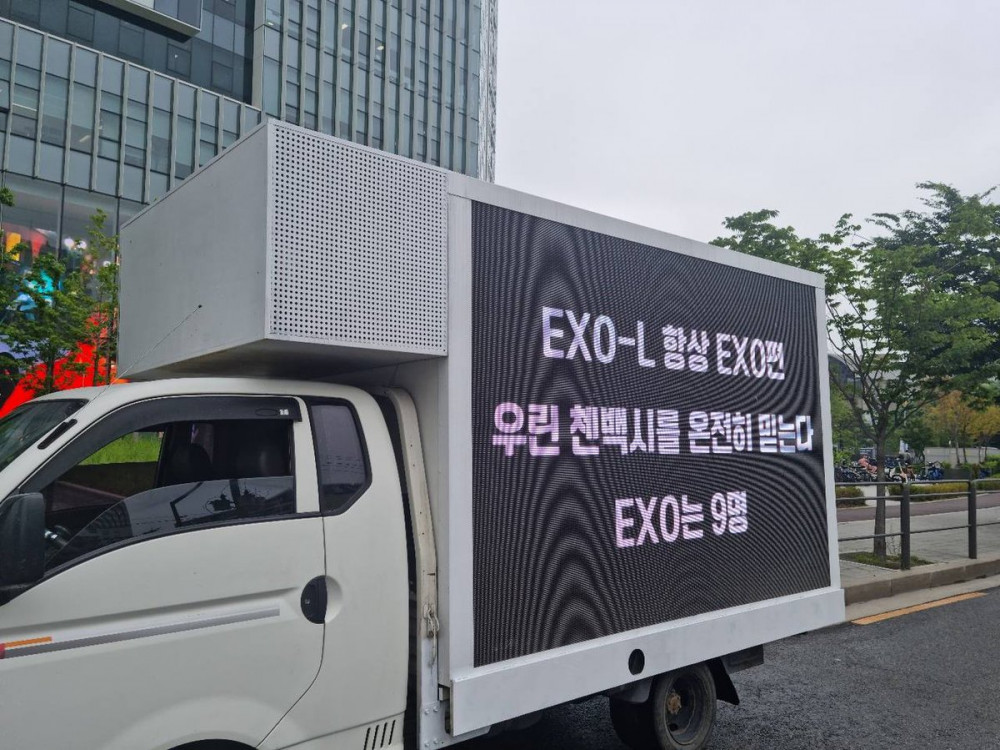 Sometimes fans send in "protest trucks" but EXO fans are sending "support trucks." On June 7, EXO's international fan bases again sent a supportive LED truck outside of the SM Entertainment building to show their sincere support toward EXO and EXO CBX. This LED truck was stationed there from 11 am to 7 pm. KST.


This fan-led initiative unites fan bases from diverse corners of the globe, including the Philippines, USA, Chile, Indonesia, Turkey, Peru, Mexico, Argentina, Singapore, among others, drawing together a wide range of devoted followers from around the world.

The harmonious collaboration between these international fanbases, culminating in a gesture of support, serves as a poignant symbol of the unified sentiments and encouragement from international EXO-Ls directed towards all nine EXO members, with a special emphasis on Chen, Baekhyun, and Xiumin. Moreover, this collective effort carries a vital message to SM Entertainment, urging them to uphold proper treatment for EXO.

Below is the heartfelt message from fans, as displayed on the LED truck:

"EXO-L always on EXO's side"
"We have full trust in CBX"
"EXO is 9 members"
"Treating EXO nicely is not a choice but a responsibility"


Moreover, the Chinese EXO-Ls, affectionately known as "Cherries", have demonstrated their enduring support by dispatching a multitude of LED trucks to SM Entertainment's headquarters over the past three days. As a critical force behind EXO's international fandom, the Cherries have consistently fortified EXO's presence in the Chinese music market, notably on platforms like QQ. On this occasion too, they've stood steadfast in their commitment, reiterating their trust in EXO and pledging their unwavering support in the group's journey.
Other fan projects by different fanbases are scheduled for the coming days and all EXOLs are determined to continue supporting the EXO members with their decisions.