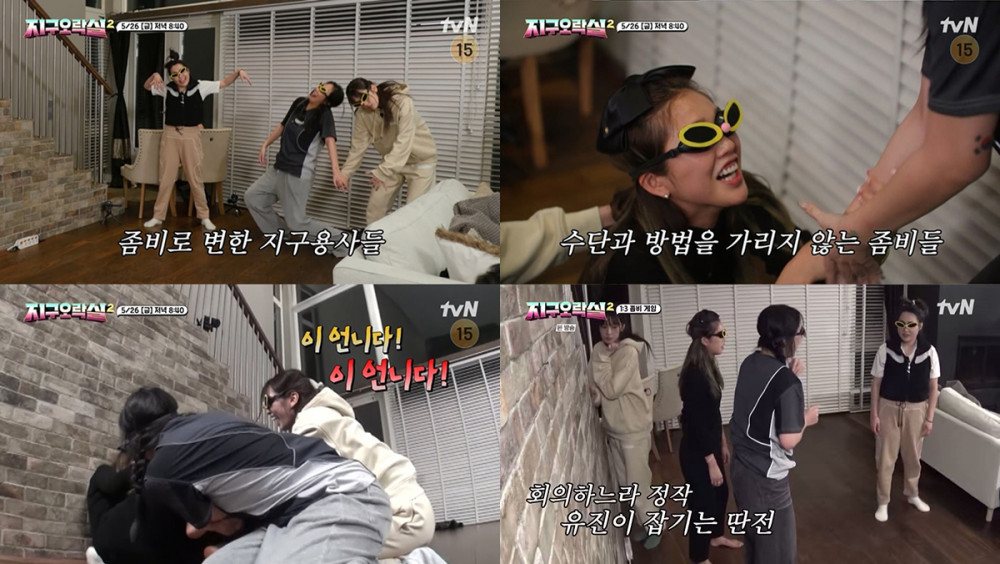 On the May 26 broadcast of tvN's 'Earth Arcade 2', the cast members took on the popular 'Zombie Game' with prize money on the line!
However, the cast members quickly found out that female players were at a slight disadvantage(?) when playing the 'Zombie Game'...
Popularized through Na Young Suk PD's 'New Journey To The West' series, the 'Zombie Game' is a game of tag, with one being chased and the rest of the players becoming the chasers, but zombies. They must move in a restricted area while blindfolded, searching for the target.
While doing their best to catch the "human" Ahn Yu Jin, the "zombies" Lee Eun Ji, Lee Young Ji, and Oh My Girl's Mimi couldn't help but run into several "uncomfortable"(?) clashes, until Mimi finally shouted, "Why are you guys giving me such a hard time?!".
Lee Eun Ji laughed and apologetically commented, "I'm not joking, I literally grabbed her like 10 times."

Many female viewers found the cast members' complaints(?) relatable, and commented, "This is exactly what it's like going to an all girls' school kekekekeke", "The quietest moment during the entire show kekekeke", "I played the 'zombie game' with my friends once too kekekeke. It was so funny kekekeke", "Why is this show giving me such a hard time kekekeke. I can't stop laughing", and more.
Have you been tuning into tvN's 'Earth Arcade' season 2?