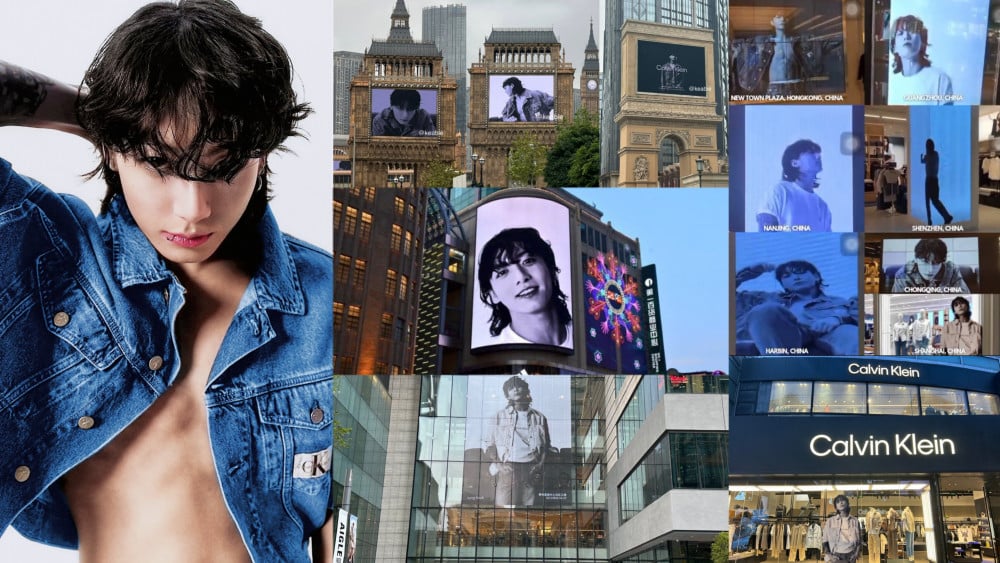 In a thrilling fashion collaboration, Calvin Klein recently reached out to the global superstar Jungkook, assigning him as their latest Global Brand Ambassador to front their latest campaign worldwide. The result? A series of captivating ads have taken the world by storm, both on social media apps and through larger-than-life displays in shopping malls and famous tourist spots.
Calvin Klein launched a special Benny emoticon wearing the outfits of their Global Ambassador Jungkook on KakaoTalk, to celebrate the new year of the rabbit. Jungkook's Calvin Klein ads were spotted in 16 countries and multiple locations in 150 cities worldwide, with China having the most ads and cities.
Since the campaign's launch, social media platforms in China have been buzzing with excitement as fans eagerly shared Jungkook's Calvin Klein ads.
Jungkook China Bar and Calvin Klein have joined forces to host a grand event across seven cities and districts in China. The event took place in Calvin Klein stores in China, where attendees were treated to violet flower bouquets and souvenirs in celebration of Jungkook's inaugural personal endorsement and his new role as Calvin Klein's Global Ambassador. The fresh violet flowers were specially arranged by local florists from various regions across the country. The selection of stores was meticulously made by the CK brand.
Jungkook's Calvin Klein ads took over many popular Chinese music, fitness, reading, and payment apps with millions of followers, which include Netease Cloud Music, Keep, Soul, Xiaohongshu, iQiyi, Little Red Book, AliPay, etc.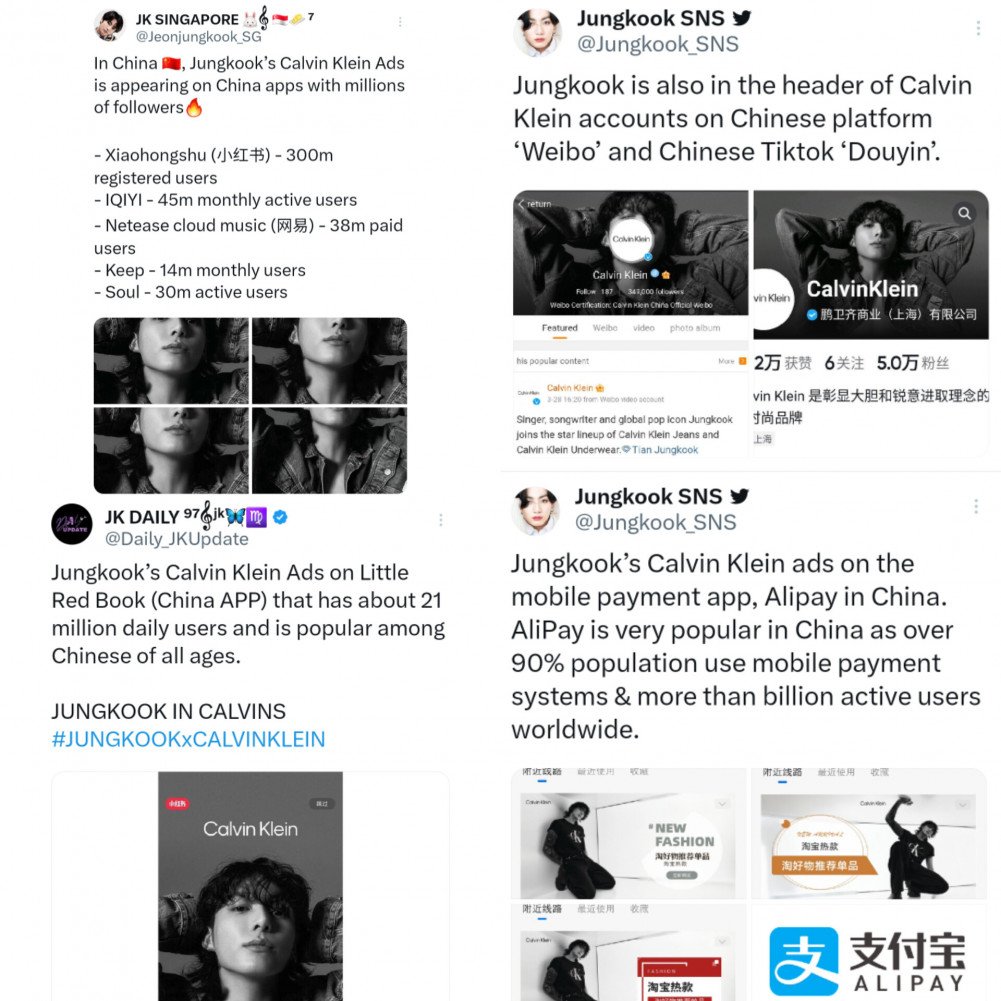 Jungkook's larger-than-life displays of the ads were placed in shopping malls and famous tourist spots across China. The sight of Jungkook gracing billboards and screens indoors and outdoors, as well as TV ads, has undoubtedly captured the attention of passersby, locals, and tourists alike.
Macao: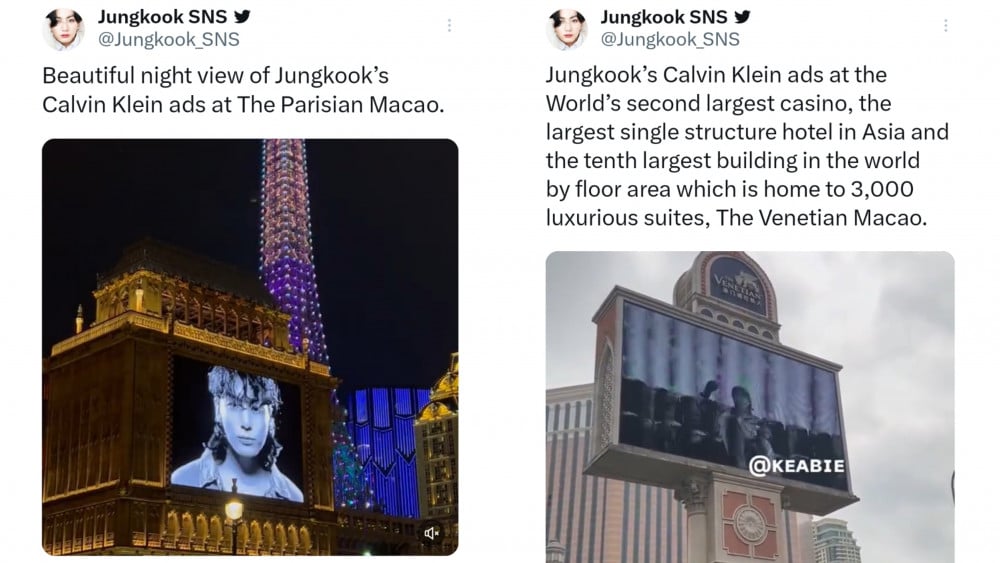 Hongkong: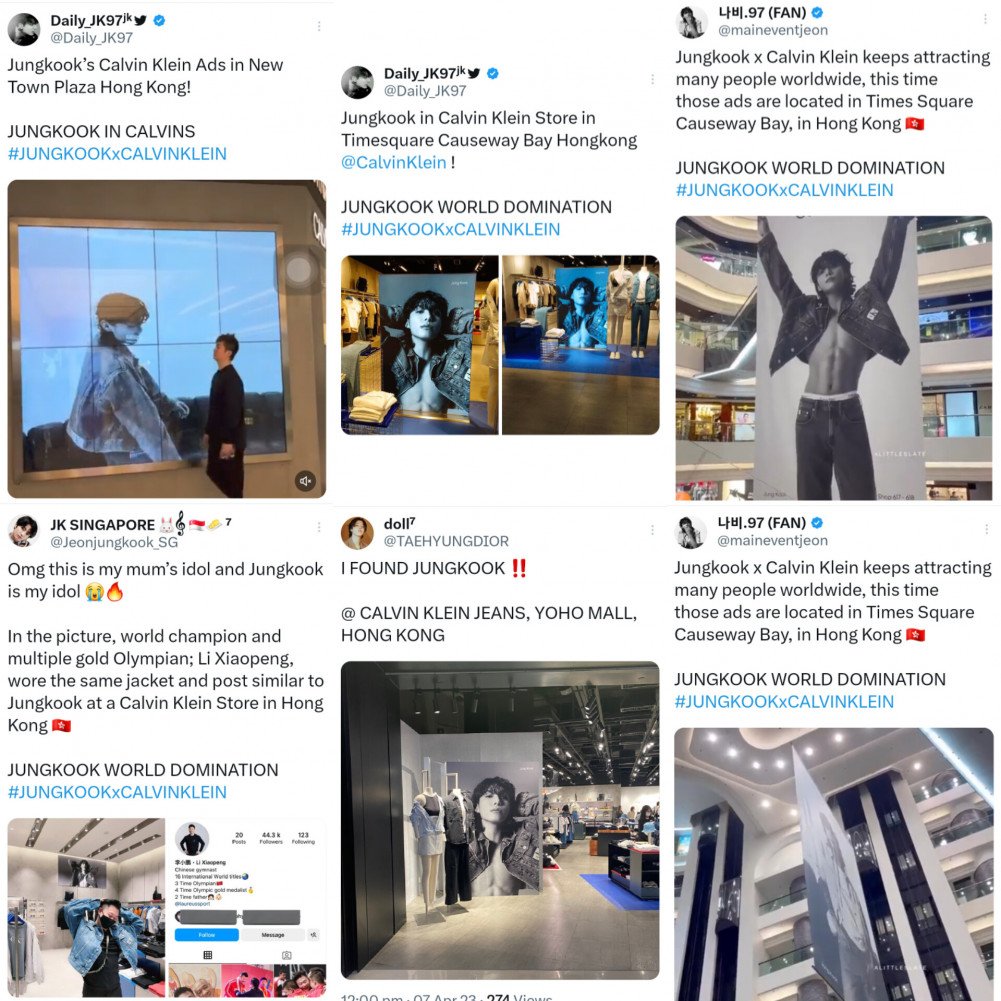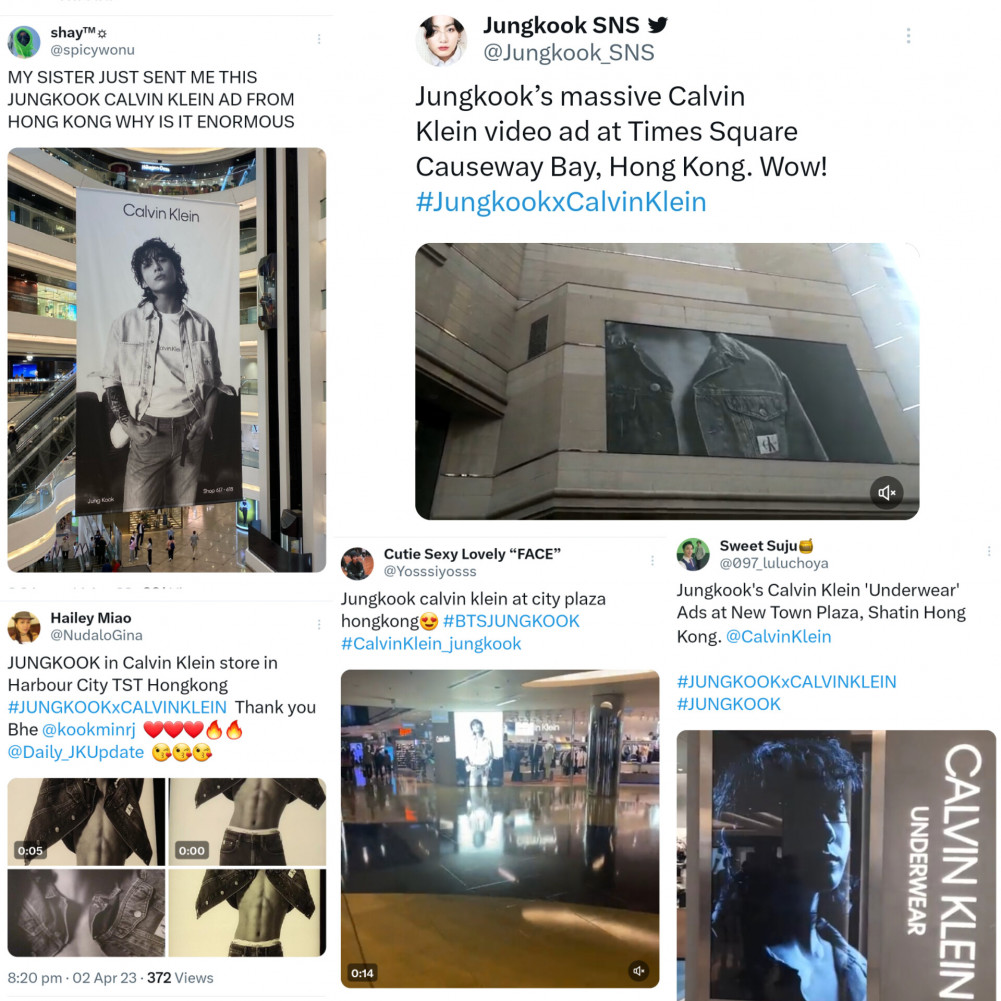 Beijing: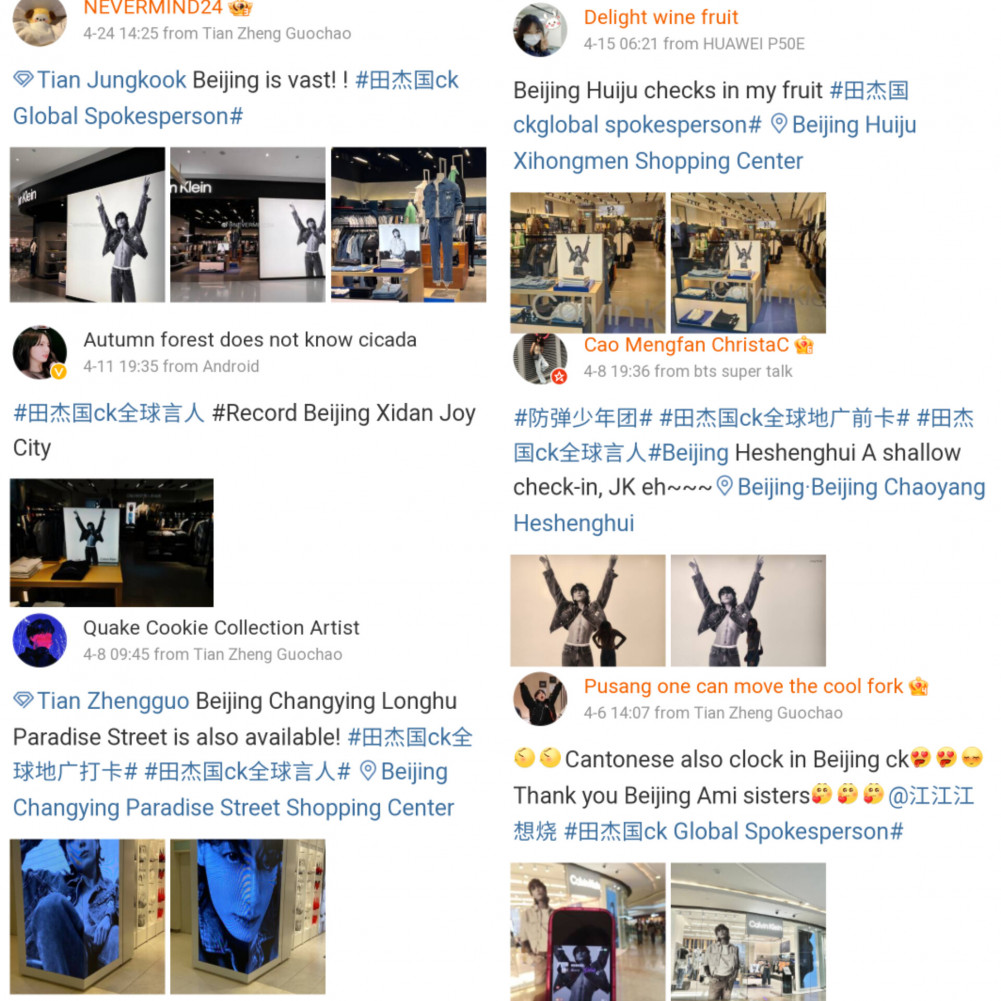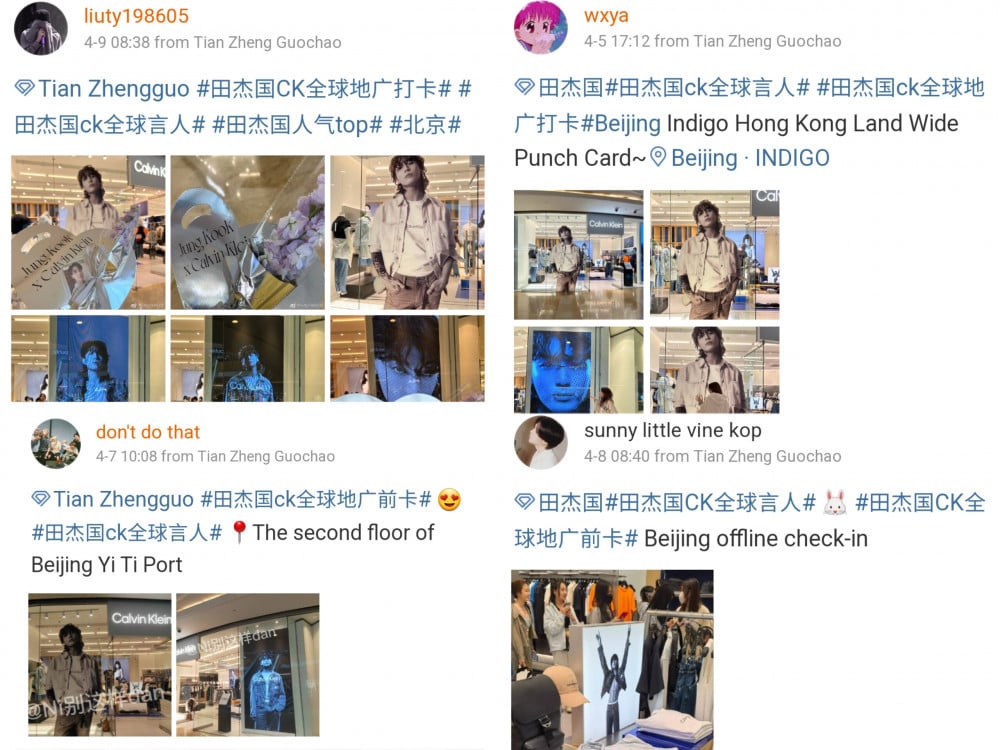 Shanghai: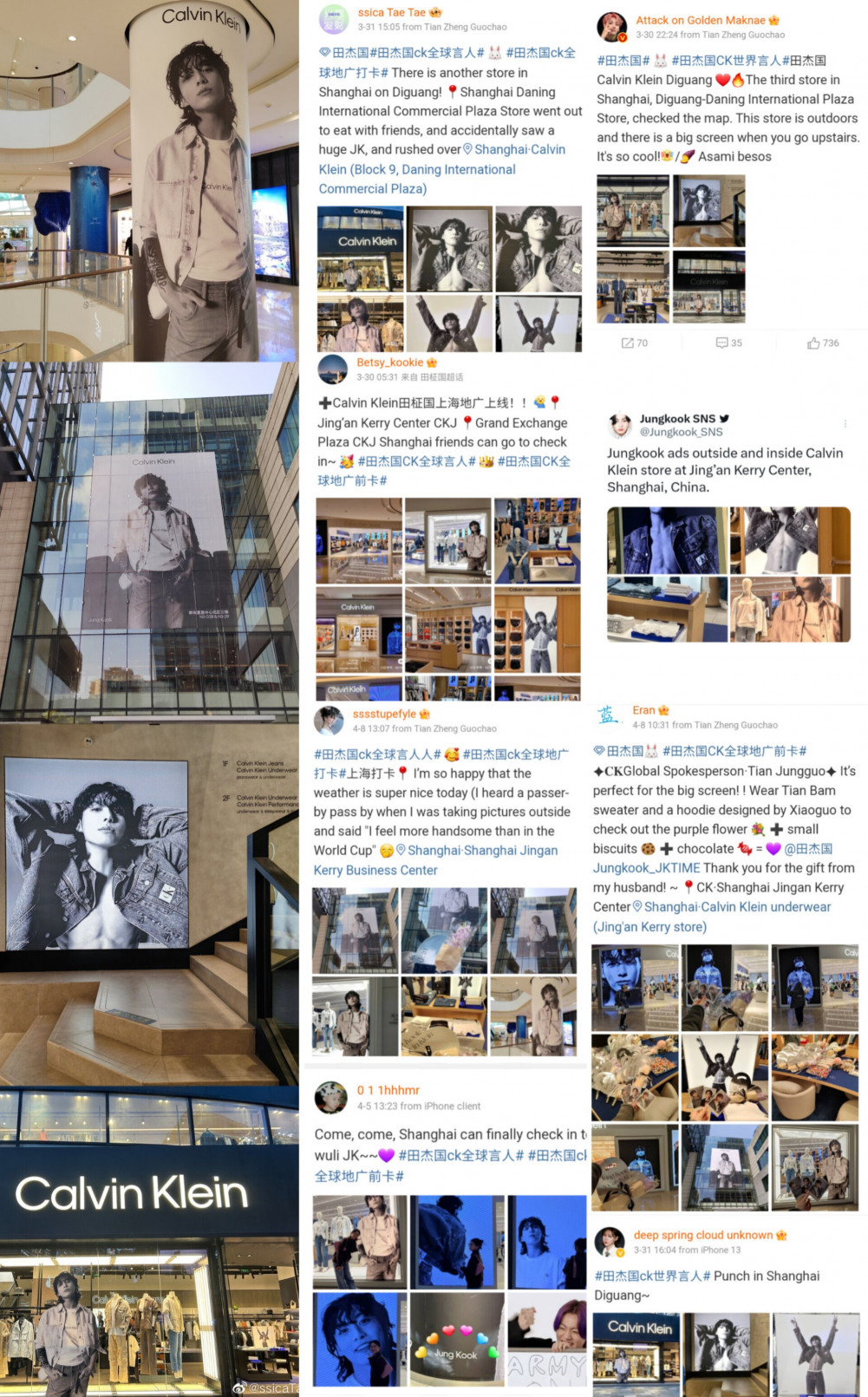 Guangxi:
Wuhan:
Changsha:
Other cities:
After seeing the massive impact, Calvin Klein launched a special photocard event for Jungkook in China. By incorporating Jungkook's captivating visuals into collectible cards, the brand has sparked a frenzy among fans. These photocards have become highly sought-after items, driving fans to purchase Calvin Klein products and boosting the brand's sales.
Famous Chinese celebrities were also seen wearing the same outfit as Jungkook from Calvin Klein.
In conclusion, the collaboration between Calvin Klein and Jungkook has captivated China with its visually striking ads, which have taken over social media apps and dominated shopping malls and tourist spots. The campaign's innovative photocards have ignited a craze among fans, further amplifying the brand's presence. With Jungkook's magnetic charm and Calvin Klein's timeless aesthetic, this collaboration has undoubtedly left a lasting impression on the fashion industry, setting new standards for engaging and immersive marketing campaigns.