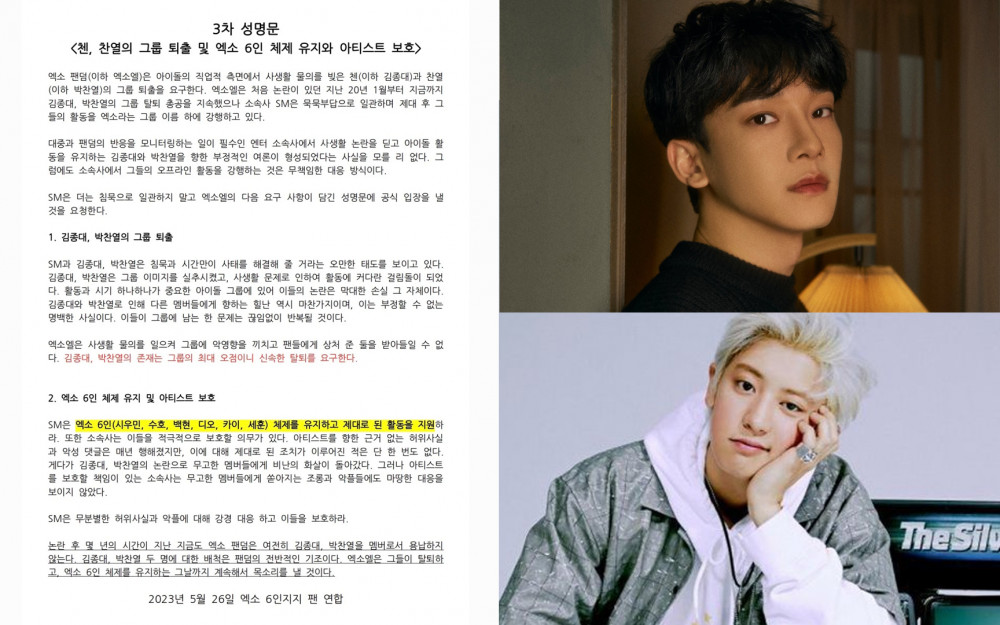 Some fans from the EXO fandom are banding together to demand Chen and Chanyeol's removal from the group.
On May 26, fans who support EXO being a six-member group released a statement on social media and claimed they sent a protest truck to the SM Entertainment company building.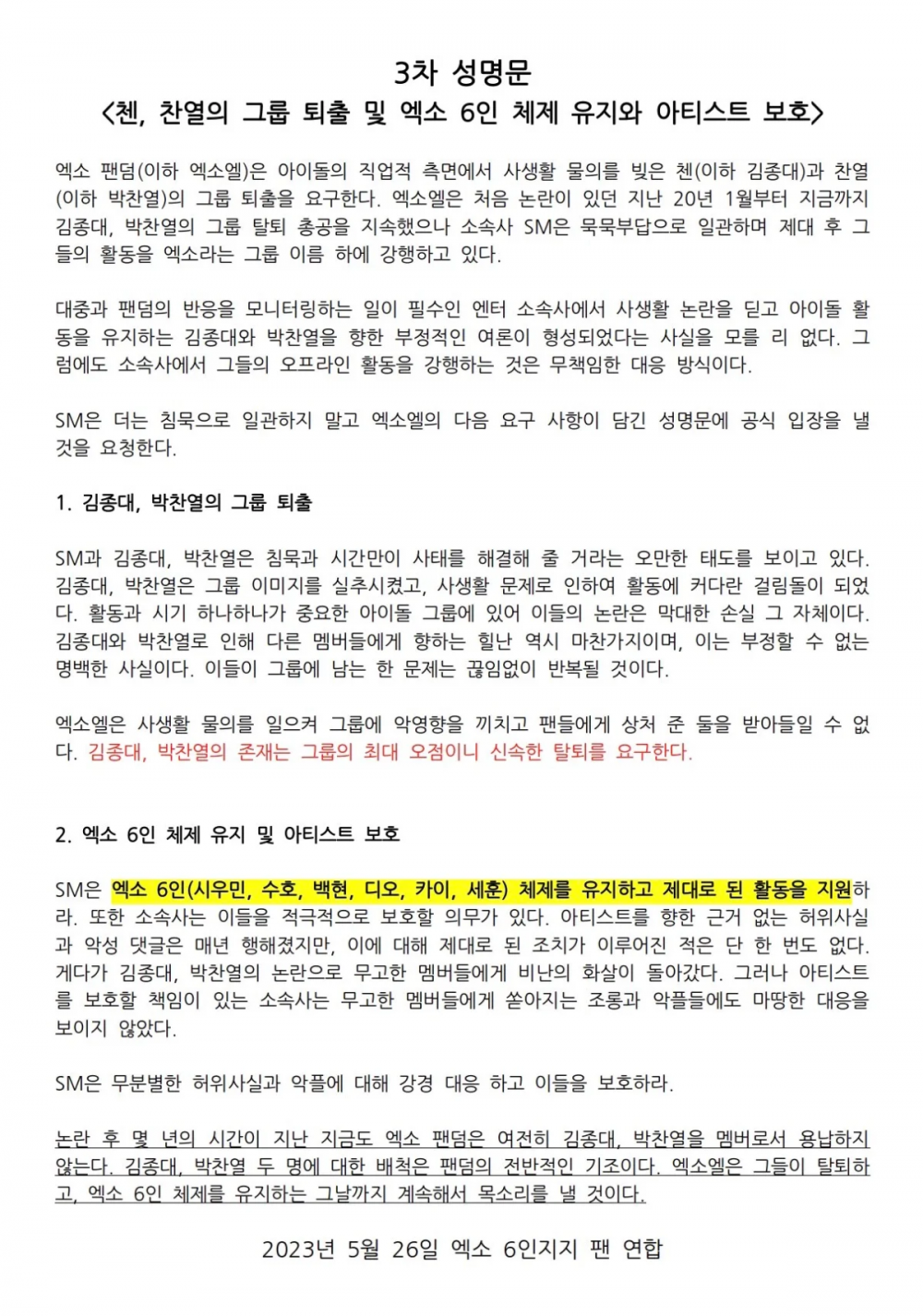 In the statement, these fans stated, "EXO fandom (hereinafter referred to as EXO-L) demands the departure of Chen (Kim Jong Dae) and Chanyeol (Park Chan Yeol) from the group. This arises from a series of controversies linked to their personal lives, which EXO-L believes are negatively impacting the group's professional image. Since January 2020, the fandom has been relentlessly campaigning for Kim Jong Dae and Park Chan Yeol's exit from EXO. However, SM Entertainment has maintained a deafening silence on the matter, and both artists have continued to perform under the EXO banner since their return from military service."
The fandom continued, "There is no doubt that there is a negative public opinion toward Kim Jong Dae and Park Chan Yeol, who maintained their idol activities after causing controversy over their private lives."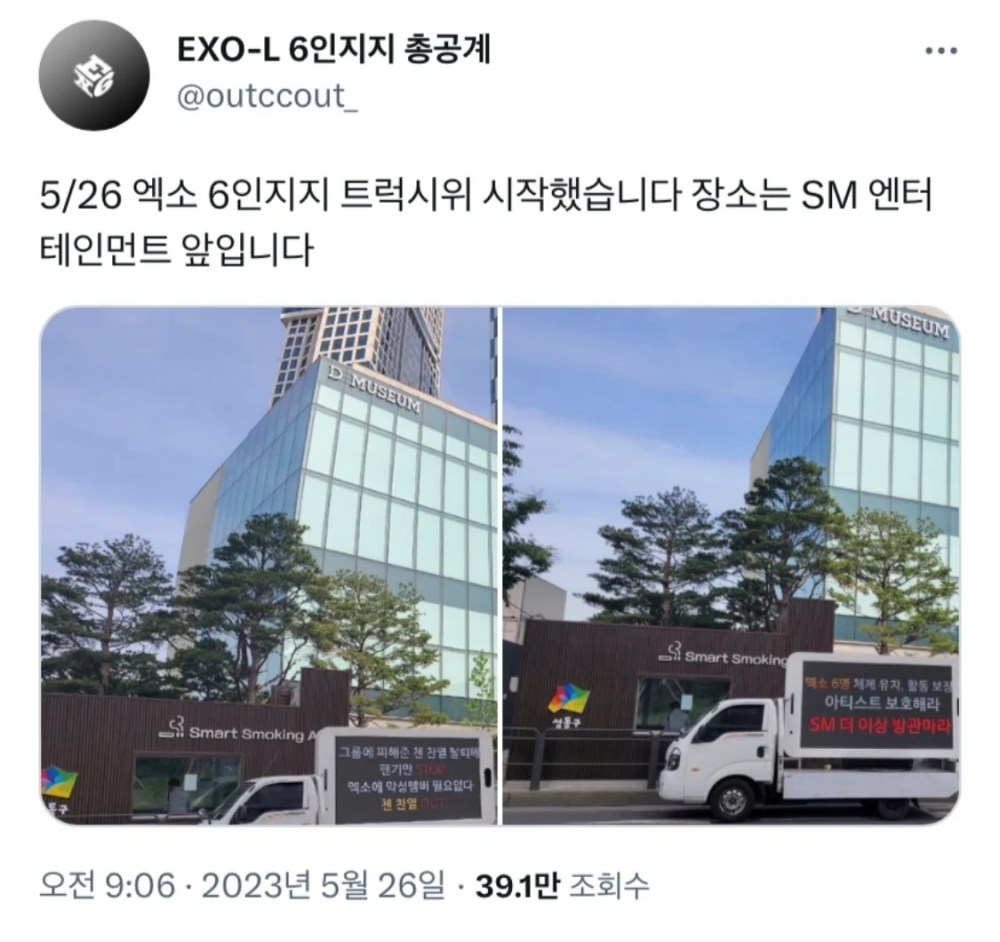 These fans demanded that Chen and Chanyeol be removed from the group to improve the overall image of the group and also demanded that EXO continues their activities as a 6-member group consisting of Xiumin, Suho, Baekhyun, D.O, Kai, and Sehun.
There is a divided reaction to the latest statement as some netizens believe this is crossing the line, while some empathize with the fandom.
Netizens commented, "The fans are so unhappy, the agency should listen to them," "I'm from a different fandom but I understand how these fans feel," "Man, fans are being this upset, these members should just voluntarily leave the group," "I have no particular feeling about EXO, but I understand how fans feel," "They need to leave the group," and "Chen getting married isn't the problem but the way he went about it."
On the other hand, "These fans are going overboard," "They make it sound like these two EXO members are the only ones causing issues with their private lives and all the other groups are innocent," and "I think it would be faster for them to just leave the fandom than cause this commotion for them to leave."