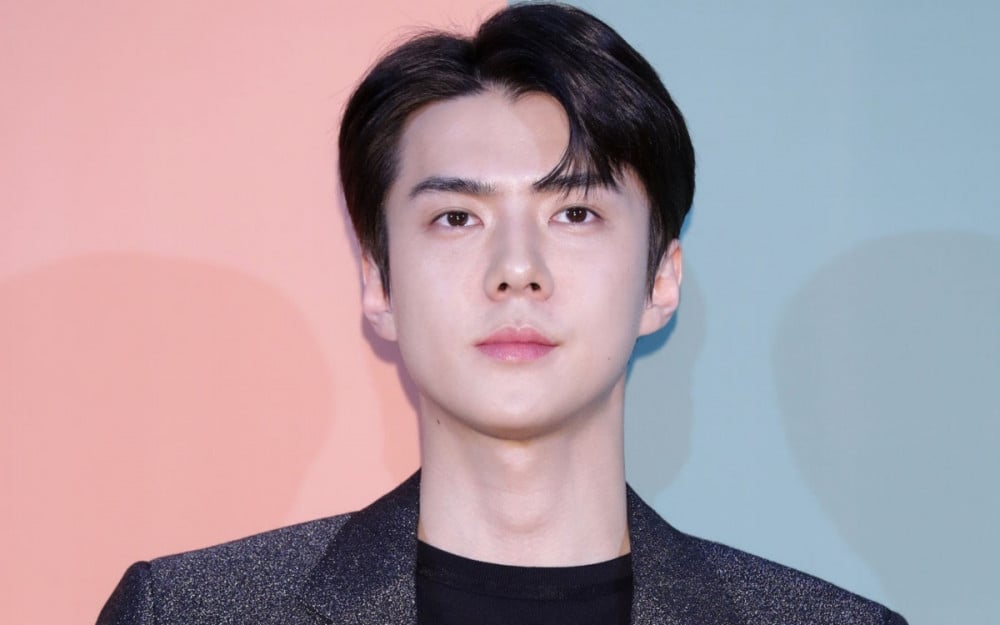 Netizens reacted to an online circulating rumor that EXO member Sehun's alleged girlfriend may be pregnant.
On March 27 KST, one netizen created a post on an online community forum titled, "Sehun's girlfriend is pregnant before marriage." The netizen's bold statement quickly received a lot of attention, as the netizen wrote that EXO member Sehun's alleged girlfriend is currently pregnant. Along with several photos to support this claim, the netizen wrote, "The articles [about this] will be released once EXO's promotional activities are done. Below is Sehun's girlfriend's profile photo." The photo included showed a cartoon holding its belly, along with a heart placed on top of the belly.
The netizen further wrote, "Yu Ni = Sehun's girlfriend", along with a photo that showed an Instagram story posted by an alleged friend of Sehun's girlfriend that read, "EXO's concert, thanks to Yu Ni". A third photo showed a man sitting afar with his face covered, with the text "With the man who is like a gift [to me]." The netizen commented here, "Sehun's shoulders".

Netizens commented:
"This seems like a complete lie, but the fact that EXO already has a member with a kid, this also seems like it can be true."
"Is EXO known for pre-marital pregnancy or something? Who's next? Lol."
"There was recently one EXO member who was spotted at an OBGYN office, so that must have been Sehun."
"Omg."
"I mean, he's at an age where it's not weird even if he gets married right now. Please be happy."
"Wow, I wonder what it feels like if you date a guy that looks like Sehun."
"The shoulders really look like Sehun."
"Omg, I think it's true."
"Wow, looking at the photo I feel like this is true."
"I saw the title and thought it was full of bullsh*t. but looking at the photos I feel like it's true. If this is true, I'm truly shocked."