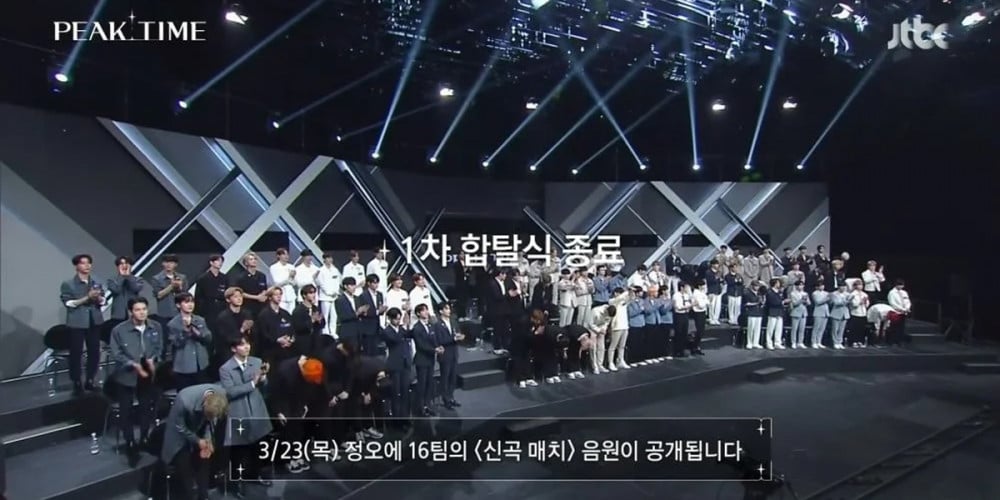 On March 22 KST, JTBC's K-Pop boy group competition program 'Peak Time' held its first elimination.
On this day, 6 out of the 16 total competing teams were eliminated, although for approximately 2 months, all 16 groups had begun preparing for the third round competition.
For the third round, each of the competing teams received a brand new song matched by fans. All 16 songs were composed by outside composers for the survival program, and the team members spent a significant amount of time learning the songs and their choreographies, also recording the songs for digital release. However, the 6 eliminated teams ultimately were not able to proceed to the third round.
Then, as a parting gift by the production staff of 'Peak Time', MC Lee Seung Gi announced, "To the six teams who were unfortunately unable to proceed to the third round, please take with you the new song, the choreography, as well as the outfits prepared for the stage. Although we cannot see your performances on 'Peak Time', we hope to see you performing these songs on many other stages, and so these are gifts for you from the production staff."

Many netizens were moved by this meaningful gift that the survival program offered to each of the eliminated teams. In fact, one even observed, "This show just gave those teams a free comeback."
In fact, as viewers of 'Peak Time' will know, many of the competing teams on this program are K-Pop boy groups from small agencies, meaning that the cost of purchasing songs, choreographies, outfits, and more are a heavy burden. In response, netizens left comments like,
"I really want to see the other teams perform too!!"
"This show is so heartwarming TT. Even though it's a competition, you can see that the production staff genuinely wants all of the teams to succeed TT."
"This is the best survival program I've ever seen."
"What a meaningful way to spend a budget."
"That's right. Go to hell Mnet!"
"Please, all of the teams who got eliminated, just perform these songs on music programs!!"
"They didn't just give them the song and the choreos either, all of the teams got vocal training and coaching, choreography training and formation guidance from renowned choreographers. And if JTBC released the performances themselves on YouTube, they could have profited from the views or something like that, but they didn't, which gives the groups an opportunity to film an MV and release it themselves."
"I went to watch the third round as the audience and the production staff really seemed like they cared about the contestants... They kept asking the audience to also cheer for other teams even if we were there to support specific groups."
"I'm so glad to see a program like this treating idol groups like real people, not just products to be used for temporary profit TTTT."