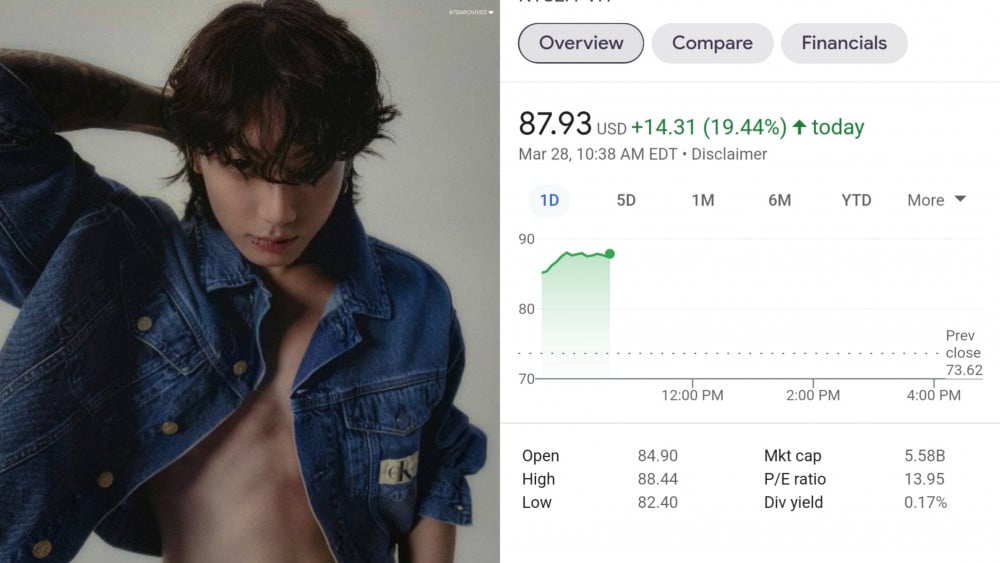 Earlier Today, the American Fashion House Calvin Klein announced Jungkook as their newest Global Brand Ambassador revealing the very first campaign with the 21st Century Global Icon and teasing more future projects with the singer.
https://twitter.com/CalvinKlein/status/1640681389275095042?t=_MRUswXao-4LXl50se5MnQ&s=19
The news became a viral topic on the internet among fans and locals, trending worldwide and in 172 countries.
https://twitter.com/97901_sue/status/1640713768782155785?t=UY_F9qxZiq73kL9HRml-tA&s=19
On Twitter, Jungkook's posts became Calvin Klein's most engaged, most liked, and most retweeted tweets of all-time and caused the brand's official account to earn an additional 140K+ followers over the first 3 hours of the announcement.
https://twitter.com/KookCharts/status/1640690888358739969?t=PehXc6Jq5O6IrQFBAFpWjw&s=19
Meanwhile, on Instagram, Jungkook's reel exceeded 24 Million views becoming CK's most-watched reel of all-time in addition to his video becoming the brand's most liked video on TikTok.
https://twitter.com/Jungkook_SNS/status/1640648985143656451?t=gApI9C0kjeNdrpxih7UMTQ&s=19
Calvin Klein expressed how lucky they are to get Jungkook to join their team, considering he is a relevant talent whose cultural impact can align with the brand and continued Jungkook is one of the most popular and loved artists in the world who has the rare ability to catch the audiences both in Korea and abroad.
https://twitter.com/charts_k/status/1640672746043498496?t=UTlkdT82Yzb-PQGpuvqfFA&s=19
Calvin Klein quickly took pride in putting Jungkook as the face of their official social pages on Facebook, Twitter, and YouTube and named individual highlights after him on Instagram
https://twitter.com/dreamjeons/status/1640697928602857478?t=4Jmsc_0r0-HgH2BwQrt5Ew&s=19
https://twitter.com/JKGlobalWebsite/status/1640702763444338688?t=iu-9Ky-pDuNOJt8g1iwQ5g&s=19
While they displayed him on the front page of their official website, "Jungkook: the global Icon In Calvin Klein," which crushed servers due to the high flood of visitors after the announcement.
https://twitter.com/Jungkook_SNS/status/1640681317409906691?t=1Q_hH5UcWXXdQpaJkI-fnQ&s=19
Jungkook helped Calvin Klein's parent company PVH Corp stock rally after the stock was constantly decreasing for more than a month. Today the company's stocks could reach a new high of $87.93 after an explosive increase of +19% following the official statement of Jungkook becoming their new global Icon. This , along with PVH exceeding expectations by reporting fourth-quarter and full-year 2022 results that outperformed its guidance. In addition, PVH has forecasted double-digit growth in 2023 earnings, which is a promising outlook for the company's future success.
https://twitter.com/Jungkook_SNS/status/1640726686986649600?t=LrEbMALvQy4yswKnTjQoTA&s=19
Vogue, Harper's Bazaar, Marie Claire, ELLE, GQ, L'officiel, Teen Vogue, and many other news portals excitedly shared the news through their official social accounts and websites.
https://twitter.com/Jungkook_SNS/status/1640633804564905984?t=yQc3VkgHUATKoiNdBkfi8Q&s=19
Calvin Klein celebrated the news by boasting Jungkook on their huge billboard in the famous Houston Street in NYC and teased upcoming billboard advertisements all around the world on April 1 exclusively for the singer.
https://twitter.com/Jemorr/status/1640683783681703938?t=bbUTXmVNuzu9UDUDR_sPIg&s=19
https://twitter.com/btschartsdailys/status/1640684291163127808?t=ZKKt0RZVOBEcn0zyKvivGw&s=19