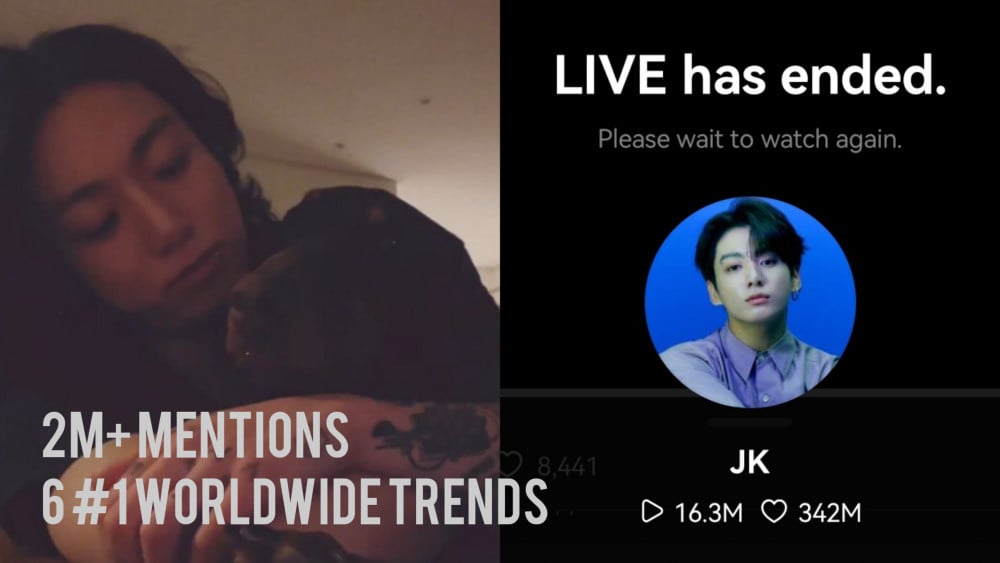 Jungkook sent the Internet into chaos as he came live following his post, which said "Knock Knock" on WeVerse. Fans couldn't help to contain their excitement as they were missing their favorite star badly who came live after a month.
'Jungkook Came Home' and then 'Jeon Jungkook' took over #1 Worldwide trends immediately. When he introduced Bam to the live, 'Jungkook and Bam' started trending at #1 Worldwide. Later, Jungkook, 'Thank You Jungkook' and 'We Love You Jungkook' also trended at #1 Worldwide, making it a total of 6 keywords that trended at #1 Worldwide for his Weverse Live. He trended with 3 #1 trends in the USA, occupied almost all Top 50 Korea trends, and total trending in 138 countries.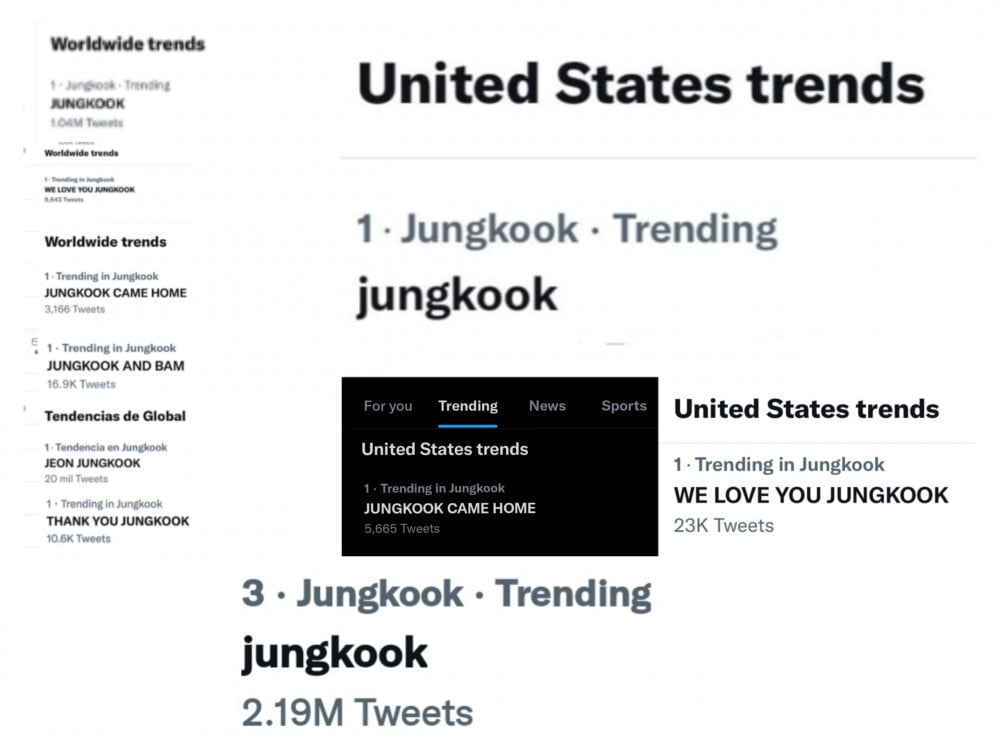 Jungkook's first WeVerse live became the Most Viewed Real-Time Weverse Live for any individual with over 16.3M real-time views on the platform's history, breaking his own 2022 Birthday live record.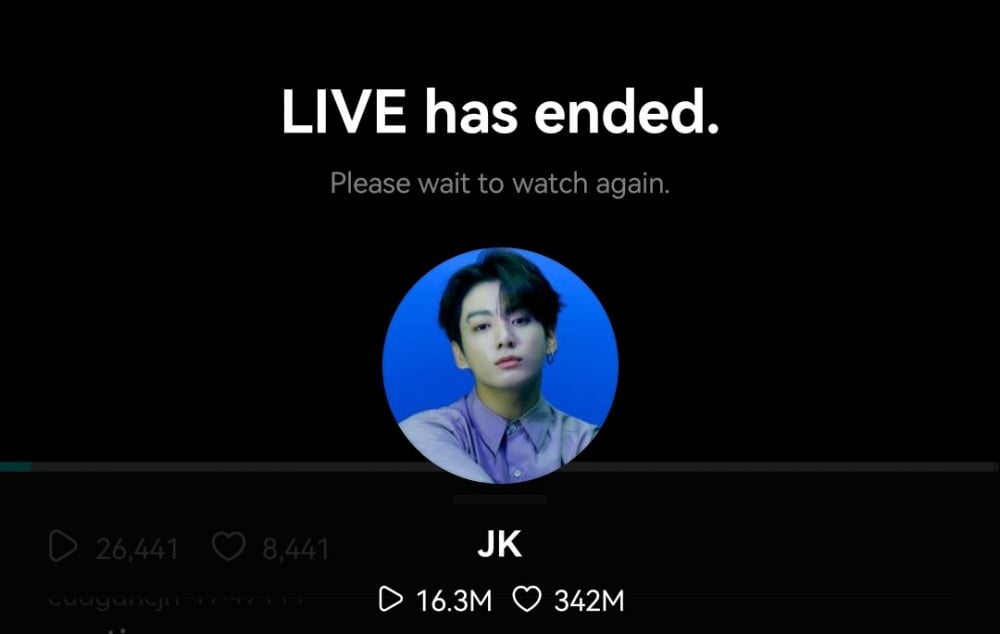 He ended his first live stream to set up Instagram live, but as it didn't work out, so he started his second WeVerse live with ended with 12.4M real-time views.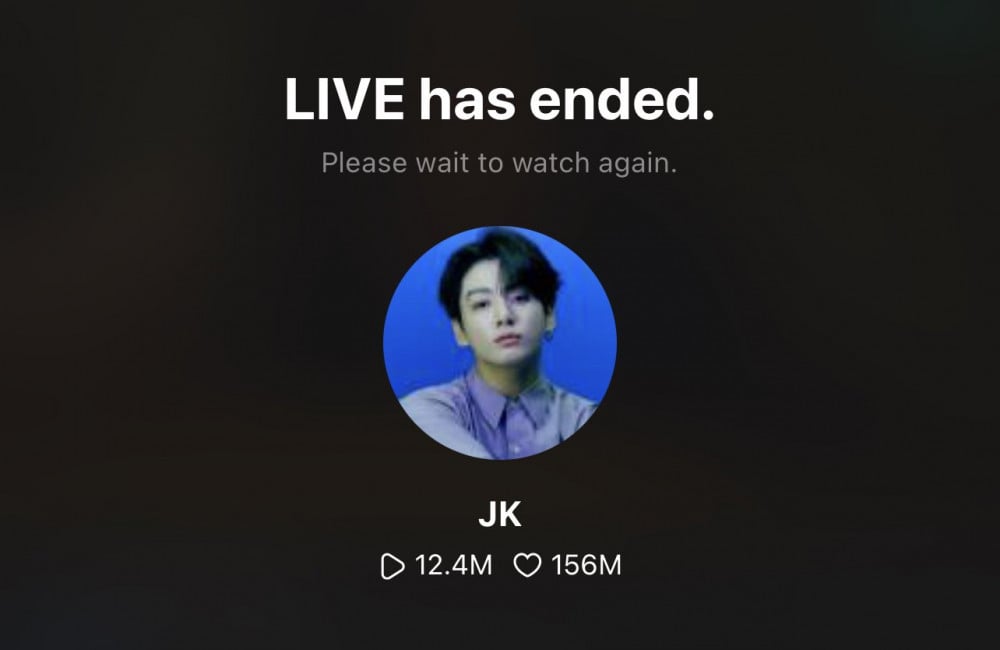 Most viewed Instagram lives by Korean acts of all time
1. Jungkook & Taehyung live — 923K (10 mins)
2. Jungkook's 2nd live — 580K (1 min)
3. Jungkook's 1st live — 541K (2 min)
4. Jennie & G-Dragon live — 277K
Jungkook now holds all the Top 3 Most Viewed Individual Weverse Lives.
The loving duo of Jungkook and Bam became the highlight of his live stream, as both of them could not stop playing with each other.
Jungkook sang his song 'Dreamers' along with doing the choreography in small slow steps and also tried to sing the Arabic part of Fahad Al Kubaisi.
Fans went crazy when Jungkook sang 'Unholy' by Sam Smith along with doing the dance steps and body rolls on his live.
Jungkook was also humming a bit of 'Anti Hero' by Taylor Swift.
Jungkook sold out the NIKE shirt he was wearing and the beer mug in the live stream. He's also going viral on Tiktok as many videos have crossed over millions of views in a few hours.
Jungkook sang a total of 30 songs on his long WeVerse lives at the requests of fans, including the songs of Sam Smith, Taylor Swift, BTS, TXT, Tablo, NewJeans, Anime OST, Lesserafim, Taeyang ft Jimin, RM, J-hope, Seventeen, Crush, Younha, and more.
Check out the thread for all the songs.