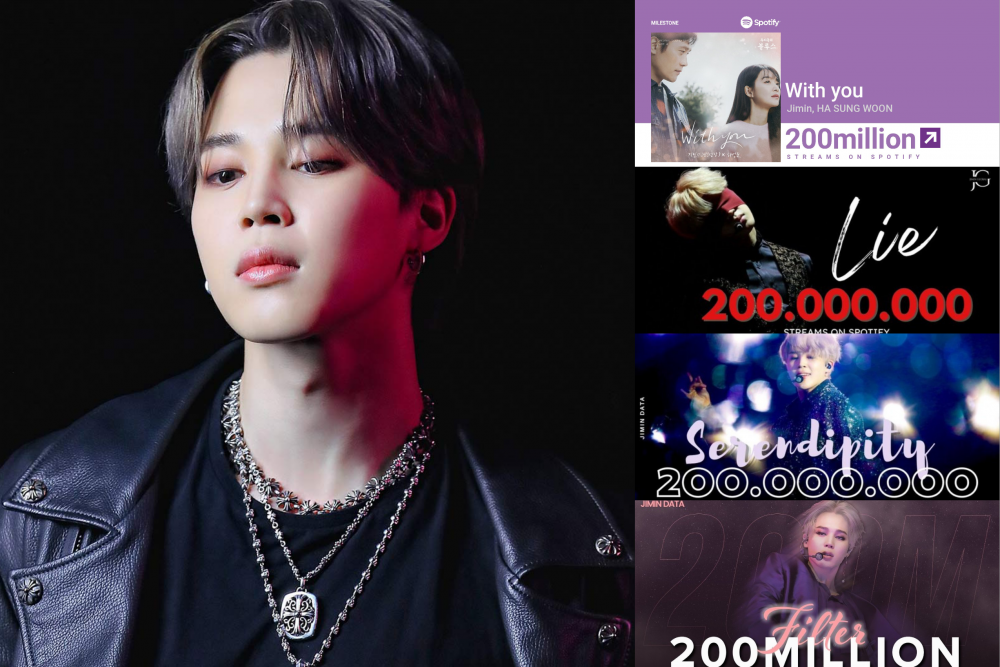 Jimin has an incredible solo career with BTS and outside of the group, raising expectations for successful projects in music.
On the 31st of January, fans were delighted to celebrate "With You" surpassing 200 Million streams on Spotify. The Korean OST for the Korean drama 'Our Blues' was sung by Jimin and his best friend Ha Sungwoon. Released in April of 2022 the Korean OST becomes the fastest Korean OST to achieve this feat in only 281 days and ten hours, the instrumental is a few streams shy of 16 Million streams.
The Korean OST was a hit gaining popularity at home and abroad. Some of its notable and outstanding records include: The fastest song to achieve #1 in 100 countries on iTunes history and in every country with iTunes. It was the most Shazamed K-drama OST in the first 24 hours of release. On Melon, "With You" had the highest Top 100 debut with the most first-hour likes and unique listeners among BTS member songs. It also had the highest debut for a Korean OST on the Worldwide Apple Music chart.
"With You" was also present on various Billboard charts around the world earning the highest debut for a K-drama OST in Japan, Indonesia, Vietnam, Malaysia, Philippines, and Singapore. On the Gaon weekly chart categories, it had the highest debut for a Korean OST by a BTS member in the Digital, Bell, and BGM categories. Jimin debuted with the song on the Billboard Hot Trending Songs chart, becoming the first artist to reach #1 on it, both as a soloist and with a group extending the record for 6 weeks. "With You" also had the biggest debut for a K-drama OST both on the Spotify daily and weekly charts and was the most streamed K-OST of 2022.
"Lie" is another song that two days prior, achieved 200 Million streams on Spotify. The classically inspired dramatic masterpiece was released in 2016 as part of the 'Wings' album. It showcased Jimin's prowess as a songwriter, composer, singer, world-class performer, and dancer. The song is the most streamed solo of its era across all platforms (Spotify, MelOn, Pandora, Anghami, JioSaavn, YouTube, Apple Music, and Deezer) and was the first song written by a BTS member to sell 500K units in the United States. "Lie" has been covered by countless artists in South Korea and abroad.
"Serendipity" achieved 200 Million combined streams on the 11th of January 2021, making it the most streamed solo song of a K-POP Male Idol, K-pop B-side, and the first un-promoted K-Pop solo to exceed 200 Million streams on Spotify. "Intro Serendipity" was released as a comeback trailer for 'Love Yourself: Her' which is close to 170 Million views on YouTube; it was the first by a BTS member to achieve 100 Million views on 16 May 2019, and within 48 hours got more than 500 YouTube reactions. The Full version is part of 'Love Yourself: Answer' released in 2018 and holds the records for the first and only solo by a BTS member to reach over 100 and 200 Million streams on Spotify, and had the highest first-day streams. The song has been covered not only by rookie idols but also by Shawn Stockman of legendary RnB group Boyz 2 Men, American star Khalid expressed much love for it through social media, even singing along to it while attending a BTS concert. "Serendipity" is also a soothing lullaby for babies and insomniacs, as well as being played at wedding receptions.
The 2020 Latin pop-inspired hit "Filter" cemented Jimin's place as a versatile and seasoned pop star. The song was the most streamed Korean Male solo of 2020 on Spotify, Apple Music, YouTube, Genie, MelOn, Pandora, Anghami, YouTube Music, Line Music, Deezer and JioSaavn, along with charting the highest on most of those platforms. In September of 2021, it was the fastest un-promoted song by a Korean soloist to achieve 200 Million streams on Spotify, and now has 354 Million streams. It got the biggest debut for a Korean solo song with 2 Million plays and was 3rd highest after "ON" and "ON" feat Sia on Spotify. "Filter" debuted at #87 on the Billboard Hot 100 and #88 on the Chinese Hot 100. Last year the song achieved 117 #1 on iTunes, among many other achievements.
"Friends," a song that Jimin produced and sang with Taehyung, has surpassed 195 Million streams on Spotify and together with "Filter," are the only BTS solo songs nominated on the Gaon chart for Song of The Year. Jimin is the only BTS member to have a triple crown with "Lie," "Filter," and "Serendipity FLE," having sold over 500K units each in the US, and together with "Friends," "With You," and "Intro Serendipity" comes up to 2.2 Million units. "Vibe," a song by BIGBANG's Taeyang and one which Jimin features on and co-composed, earned him his first career entry as a soloist into the Billboard Hot 100.
Congratulations to Jimin for these and even more achievements to come.